'Landscape With Obelisk,' By Govaert Flinck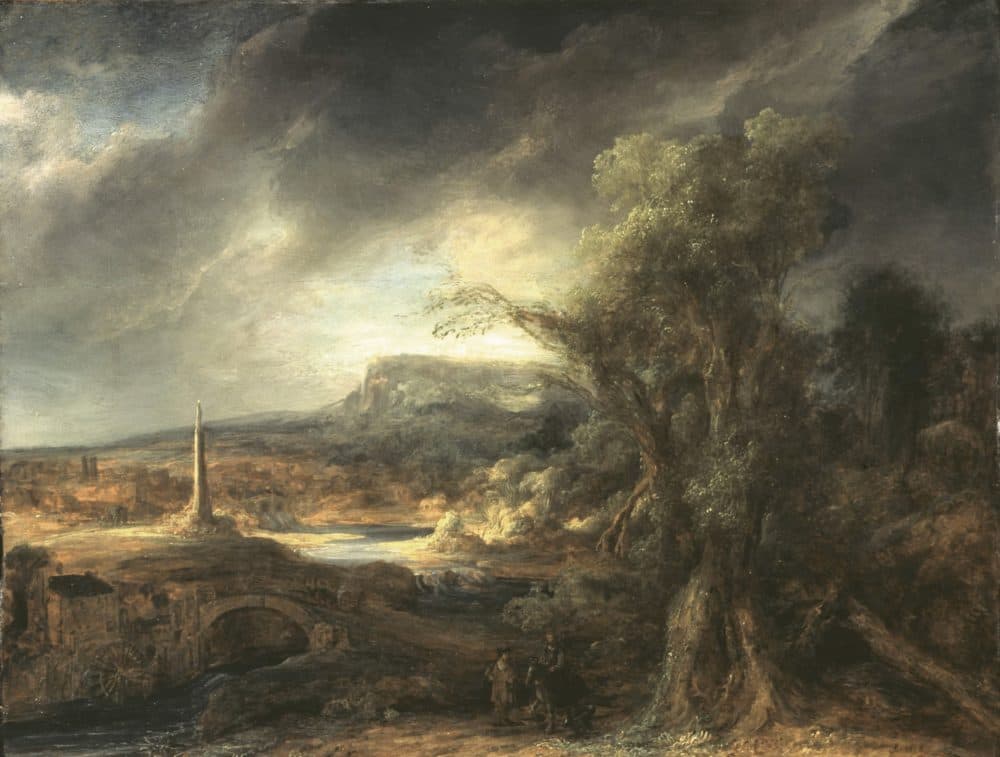 1638
For many years, this haunting little landscape was thought to be by Rembrandt. Oil painted on wood, it measures 21 inches high by 28 inches across, and for all of its time in the Gardner Museum it was placed back to back with Vermeer's "The Concert" over a small table near a window in the Dutch Room.
The major oddity in this painting is the obelisk that gives this painting its title. On this dark and stormy day, it is streaked by sunlight, almost gilded, yet in perspective, it's much smaller than the huge humanoid gnarled tree in the foreground, its windswept leaves like wild hair. A large section of trunk has fallen to the ground — struck by lightning? A miniature man on horseback is talking to another tiny man standing on the road (or is it a road?). Across the bridge (is there someone on it?), on the other side of a river, there's a water mill. Against the distant horizon, a kind of butte towers over the fields and woods in front of it. The colors are mostly browns (the landscape) and grays (the sky). Bernard Berenson, the famous art historian and adviser to Mrs. Gardner, called it "a work of art of exquisite, sweet pathos and profound feeling."
Fanciful and realistic, the subject remains a mystery. The obelisk seems to represent something, to want to represent something. It must be a symbol, or else what's it doing there in the middle of this mostly barren landscape, in the center of this mysterious painting? But we have no choice but to leave its meaning to our imagination."
— Written by Lloyd Schwartz
---