'The Concert,' By Johannes Vermeer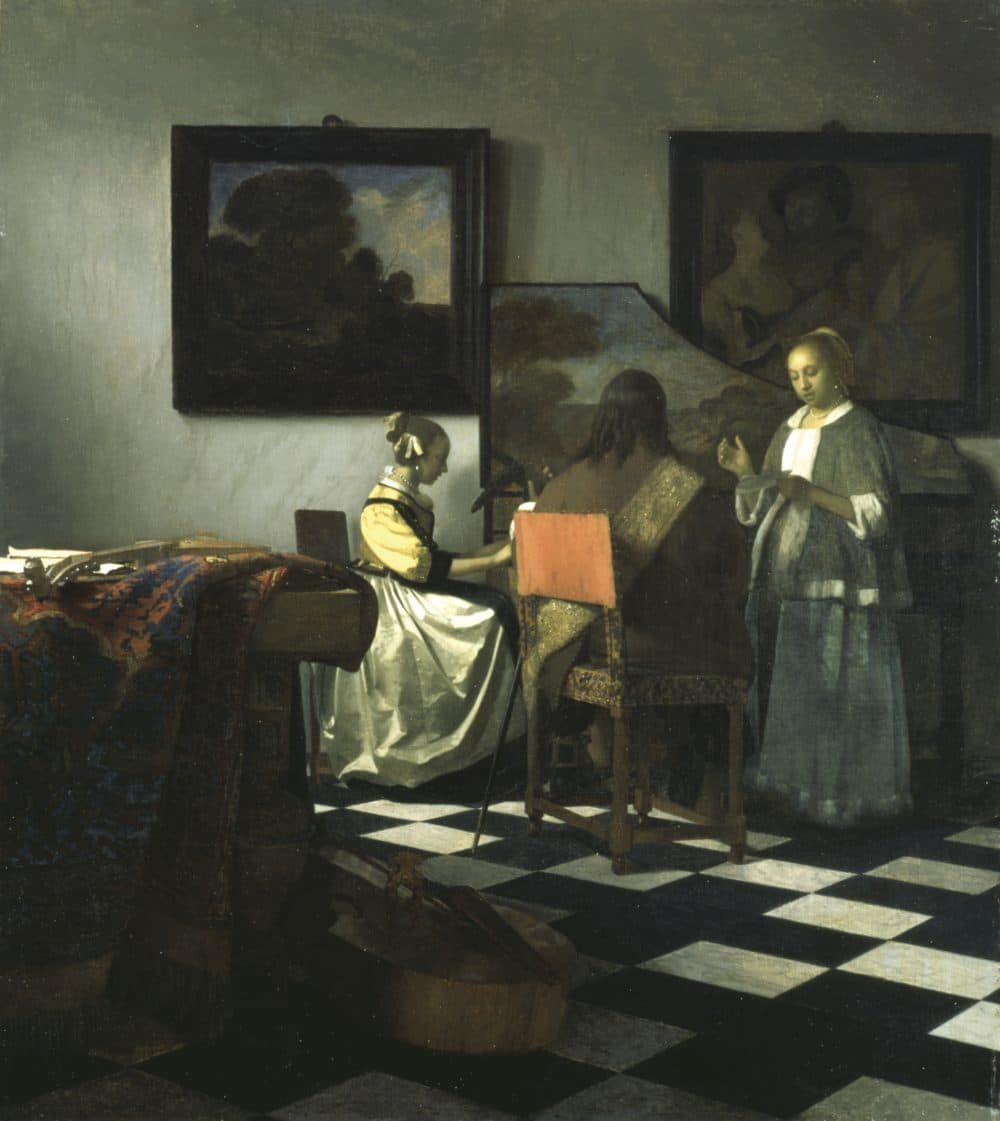 1663-1666
This small painting, slightly more than two-feet square, was displayed back-to-back with Govaert Flinck's "Landscape with Obelisk" on a small tabletop in the Gardner Museum's magnificent Dutch Room. The Vermeer is generally considered the rarest and most valuable of the lost treasures — at least partly because so few of his paintings are known to exist. (The current consensus is 37, but some scholars still have doubts about the genuineness of three of them.)
"The Concert" is characteristic of the artist and also a little uncharacteristic. At least nine other Vermeers include musical instruments, mostly in the hands of women. Yet only three other surviving Vermeers include three figures (one is "Christ in the House of Martha and Mary," the other two are set in a bar and in a brothel).
Silence is such a central quality of Vermeer's work that even when he depicts a trio of music-makers (a singer accompanied by lute and harpsichord), the atmosphere of the painting is one of extreme quietude. The air of calm in this scene in an urban echo of the peaceful pastoral scene on the inside of the harpsichord lid (probably painted by Jan Wildens) and somewhere between the absolute silence of the woodland landscape and the raucousness of a transaction in a bordello in the two paintings hanging on the wall behind this wealthy and presumably respectable threesome. (The bordello painting, Dirck van Baburen's "The Procuress," which also has three figures, belongs to Boston's Museum of Fine Arts. In Vermeer's time it seems to have been owned by his rich mother-in-law.)
Reinforcing this sense of calm, even among music-makers, is the painting's complex geometry. The right and acute angles in the placement of the figures and the furniture, also the rectangular paintings on the wall, along with the refined, muted colors of the clothes (yellow, gray, brown) and jewelry (pearl earrings and a pearl necklace — also classic Vermeer) exude a hushed stability. At the same time, the softer curves of heads and bodies and clothes plus the aerodynamic sweep of the lid of the harpsichord add tension and energy to the static figures. The square marble floor tiles, radically foreshortened into diamond-shaped lozenges, not only greet but seem to actively pull the viewer's eye into the scene. Just as the rectangular frames on the wall contrast with the more organic rhythms of the paintings they surround. And most Vermeer-like of all, an uncanny opalescent light both spotlights the figures and surrounds them with a mysterious stillness.
— Written by Lloyd Schwartz
---
The Gardner Museum's former director Anne Hawley describes this painting and what it means to her to have lost it:
---