My Husband Is Now My Wife | With Ann Dowd
Play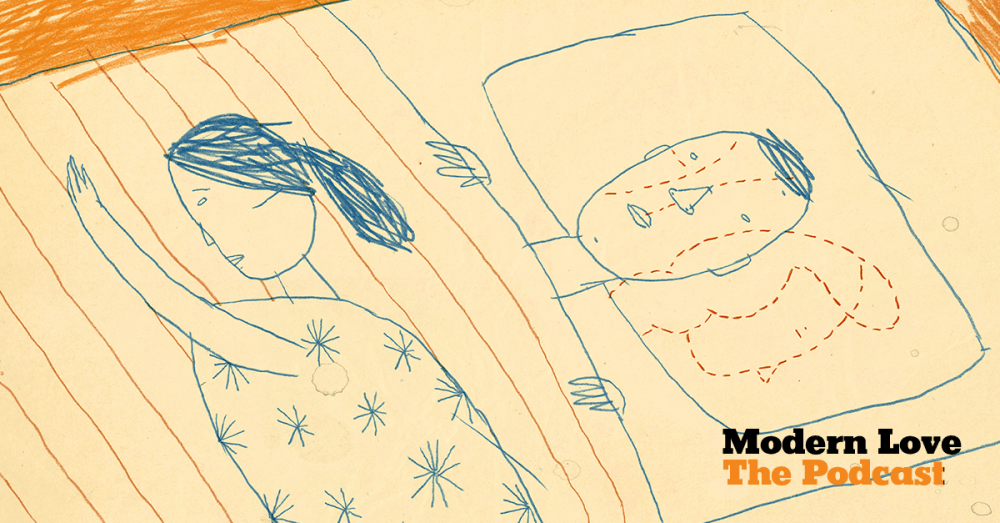 Within every marriage is a promise: to remain committed to a spouse through all the changes that can happen in a lifetime. But for Diane Daniel, those changes went further than she ever imagined, when just months into her marriage, her husband told her she identified as a woman.
Ann Dowd recently won an Emmy for her performance in the Hulu series "The Handmaid's Tale." She reads Diane's essay, "My Husband is Now My Wife."
Where Are They Now?
Diane and her wife Lina are still together. They now live in the Netherlands, which is Lina's native country. And while a lot has happened since Lina's first surgery, Diane clearly remembers the day this journey started, when Lina told her she identified as a woman.
"As soon as she said it, I knew that my life would never be the same," Diane said. "And I ran — we were at the table. I ran to the couch, which was maybe 20 feet away. And hurled myself on it, and just started bawling. And she was really horrified, and felt awful. She had no idea that she would hurt me so much."
"For them, it's like a birthday. And for people around them, it's like a funeral of the person they knew."

Diane Daniel
It's not that Lina was insensitive, Diane said. But they had very different emotional reactions to the idea of a transition. Diane said that Lina, like many transitioning people, was elated about beginning the process.
"For them, it's like a birthday. And for people around them, it's like a funeral of the person they knew," she explained. "And even though the person is still the same, you're still losing — I mean, I was losing my husband. And that part was just gut-wrenching."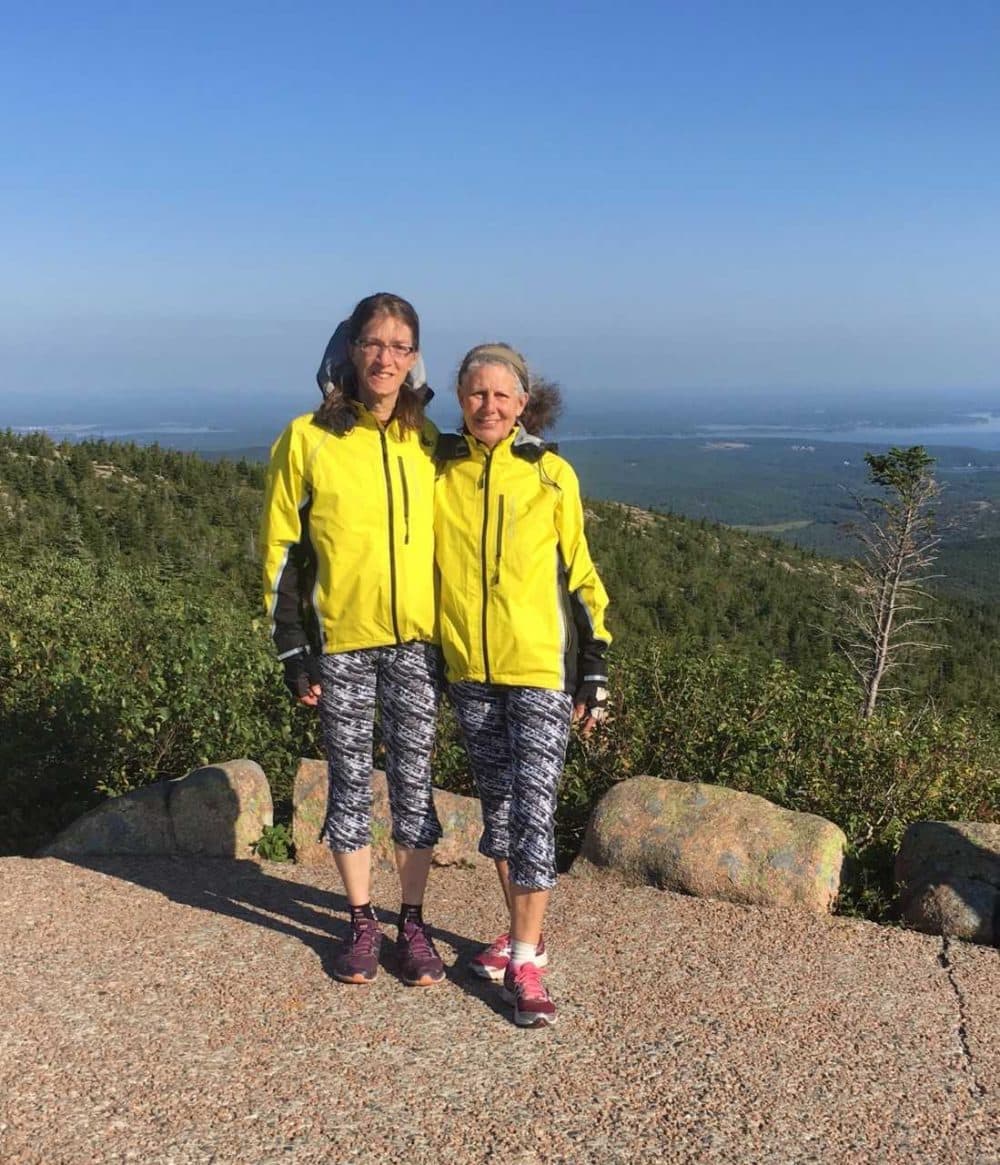 But Diane said she wasn't angry with Lina.
"There was that cliché, when I first found out, like, "This was not what I signed up for," she said. "But come on. Nothing is what we signed up for. This one might be a little extreme. But I couldn't really be angry at someone for being themselves. She never manipulated me, or lied to me ... Her development unfolded. And so I couldn't be angry, I'm sorry."
It was hard enough to come to terms with Lina's gender transition privately. Then, she and Diane had to figure out how to talk about it with people around them. In Durham, North Carolina, where they lived during Lina's transition, friends and family accepted them with open arms. But things got more complicated when they left home.  One experience shortly after the couple moved to the Netherlands made Diane reconsider how open she should be with new people.
"An American woman just sort of checked out," Diane said. "It's funny — because we were so embraced in Durham, my reaction was, 'Are you kidding me? It's 2015! What is your problem?' But I was also sad and hurt and didn't really know what that meant for the future."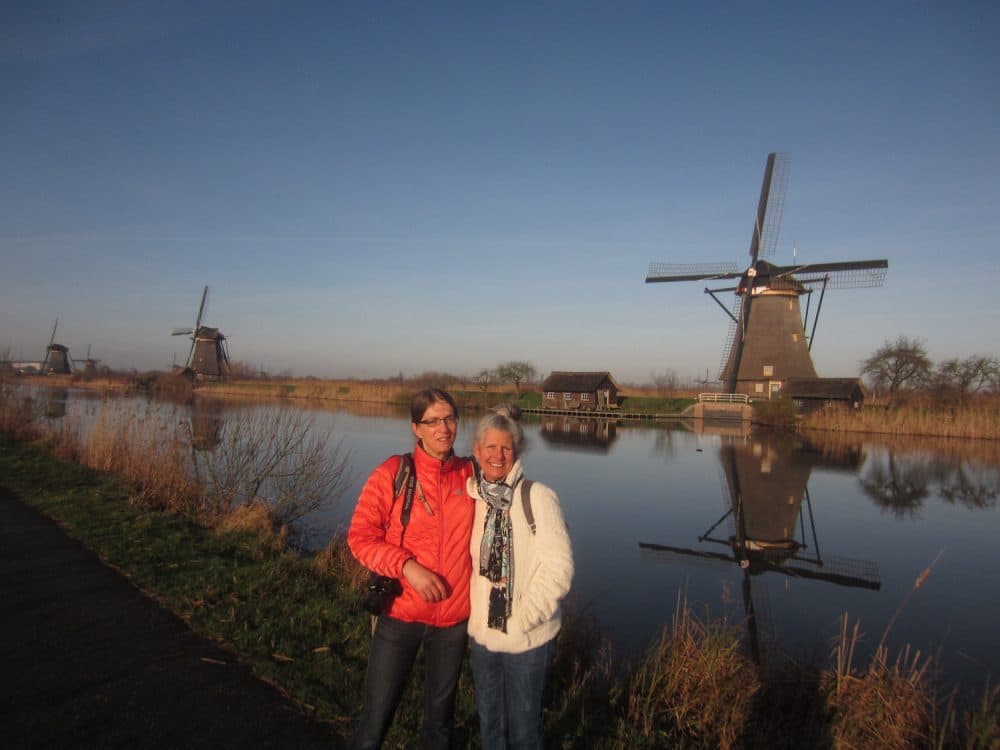 For the most part, Diane doesn't bring up the fact that Lina is transgender with new people. "I don't want them to be uncomfortable, I don't want us to be uncomfortable, and I just try to just be aware of what I'm thinking and not beat myself up over it, but also not become a victim to this [question of], what are people thinking," she said.
"In the end, that's all that matters ... how you are with each other."

Diane Daniel
And you can guess what people are thinking — or at least wondering — a lot of the time.
"Sometimes people will just flat-out ask me about our sexual relations. And usually my answer is, you tell me all about yours first, and then I'll share some of mine with you," Diane said. "And then they realize, I'm not going to talk about that. And although I totally understand that it's a normal curiosity ... what's so much more important is how you love, and how you treat each other, and in the end, that's all that matters, is how you are with each other."
Diane said her marriage has a strong core, and that has helped it endure.
"What we have is a very sweet, intimate, romantic relationship," she said. "We share tons of interests, we have a great time together. And I just cannot even imagine being with anyone else."
Thoughts From Ann Dowd
Actress Ann Dowd got emotional while reading Diane's essay. She explained, "What this author has done is to get to the core of what love, and acceptance, and trust is, and I don't know how human beings can speak those words without a struggle. Because it's so deeply personal and real. And so it was a privilege to read it."
Voices in this Episode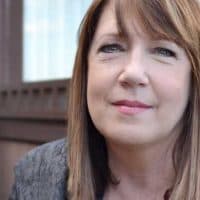 Ann Dowd was the recipient of the 2017 Emmy Award for Best Supporting Actress in a Drama Series for her role as "Aunt Lydia" on Hulu's The Handmaid's Tale. Her recent film credits include "Captain Fantastic," "Collateral Beauty," as well as "Compliance" (for which she was named Best Supporting Actress of the Year by the National Board of Review), "Our Brand is Crisis," "Bachelorette," "The Drop," "Side Effects," "The Informant!," "Marley & Me," and "Garden State." Her television roles include "The Leftovers" (for which she received an Emmy nomination for her performance as Patti Levin), "Good Behavior," "Quarry," "Masters of Sex," "Olive Kitteridge," "Louie," "The Divide," "Freaks and Geeks" and "Nothing Sacred." She has been seen on Broadway in "The Seagull," "Taking Sides" and "Candida."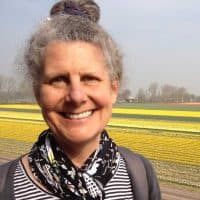 Diane Daniel is a freelance writer and editor, working with metropolitan newspapers, magazines, nonprofits, corporations, and startups. She has tackled topics ranging from design, sustainability, and travel to craft beer, cycling, and, yes, transgender issues. For those in need, her blog shewasthemanofmydreams.com includes many trans resources. Diane wrote the inaugural Forbes Magazine European "30 Under 30" feature in the art and food category and the travel guidebook "Farm Fresh North Carolina." In 2014, after a decade in North Carolina, she and her wife, Selina, who is Dutch, moved to Eindhoven, the Netherlands.