A Brother As Significant As Any Other | With Jeffrey Bowyer-Chapman
Play
What makes someone a "significant other?" And does it have to be a romantic other? Lawrence Forbes explores the gray areas in his essay, "A Brother as Significant as Any Other."
It's read by Jeffrey Bowyer-Chapman, who stars in the Lifetime show "UnREAL" and hosts the podcast "Conversations with Others."
Where Are They Now?
Lawrence is 47 now, and Jeff is 35. They live on opposite coasts — so when we talked to them, Lawrence was in a studio in California, and Jeff was in New York City. But they still text and talk almost every day. And they say their bond hasn't changed with the distance.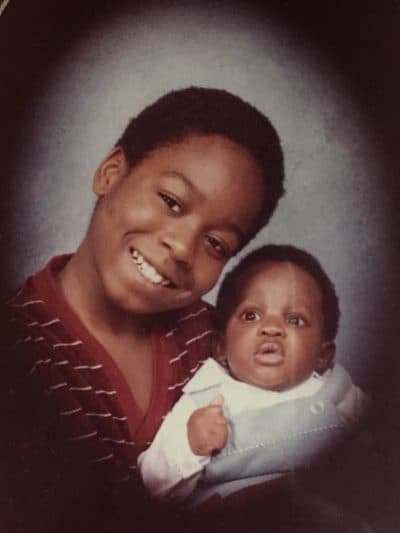 But even though they've always been close, Jeffrey still says that when Lawrence came out to him, it was hard.
"I'm going to be flat-out honest — I was scared when he told me," he says. "And it was just this weird shock to my system. And actually that night we went to bed and I kind of cried. Because I was just, like, scared. Like he had gotten some sort of terminal disease or something. And then, I had time to process everything, and clearly think it over. And I was realizing, I was like, dude, this is still the man you know, this is still the man you grew up with, who raised you. Like, absolutely nothing's changed."
When Lawrence found out Jeff accepted him for who he was, he says it was one of the most important moments in his life.
"It was a profound relief," he says. "I didn't know what was going to happen. I was — I guess it was sort of like getting a brother again."
As for their love lives now?
"Uhhhh — relationships are hard," Jeff says.
Lawrence adds, "I think it's hard also to see our parents, and go out in the world and realize how rare what they have is ... there's a profound level of respect at the core of their relationship. I would say Jeffrey and I share that kind of core. We just haven't found it outside of each other and our family."
And Jeffrey and Lawrence say that, although they don't have romantic partners to lean on, they rely on each other in difficult moments. Here's Lawrence.
"I've actually had three spinal surgeries in less than 10 years," he says. "And they've left me with four missing cervical discs. And during each of those periods that I had the surgeries, Jeffrey was there for me. Period. I think even this distance is bearable because of the relationship I have with Jeffrey. Because I know if I need him, he'll be here. If he needs me, I'll be there. And the rest is just the rest."
Voices in this Episode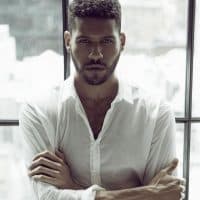 Jeffrey Bowyer-Chapman is most recognizable for his portrayal of ambitious producer Jay in the Peabody Award-winning and Emmy-nominated Lifetime series UNREAL, which is currently airing its third season. This spring, Bowyer-Chapman launched his own episodic conversational podcast series entitled JBC PRESENTS: CONVERSATIONS WITH OTHERS. In partnering with the producer of the hit podcast RUPAUL: WHAT'S THE TEE, he explores the concept of "otherness" and finding the strength and beauty in our differences and connectivity.

In 2016, the Hollywood Reporter declared Bowyer-Chapman one of Canada's top rising stars. That year, he co-starred opposite Robert De Niro and Zac Efron in the comedy DIRTY GRANDPA and filmed the indie feature TAO OF SURFING, alongside Eric Balfour and Lou Diamond Phillips. In Spring 2017, he co-starred in the Lifetime original movie LOVE BY THE 10TH DATE, alongside Kelly Rowland and Meagan Good. To much fanfare, he also appeared as a guest judge on RUPAUL'S DRAG RACE, a role in which he reprised earlier this year in the series' 'ALL STAR' edition.

Bowyer-Chapman began his career as an international model before making his feature film debut in SHOCK TO THE SYSTEM, which premiered at the 2006 Outfest Film Festival. In 2012, he starred opposite Jussie Smollett in LOGO's romantic comedy-drama THE SKINNY. Additional credits include his critically-acclaimed breakthrough performance in HBO's DEAR MR. GACY, SyFy's STARGATE UNIVERSE and the Nickelodeon animated series IRON MAN: ARMORED ADVENTURES, in which he voiced the role of the iconic superhero Black Panther.

Bowyer-Chapman is passionately involved with the Human Rights Campaign, for which he serves as a guest speaker. In 2016, he created the Bramon Garcia Braun (BGB) scholarship in his name, awarded to LGTBQ actors of color with a fierce desire to explore and express what is unique about them through their acting and the leadership and generosity to use their talent to change the industry's often limited perception of humanity. Born and raised in Canada, Bowyer-Chapman currently splits his time between New York and Los Angeles.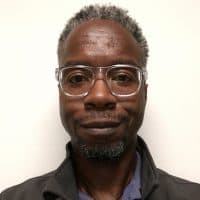 Lawrence Everett Forbes was walking down the street in Valley Stream, Long Island shortly after his Modern Love essay came out, when he was struck by a car that crushed his neck and threatened to paralyze him for life. After three surgeries, he set off to find an affordable life for himself — first in Savannah, Georgia, then back to New York before heading to Austin, Texas, and finally settling in the San Francisco Bay Area. He currently resides in Vallejo, California with his dachshund-beagle, Lizzy.

Despite the 3,000-mile distance, he and his brother Jeffrey remain extraordinarily close. His memoir, Pain in the Neck, explores his search for home and wellness, when circumstances shatter your idea of both.