A Life Plan For Two | With Olivia Munn
22:32
Play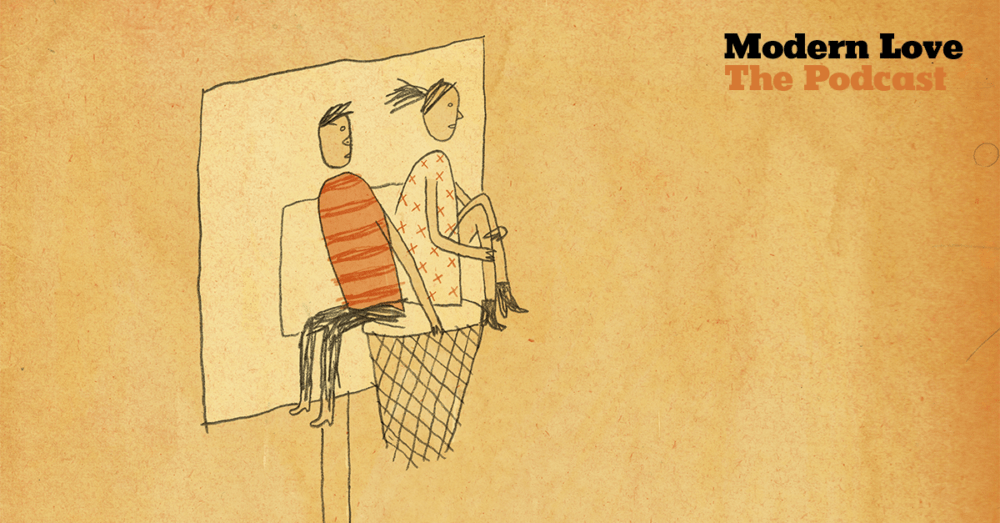 Some crushes are brief: The guy at the gym, the girl on Twitter, your barista. But others are epic — and take on a life of their own. Marina Shifrin writes about that kind of crush in her essay, "A Life Plan for Two, Followed By One." It's read by Olivia Munn, who stars in "The Predator," in theaters now.
Where Are They Now?
We had a lot of questions for Marina when we read this story, but we also wondered what everything looked like from Kevin's perspective. We talked to both of them, and Kevin brought us back to the first day they met, with an entry from the diary he kept back in fourth grade.
"May 6, 1998. A new girl joined named Marina. She's at my bus stop and is in in Mrs. Wyden's class. She's kind o' nice."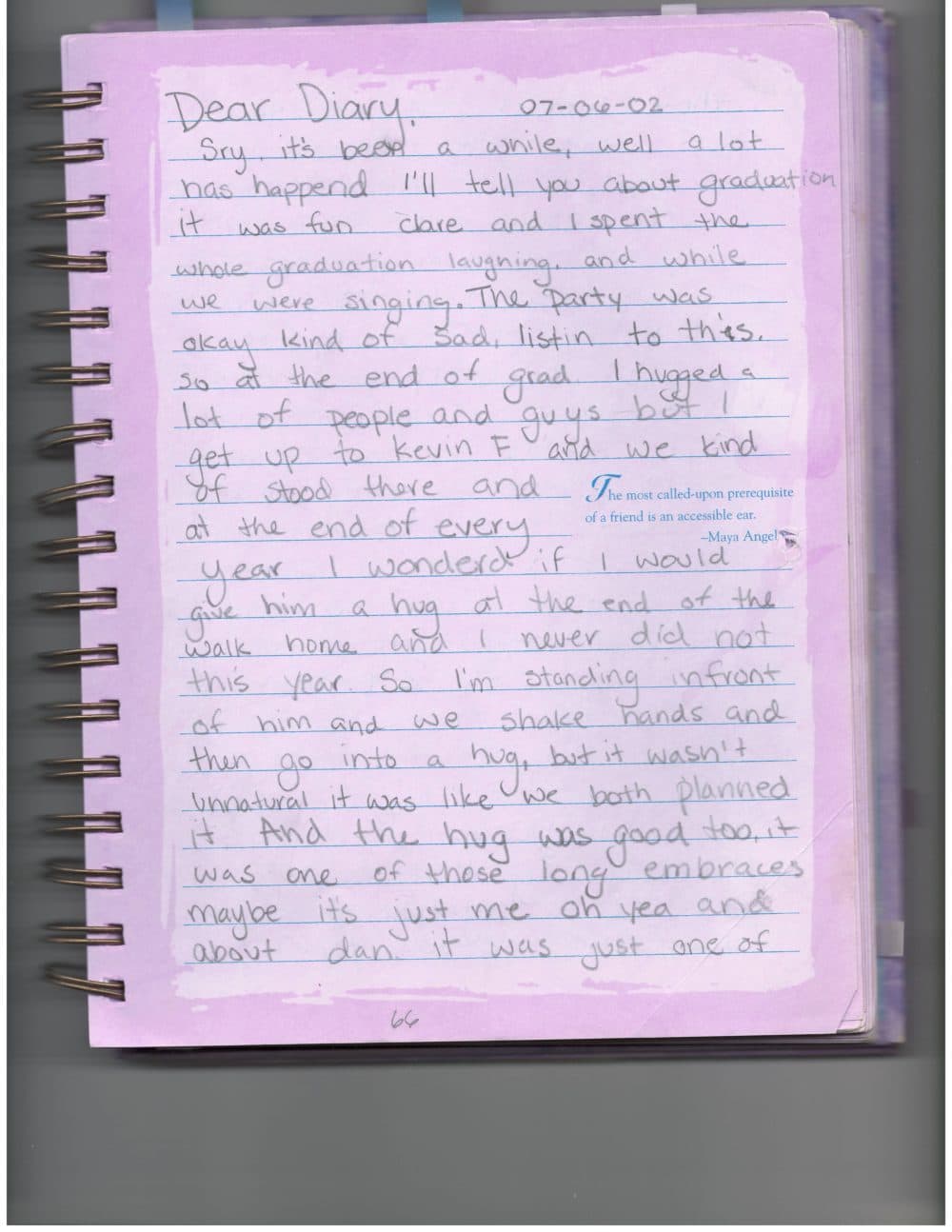 Twenty years later, Marina and Kevin's friendship is still going strong. And Kevin told us what it was like to read the essay she'd written about them.
"The first time I read it it was kind of emotional because I didn't know how she was going to end it," he says. "I thought that there were a few ways she could go. And I got a little emotional. I thought it was really cute, the way that she spun our tale ... Regardless of my role in it, my first reaction every time I read it was how good of a story it was."
Story continues below
Subscribe to the podcast
For Marina, publishing this piece was a bit terrifying. She says it felt like someone had put her diary entry on every locker in the high school. And the reaction she got from readers wasn't exactly what she'd expected.
"It was so weird because for so many years, I was the only person rooting for us, and then this article came out, and all of these people are emailing me. And I think Kevin got a little of it, like, 'What are you doing? Ask her out!' And we were so far past that time."
"A little bit of it? I still get it," Kevin says. "My first reaction when people say that was, 'Didn't you read the story?' The way I read it, and of course I'm biased, is to say, 'Oh, they're really close friends, they had different views of each other in this way.' And it's a nice sweet ending."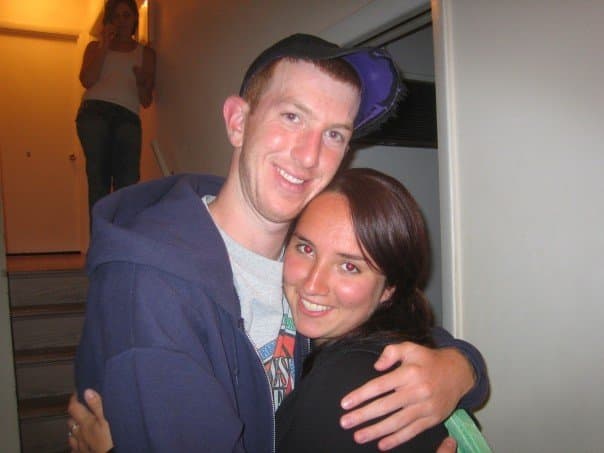 "Obviously that wasn't good enough for a lot of people, certainly in my life," he adds. "Marina can attest that my mom was one of those people who read it and was wondering what could have been."
"I love Kevin to death, but we like all the opposite things," Marina says. "He drives me crazy, but not in a cute and fun way. Like, I want to strangle him in his sleep sometimes."
"We got on each other's nerves, but it wasn't like, 'That's so cute, they rile each other up,'" Kevin says.
"Yeah, Kevin doesn't like chocolate," Marina adds. "So that's all I need to say."
Marina says that she has one piece of advice for people who are in the friend zone: Do everything you can to get out of it.
"I think a lot of people in the friend zone just accept that that's where they live. They never go up to the person and say, 'I like you, I think we would make a great couple, do you want to date me.' Which is kind of psychotic to say. But very effective in finding out and not wasting a lot of years and tears over a relationship that's not meant to be."
And letting go of her crush helped Marina find the person that she says she is meant to be with. That is someone she met through Kevin, when she was doing stand-up at a Chicago bar.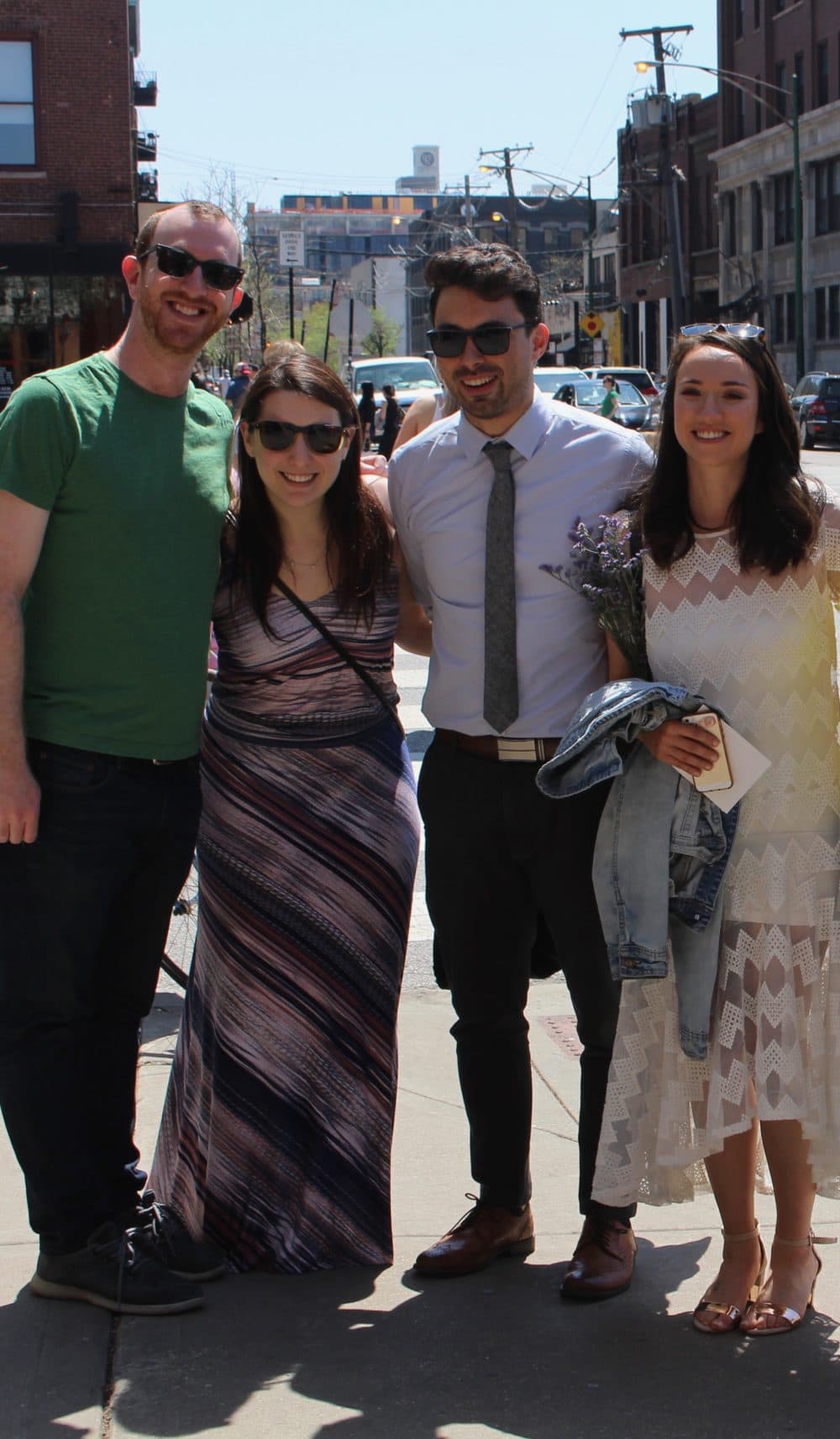 "I just bombed. And Kevin was there with a fraternity brother named Sam. I knew of Sam, they'd been roommates at one point. And I remember being mad at Kevin for bringing a really cute guy to my horrible show. And then a few weeks after that Kevin brought Sam to another show, and then Sam started coming on his own, and then Sam and I went on a few dates, and then we got married last week. I skipped a lot, but the timing is there."
And Kevin gave a speech at Marina's wedding, which he agreed to read for us. Here's a moment from the end.
"I've known Marina for 20 years. I've never seen her happier. I've known Sam for twelve years. I've never seen him happier. When two people who you love individually fall in love with each other — well, that's the dream, right? I cannot take all the credit, but I'm happy to take a little, for helping those two goofballs find each other. To Sam and Marina. Or, Marina and Sam."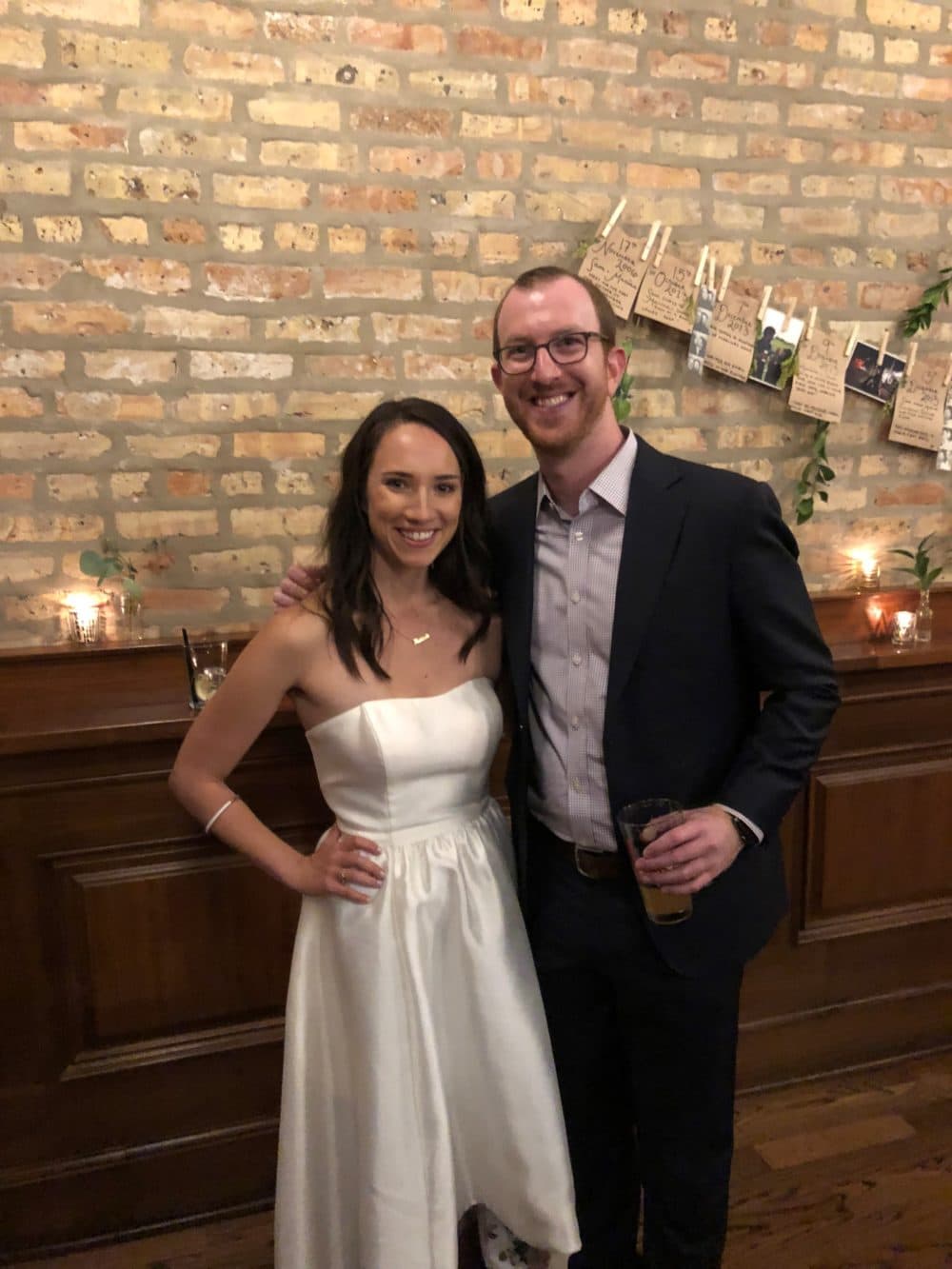 As for how this essay fits into Marina and Sam's relationship? It's currently framed and hanging in a closet in their home.
"I don't want people to walk in and see me framing every magazine clipping, but I do have a Marina closet," she says. "It's where my recycling is — very glamorous. And my dad went in there to recycle something, and he saw the article. And my dad said, 'Sam is a strong man. I would not allow my wife to hang up a story about another man under my roof.' [He's this] conservative Russian man. And I thought it was very funny. But I always appreciate when people see that it's a story about teen love, and it's light and awkward and funny and sweet. I really appreciate people who can see it for what it is."
Voices in this Episode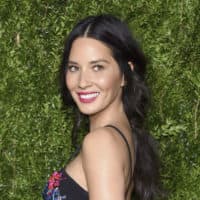 Olivia Munn is currently starring in 20th Century Fox's The Predator opposite Keegan-Michael Key and Sterling K. Brown, in theaters now. She most recently starred in the critically acclaimed second season of HISTORY series SIX, where she played "Gina," a ruthless and smart CIA operative. She also wrapped filming an upcoming Starz series The Rook, which will premiere in 2019.

Munn was also recently seen voicing the role of "Koko" in The LEGO Ninjago Movie. In 2016, she starred in Office Christmas Party alongside Jason Bateman and Jennifer Aniston, in X-Men: Apocalypse as "Psylocke", and in Universal's Ride Along 2 with Kevin Hart and Ice Cube. From 2012 – 2014, Munn starred as Sloan Sabbith on Aaron Sorkin's hit HBO political drama The Newsroom, which followed behind-the-scenes events of the fictional Atlantis Cable News (ACN) channel.

Variety recognized Munn as the "2014 Breakthrough Actress" winner at the Variety Breakthrough of the Year Awards. Her film credits include Mortdecai, Deliver Us From Evil, Magic Mike and Iron Man 2. She had an arc on FOX's Golden Globe and Emmy-nominated comedy New Girl and appeared in the Emmy-winning Showtime environmental documentary series Years of Living Dangerously from James Cameron and Jerry Weintraub. Munn is a spokeswoman and activist on environmental issues, including working with the U.S. Environmental Protection Agency's and DoSomething.org's "Green Your School Challenge" and Sierra Club.

An Oklahoma native, Munn spent the majority of her childhood in Tokyo, Japan and speaks fluent Japanese. She attended the University of Oklahoma after moving back to the U.S. and relocated to Los Angeles. In 2006, Munn joined G4 network's popular Attack of the Show! as co-host. She later joined Emmy-winning Comedy Central series The Daily Show with Jon Stewart as correspondent in 2010, becoming one of five female cast members to ever appear on the show. Her first book, "Suck it, Wonder Woman: The Misadventures of a Hollywood Geek" was also released that year and debuted on The New York Times and Los Angeles Times best sellers lists.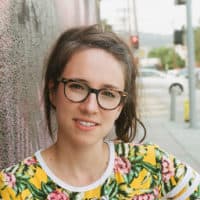 Marina Shifrin's first book "30 Before 30" is available everywhere where books are sold. She lives in Hollywood with her brand new husband and 16 plants — almost all of which are alive.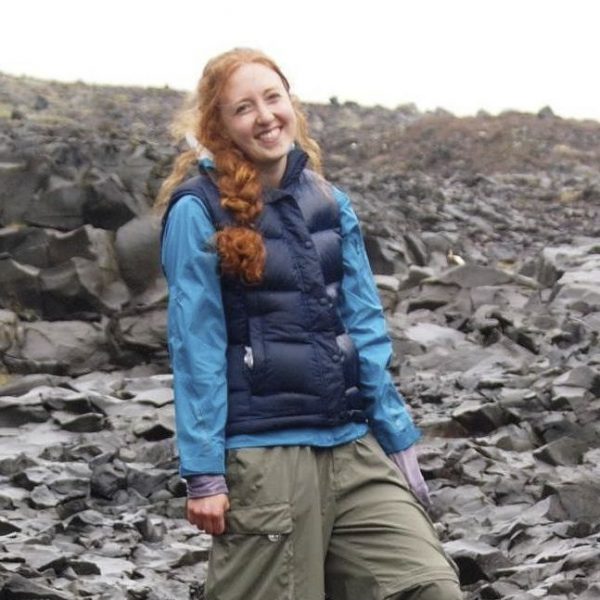 Caitlin O'Keefe Producer, Podcasts & New Programs
Caitlin O'Keefe is a producer of podcasts and new programming at WBUR.