The Plain, Unmarked Box Arrived | With Kristen Bell
Play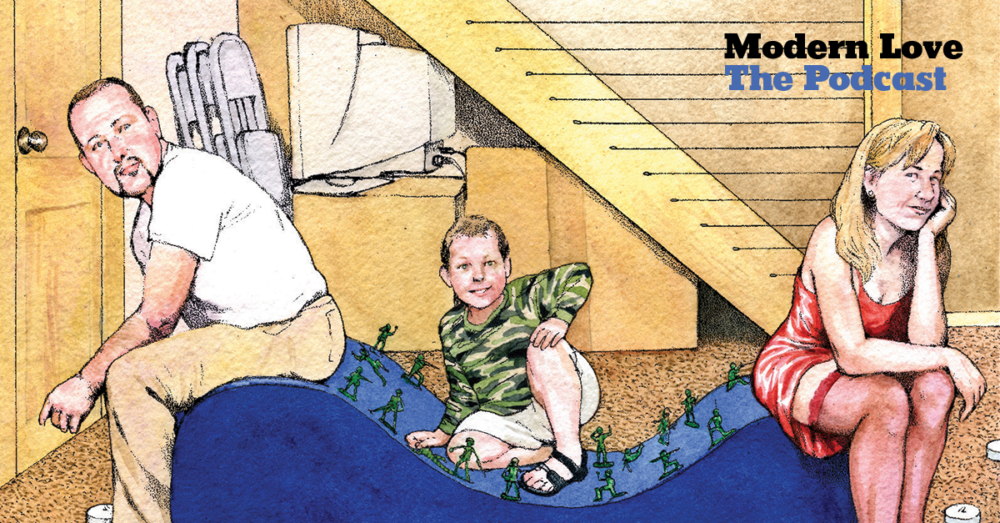 If you've never seen a sex chair, here's how it's described online: "A luxury chaise with elegant curves and serious style." "There is no end to the possibilities." "Supremely comfortable." "Blends into your bedroom."
And what might cause you to actually buy one? Lori Jakiela did just that, and she writes about it in her essay, "The Plain, Unmarked Box Arrived." It's read by Kristen Bell, who stars in "The Good Place." Season 3 is airing now on NBC.
Where Are They Now?
Lori's essay came out more than ten years ago, and her kids are teenagers now. We asked her what has happened to the chair in the past decade.
"Well, it is in our basement," she says. "Originally we put it under the staircase, hoping nobody would look for it. Then my son found it under there and dragged it out. He uses it as a video game chair. And his friends often stay over, 17-year-old boys, in our basement. And one night recently I came downstairs to find 17-year-old boys draped all over the basement, including one on the chair. So that's really pretty much ruined it forever."
"It's blue, it's very functional, it's very comfortable, and it blends in with everything else," she adds. "And also, where do you get rid of it? I can't even start to think about how you would do that."
Lori says her son has never read her Modern Love piece, and doesn't know what the chair is really for. But, she adds, "He may after this. I'm hoping at this point he knows enough about his parents not to be shocked by anything. My daughter does know. She's more interested in what I do than he is. But she's also extraordinarily close with both my husband and me. And she gets it. She knows we're kind of weird."
As for whether they've used the chair for its intended purpose?
"Can I no comment on that one?" she says, laughing.
Lori says that finding balance between parenting and marriage has gotten a little easier as her kids have gotten older, but for a long time, it was a challenge. And she has a little advice for other people who are trying to figure it out.
"You probably have these feelings that people think aren't exactly always appropriate, because you're a person. And you're not alone," she says. "Being a parent is hard and wonderful, and being a person in a relationship is hard and wonderful, and the world's a little less lonely if we're honest about all of that."
"Also I would like people to know, if they ever see clowns advertising in the Pennysaver, they should maybe think twice before hiring them."
Voices in this Episode

Kristen Bell currently stars in the NBC series "The Good Place," opposite Ted Danson, now airing season three. She is also set to reprise her role as the titular character in the revival of popular series "Veronica Mars," slated for release in 2019 on Hulu. Recently, Bell narrated the IMAX documentary PANDAS, lent her voice to the animated film "Teen Titans Go! to the Movies," and starred opposite Kelsey Grammer in the Netflix comedy "Like Father." Last year, Bell executive produced and appeared in the ABC special "Encore," about former high-school classmates who get together for an encore performance of their old musical theater productions. She also reprised her role as 'Anna' in "Olaf's Frozen Adventure," a featurette based on the blockbuster Disney animated feature "Frozen," that was released alongside Pixar's "Coco." She is working on the sequel to "Frozen," scheduled to hit theaters in fall 2019. "Frozen" has grossed over $1.2 billion worldwide, making it the highest grossing animated film of all time. Bell also starred in "A Bad Moms Christmas," alongside Mila Kunis and Kathryn Hahn. The film is a sequel to 2016's "Bad Moms," the first STX film to gross over $100m domestically.

In 2016, Bell was seen as 'Jeannie Van Der Hooven' in the Showtime series "House of Lies" opposite Don Cheadle, which wrapped its fifth and final season. In 2014, Bell reprised her beloved title role in Warner Brothers' film "Veronica Mars," which raised $2 million on Kickstarter in less than eleven hours and broke the record at the time for the fastest project to reach $1 million and $2 million. She appeared in a guest-starring arc on NBC's hit series "Parks & Recreation" and played the lead role in the independent film "The Lifeguard," which premiered at the 2013 Sundance Film Festival.

Her other film credits include: "CHIPs," "How To Be A Latin Lover," "The Boss," "Hit & Run," "Movie 43," "Some Girls," "Writers," "Big Miracle," "You Again," "Burlesque," "When in Rome," "Couples Retreat," "Forgetting Sarah Marshall," "Pulse," "Serious Moonlight" and David Mamet's "Spartan." Her television credits include: "Veronica Mars," "Unsupervised," "Deadwood," "Heroes" and "Party Down."

Her Broadway credits include "The Adventures of Tom Sawyer" and "The Crucible," opposite Liam Neeson and Laura Linney. Her Off-Broadway credits include "Reefer Madness" and "A Little Night Music."

Lori Jakiela is the author of five books, including Belief Is Its Own Kind of Truth, Maybe (Atticus Books), which received the Saroyan Prize for International Writing from Stanford University, and Portrait of the Artist as a Bingo Worker (Bottom Dog Press), a collection of essays about work and the writing life. She lives in Trafford, Pa., a tiny town in Pittsburgh's Electric Valley, with her husband, the writer Dave Newman, and their children.