How To Break Up With A 2-Year-Old | With Busy Philipps
Resume
We cross paths with so many people in our lives — but only a few of them truly change the direction we thought we were headed in. Laurie Sandell writes about a little girl who changed her path, in her essay "How to Break Up with a 2-Year-Old."
It's read by Busy Philipps. She's known for shows like "Freaks and Geeks" and "Dawson's Creek," and she's the host of a new late-night show on E! called "Busy Tonight." She's also out with a new book, called "This Will Only Hurt a Little."
Where Are They Now?
When we talked with Laurie Sandell, we asked her to pick up her story right where she left off.
"When I finished the piece I was pregnant, and I had no idea what my life was going to become," she says. "And my pregnancy was actually wonderful. I was in my early 40s, when I would have thought it would have been really difficult to be pregnant, but I had a super easy pregnancy, no nausea, nothing."
"Friends came out of the woodwork to help me," she says. "Everybody was rejoicing and celebrating ... I never felt alone for a moment. And when I gave birth to my son Teddy, two of my best girlfriends were in the room with me, cheering me on, and it was just a wonderful and magical period of my life."
Teddy is five years old now — and that's not the only change in Laurie's life.
"When Teddy was nine months old, I decided to dip my toe back into the world of Internet dating," Laurie says. "And the very first man who wrote to me is now my husband."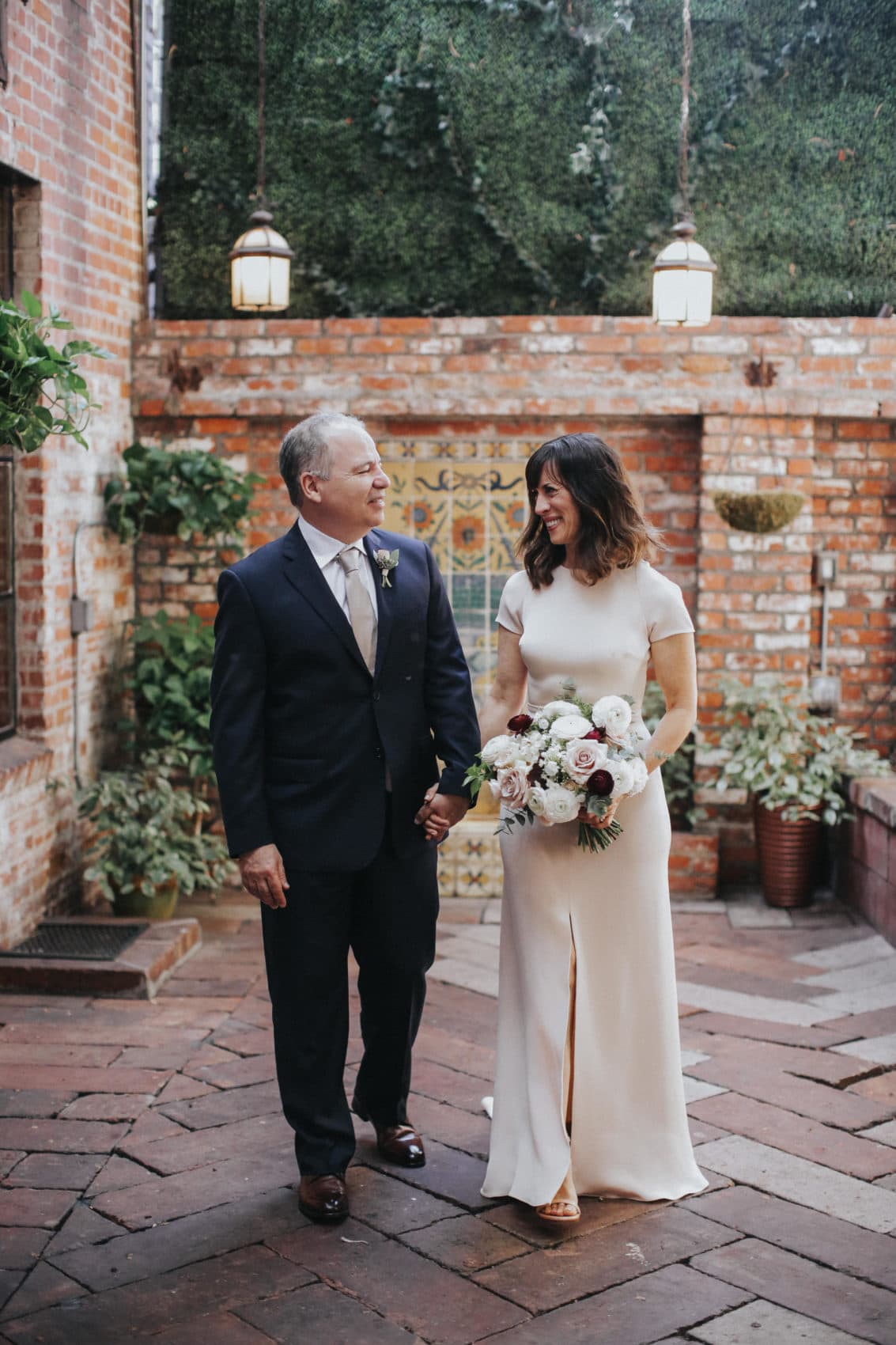 Laurie and her husband Jonathan were married in October. Laurie says she hadn't expected to find a serious relationship so soon after Teddy's birth. But Jonathan was different from the people she'd dated before, in part because he was a father of four.
"We had a really great first date," she says. "He talked about his kids and how proud he was of them, and his creative passions ... and that just drew me to him right away, how incredibly humble and down-to-earth he was."
And Laurie says that Jonathan is a great dad, both to his own kids and to Teddy.
"Teddy called him Jonathan up until fairly recently," she says. "So you'd hear this little baby voice going, 'Jonathan, Jonathan.' And now he's starting to call him dad, and daddy. And Jonathan is beginning the process of adopting him, which is of course more than my heart can take. It's wonderful."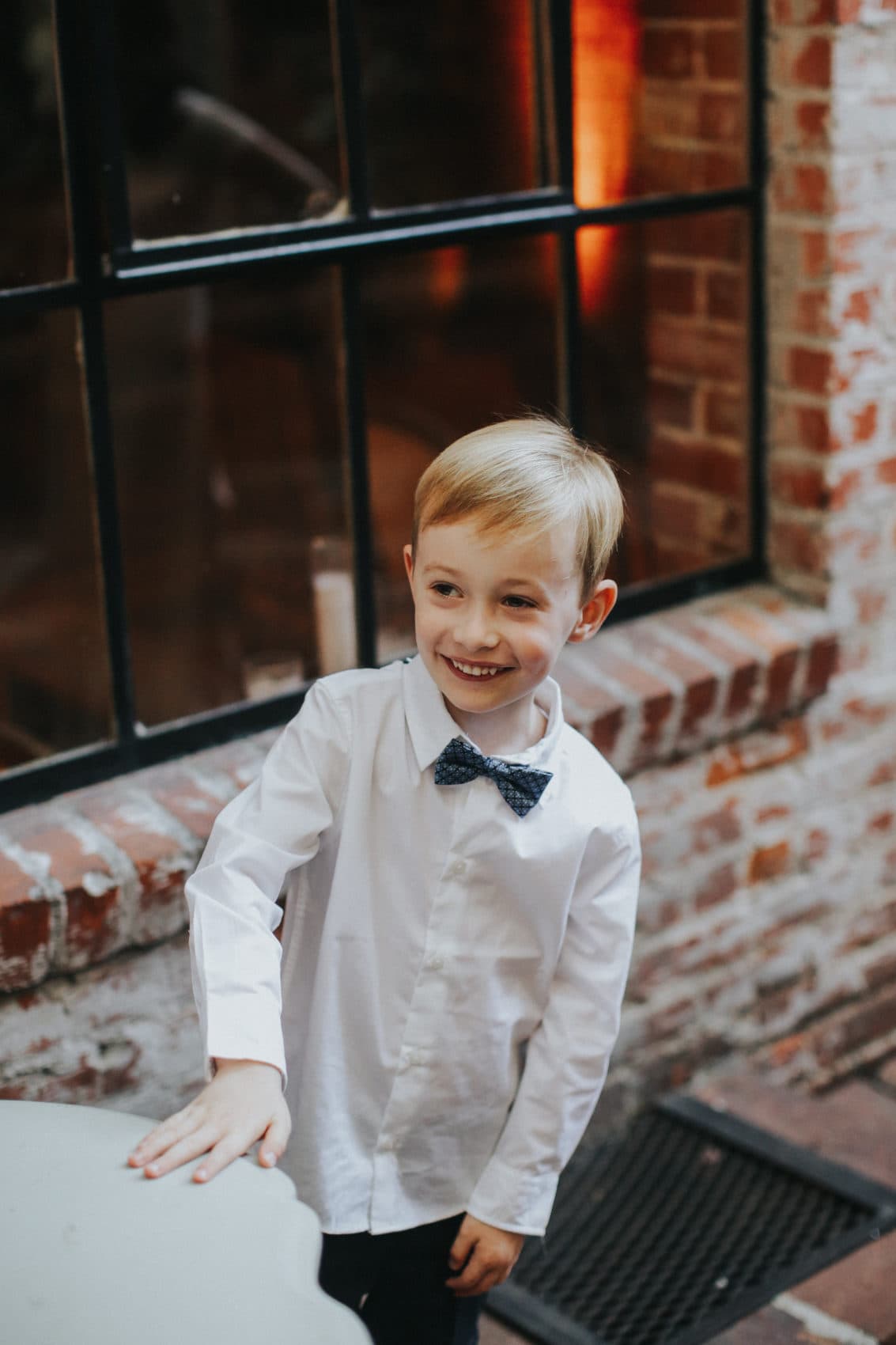 And what happened to that two-year-old girl Laurie writes about? She's eight now, and Laurie has seen her a few times over the years in passing. But they don't really have a relationship.
"She has no idea who I am. I've faded into the dim recesses of whatever toddler memory is," Laurie says. "She's a beautiful little girl, and she looks just like Andrew. And I look at her and I feel this really strong sense of connection because of what she meant to me in my life at that time. At the same time, I don't know her anymore and she doesn't know me anymore. I used to think that my heart would be shattered and destroyed if there was no possibility of a relationship down the line. And time has changed that, and healed all of that."
"I didn't stop loving her," Laurie says. "But I had the experience, finally, of having a child that I was never going to be separated from. And it was very different having my own child and knowing that I had to release her. She wasn't mine to parent anymore. And I had a child who was mine to parent for the rest of my life."
Voices in this Episode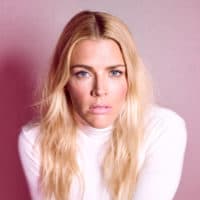 Busy Philipps struck a chord with critics and audiences early on in her career and has continued to garner attention as a dynamic actress and consistent scene-stealer.

Philipps will soon begin hosting her own late-night talk show BUSY TONIGHT on E! network. The series, set to premiere on October 28, will feature Busy giving her hilarious and outspoken opinions on the latest pop culture stories and trending topics with candid celebrity guest interviews and original comedic segments. Philipps will also serve as executive producer on the show, alongside Tina Fey, Julie Darmody and Eric Gurian.

Philipps recently released a collection of humorous autobiographical essays in her book THIS WILL ONLY HURT A LITTLE on October 16. The book offers the same unfiltered and candid storytelling that can be found on her social media pages and will be published by Simon and Schuster's Touchstone division. The book debuted on the New York Times best seller list.

On the big screen, Philipps can most recently be seen in the STX romantic comedy, I FEEL PRETTY, opposite Amy Schumer and Michelle Williams, and directed by Abby Kohn and Marc Silverstein. She also appeared in Joel Edgerton's thriller THE GIFT, alongside Jason Bateman and Rebecca Hall. Released by STX, the film tells the story of a young married couple whose lives are thrown into a tailspin when an acquaintance from the husband's path brings mysterious gifts and a horrifying secret to light.

Previously, Philipps was seen in HBO's VICE PRINCIPALS, an 18-episode comedy series from Eastbound & Down creators Danny McBride and Jody Hill. The series ran for 2 seasons and starred Danny McBride, Walton Goggins, Kimberly Herbert Gregory and Georgia King. Philipps played Gale Liptrapp, the ex-wife of McBride's character and loving mother to his child. Also on television, she starred opposite Courteney Cox on the popular TBS comedy COUGAR TOWN where she played 'Laurie Keller.'

Philipps first garnered attention at the age of 19 in Judd Apatow and Paul Feig's critically praised series, FREAKS AND GEEKS. Her performance as the tough, but sympathetic rebel teen, Kim Kelly crafted Philipps as one of the most compelling young characters in contemporary television. Following her breakout performance as a budding actress, she went on to appear in numerous roles across acclaimed television series' including a 5-episode arc on TERMINATOR: THE SARAH CONNOR CHRONICLES; a major recurring role as the devout Christian med-student, Hope Bobeck, on season 14 of ER; a starring role in the UPN sitcom LOVE, INC.; and a series regular in Kevin Williamson's award-winning coming-of-age series DAWSON'S CREEK where she starred alongside a notable cast including, James Van Der Beek, Joshua Jackson, Katie Holmes, and Michelle Williams.

Additional film credits include: Kat Coiro's, A CASE OF YOU opposite Justin Long, Peter Dinklage and Sam Rockwell; Douglas McGrath's, I DON'T KNOW HOW SHE DOES IT alongside Sarah Jessica Parker; Ken Kwapis's HE'S JUST NOT THAT INTO YOU; Paul Weiland's MADE OF HONOR with Patrick Dempsey and Michelle Monaghan; Shawn and Marlon Wayans' comedy, WHITE CHICKS; Paul F. Ryan's HOME ROOM; and Tim Hunter's ANATOMY OF A HATE CRIME.

Philipps was born in Oak Park, Illinois and raised in Scottsdale, Arizona. At the age of 18 she moved to Los Angeles to attend Loyola Marymount University and pursue acting as a career.

Philipps currently resides in Los Angeles with her husband and two daughters.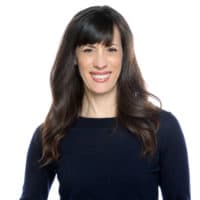 Laurie Sandell has written for The New York Times, Esquire, GQ, The Hollywood Reporter, Marie Claire, Glamour, New York, Real Simple and InStyle, among other publications, and her cartoons have appeared in Glamour, New York, Redbook and The Wall Street Journal. Her graphic memoir, The Impostor's Daughter (Little, Brown, July 2009), about her larger-than-life con artist father was nominated for a 2010 Eisner Award, and her second book, Truth and Consequences: Life Inside the Madoff Family (Little, Brown, October 2011) was adapted into an Emmy-nominated 2017 HBO film starring Robert DeNiro. Currently she is at work on a screenplay and a book. She lives in Studio City, CA, with her family.