Security In A Bright Yellow Suitcase | With Christina Hendricks
Play
You know the phase. The one when you're going back and forth between your place and your partner's, and you have to bring all your stuff with you.
But when is it time to make a change? Deanna Clevesy writes about that question in her essay, "Security in a Bright Yellow Suitcase." It's read by Christina Hendricks. She starred as Joan in "Mad Men" and you can see her now in "Good Girls" on NBC.
Where Are They Now?
Story continues below
Subscribe to the podcast
But Deanna told us that relationship almost never got started. She was using a dating app, at at the time, they only gave her ten matches each day. "And if you didn't swipe left or right on any of those matches, they stayed in your pool until you went through them," she says. "And I was at work. And I had barely any service. And none of the profile pictures loaded. They were gray boxes. And I said, yes yes yes yes yes, so I could get to the next batch. And so when we matched he immediately reached out and said hey, do you want to meet up. And his profile picture was horrible."
Deanna almost didn't go on that date, but her friend convinced her otherwise. But she says, "I showed up with no makeup on, no heels. Nothing like I would normally do for a first date. We met in Madison Square Park. And he came through the park, and he was so handsome. And I was shocked and all of the sudden so self-conscious. And that was really that. We saw each other four times that first week, and then he proposed in Madison Square Park where we met."
But Deanna says that she and her husband have had to negotiate some challenges. "Living and being in an interracial relationship across these cultures is very complex. And it can be really difficult. But I feel like neither one of us ever felt like there was another option. It just had to be. It just had to be us."
And that meant finally unpacking her suitcase. Deanna told us that when she did that, she asked herself, "What's the larger risk here? What do I have to lose?"
"I think at the beginning I didn't have much to lose," she continues. "It was, ok, if you don't want me, I'm out. I felt a lot of power in that. But then as the relationship progressed, [I had a lot to lose.] If I keep on resisting this relationship, if I keep on making it easy for me to run, if I keep on making this a temporary thing — I have a lot to lose now. I will lose him. He is not going to feel great about me always threatening to walk out the door, grab a cab and that's it. And when I was going to have a bigger risk of what was I going to lose, and lose him — I just had to jump."
Deanna still has the yellow suitcase, though she says it's a little dilapidated these days.
"I don't know what I will do when I have to retire the yellow suitcase. I have joked about turning it into a piece of furniture, or hanging it up somewhere. The yellow suitcase represents a lot of hardship and strength, and the journey we've had together. And I don't think I'll ever really let it go," she says.
Where Are They Now?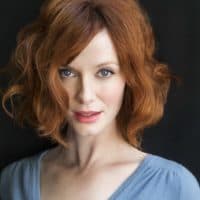 Currently, Christina Hendricks can be seen starring in Marianna Palka's Egg, which premiered at the 2018 Tribeca Film Festival.  Also upcoming she stars in Jake Scott's American Woman opposite Sienna Miller and Aaron Paul, which premiered at the 2018 Toronto International Film Festival.

Upcoming, Hendricks stars in NBC's comedy infused drama Good Girls alongside Retta and Mae Whitman. The series follows three suburban mothers who suddenly find themselves in desperate circumstances and decide to stop playing it safe and risk everything to take their power back. Season two of the series returns March 3, 2019.

Most recently, Hendrick's was seen on Amazon's The Romanoffs, created, written and directed by Matthew Weiner. The anthology series features eight separate stories about people who believe themselves to be descendants of the Russian royal family. Hendricks stared in the third episode of the anthology, 'House of Special Purpose' alongside Isabelle Huppert.

Notably, Hendricks garnered critical acclaim for her work in the television series Mad Men, in which she portrayed 'Joan Holloway.' For her performance, she earned six Emmy nominations in the category of 'Best Supporting Actress in a Drama Series' and is a two time Critics Choice Television Award winner for the role in the category of 'Best Supporting Actress in a Drama Series.' Additionally, many know her from Gillian Flynn's Dark Places opposite Charlize Theron; Ryan Gosling's directorial debut, Lost River  which premiered in Cannes;  John Slattery's directorial debut, God's Pocket opposite Phillip Seymour Hoffman and Richard Jenkins; Sally Potter's Ginger & Rosa, in which she starred opposite Annette Bening, Elle Fanning and Alessandro Nivola. Ginger & Rosa earned rave reviews at the 2012 Toronto Film Festival. Hendricks was also seen in the critically acclaimed feature from Nicolas Winding Refn, Drive, alongside Ryan Gosling and Carey Mulligan.

Hendricks' additional film credits include Strangers: Prey at Night with Bailee Madison and Martin Henderson; Crooked House with Max Irons and Glenn Close, Pottersville with Michael Shannon and Judy Greer; Fist Fight with Ice Cube and Charlie Day; Mark Waters' Bad Santa 2 alongside Billy Bob Thornton and Katy Bates.

On the small screen Hendricks appears as series regular on Sky Atlantic's Tin Star alongside Tim Roth as well as SundanceTV's series Hap and Leonard opposite James Purefoy and Michael Kenneth Williams. She was also seen alongside Natasha Leggero, Jason Ritter and Michael Ian Black in Comedy Central's Another Period. Her other television credits include Showtime's Beggars and Choosers, TNT's The Big Time, and Joss Whedon's Firefly.

On stage, in 2011, Hendricks earned rave reviews while appearing in Stephen Sondheim's production of Company for the New York Philharmonic at Lincoln Center, portraying flight attendance 'April.'

She currently resides in both New York City and Los Angeles.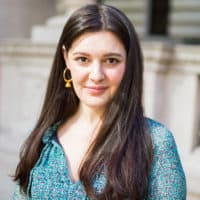 Deanna Patrice is a writer and poet living in New York City. When not spilling her heart out in personal essays, she is outlining a memoir based on her experiences in life and love. She loves to chat over iced coffee about...well, just about anything. You can read more of her work and reach out here.