Comfort, If Not A Cure | With Nazanin Boniadi
Resume
If you have ever been a caregiver, you might have wondered: How much can you give of yourself before it's too much? And what do you do when you reach your limit?
Tara Ebrahimi gets at those questions in her piece, "A Sister's Comfort, If Not a Cure." It's read by Nazanin Boniadi, who stars in the new movie "Hotel Mumbai."  It is playing now in select theaters, and nationwide on March 29th.
Where Are They Now?
Takkin lives with his father in Virginia, and has for the past decade. He has helpers who tutor and mentor him, but he has struggled to hold down a job. And since this piece came out, Tara has moved to Chicago. She recently went to court to become one of Takkin's legal guardians.
"Myself, my father, and my mother are all co-guardians," she says. "Which is not only a legal responsibility, but it's also the kind of responsibility where you can no longer say, I'm going to live my own life. My life is now incredibly entwined with his, and will be for the rest of my life. That's obviously a tremendous responsibility and a tremendous burden."
Tara does visit her brother often, and sometimes spends long stretches of time with him to help take pressure off their father.
"Just last summer in July I spent two weeks in Virginia, just me and him, and it was definitely the hardest two weeks of my life," Tara says. "He struggles with severe agoraphobia now, but he also has severe ADHD. So you're in this really tough place where he gets bored really easily because of his ADHD, and he can't entertain himself."
"He doesn't want to watch TV, he doesn't want to play games, he doesn't want to read, he doesn't really have the attention span to do any of those things," she says. "But at the same time he can't really go outside. So it's this constant struggle of, what are we going to do today? I remember waking up in the mornings and it would be 6:30 in the morning and I would think to myself, how am I going to get through the next fifteen hours?"
Tara says that the bottom line is that her brother isn't going to have the kind of life that she would want for him.
"He has moments of happiness and joy here and there, but frankly they are few and far between. I think his life is a hard one," she says. "He wants a girlfriend, he wants a job, he wants friends. These are things that he will never have. And I think part of dealing with the sadness that comes with that is acceptance and knowing that there's not a lot I can do to change those things, but there are things that I can do to make sure that when I am with him, he is happy and having those moments of joy."
And Tara says Takkin's future is uncertain, especially now that her father is in his late seventies.
"I'm not entirely sure what's going to happen," she says. "It's a very scary thing for me. My plan is to bring him to Illinois where I live and get him into the mental healthcare system here and set him up in a group assisted living facility. That's where he will be and I will be the one looking after him, but not the one providing that day in day out care. Because frankly, I'm not equipped to do that."
Tara isn't sure how she'll balance everything when she is married and has her own children. But she says, "Luckily I have a partner who is very understanding and knows that Takkin is going to be a huge part of my life forever. Because I'm not going to ever give up my brother."
Voices In This Episode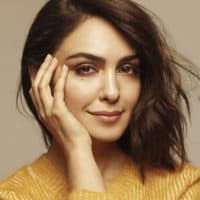 Nazanin Boniadi is an accomplished British-Iranian actress in both film and television as well as a passionate, renowned activist.

On television, Boniadi stars opposite J.K. Simmons in the critically acclaimed Starz Original series, "Counterpart," as 'Claire,' an enigmatic young woman of curious origin. The story centers on a hapless U.N. employee (Simmons) who discovers the agency he works for is hiding a gateway to a parallel dimension, created by East Germany. Directed by Morten Tyldum and written and created by Justin Marks, the series premiered on December 10, 2017. "Counterpart," which was renewed for a second season and is currently in production, is set to premiere in 2019.

From October 2013 to December 2014, Boniadi previously recurred as 'Fara Sherazi' in the Emmy and Golden Globe Award-winning drama series, "Homeland," for which she shared a 2015 SAG-AFTRA Award nomination for "Outstanding Performance by an Ensemble in a Drama Series'. Additional television credits include 'Nora', in seasons six and seven of CBS's Comedy, "How I Met Your Mother." In 2014, she appeared as the notorious 'Adnan Salif' in season three of Shonda Rhimes' ABC hit political drama series, "Scandal."

Additional on screen credits include, the adaptation of BEN-HUR, directed by Timur Bekmambetov, PASSENGERS, directed by Morten Tyldum, THE NEXT THREE DAYS, directed by Paul Haggis, and the first installment of IRON MAN, directed by Jon Favreau, among others. Born in Tehran, Boniadi and her family relocated to London shortly after the Iranian Revolution. While in London, following her early involvement in theater, Boniadi sought to pursue acting and trained in Contemporary Drama at the Royal Academy of Dramatic Arts under the supervision of dramaturge, Lloyd Trott.

In addition to her passion for the arts, Boniadi is a dedicated human and women's rights advocate with a focus on Iran. From 2009-2015, she served as a spokesperson for Amnesty International USA (AIUSA) and continues to partner with the non-profit as an Amnesty International Artist of Conscience. In 2014, she was selected for term membership by the Council on Foreign Relations and in 2015, she joined the Board of Directors at the Center for Human Rights in Iran. Boniadi's advocacy work has taken her to Capitol Hill, British Parliament, and most recently, the Bundestag.

Boniadi received her Bachelor of Science degree with honors in Biological Sciences from the University of California, Irvine. During her time at UCI, she received the distinguished "Chang PinChun" Undergraduate Research Award for molecular research involving cancer treatment and heart transplant rejection.

Boniadi currently resides in Los Angeles.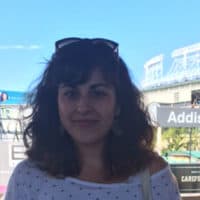 Tara Ebrahimi is a writer and editor whose creative work focuses on mental illness, family, and travel. She has an MFA in creative writing from the University of Washington and has been published in a few journals and online magazines. She is currently working on a book about her relationship with her brother. She lives in Chicago with her dog Ernie.