Race Wasn't An Issue To Him, Which Was An Issue To Me | With Lorraine Toussaint
Resume
Interracial relationships come with their own complexities, and there are a lot of questions that come up. Questions like: How does your partner think about race? How do you talk about it? What works, and what doesn't?
Kim McLarin writes about race and dating in her piece, "Race Wasn't an Issue To Him, Which Was an Issue To Me." It's read by Lorraine Toussaint. She's starring now in the shows "The Village" and "Into the Badlands," and you can also see her in the upcoming films "Fast Color" and "Sprinter," out later this month.
Where Are They Now?
Kim's one regret about the piece was Jerry's reaction to it.
"Jerry did read the piece and he was furious at first," she says. "Even though we did not use his last name of course. And to me Jerry wasn't the point of the essay. Jerry is representative of a lot of people in this society, and that's what I was really writing about. I wasn't writing about him, I was writing about the unwillingness of a large portion of American society to address these issues head on, and how I couldn't be in an intimate relationship with one of those people."
She adds, "Jerry was pissed, but Jerry got over it."
Kim is in a relationship now with a man she met three years ago. And a year and a half ago, they had a commitment ceremony.
"I don't believe in marriage anymore, so that's a separate issue, but I'm well partnered," she says. "And ironically — or not ironically — he is a white man. And he's the love of my life. I call him the unicorn because he's a magical creature who nobody believes exists, but he does."
"He acknowledges his own white male privilege, and he does not discount or diminish my experience, which is what was happening with Jerry," she continues. "If I have an experience where I'm in a department store, and someone follows me and accuses me of shoplifting, and I come home and tell him, he doesn't say 'You imagined it.' He starts cursing with me and then we hug and then we have dinner. We don't have to talk about race because he acknowledges the reality. It's like, you don't have to keep arguing about the wetness of water unless one person is denying that it is."
Kim says that for her, that acknowledgment of another person's reality is essential to intimacy.
"I'm a big fan of James Baldwin. He's my spiritual guide. My guru," she says. "And he said the writer's job is to look right at the heart of things and to tell the truth about the way human beings are and what it means to be human in this world, in order to make the world a more human dwelling place, and a more humane dwelling place. And that's all I'm trying to do. We can't make things better until we acknowledge the way things are."
Voices In This Episode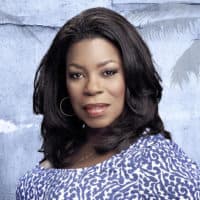 SAG Award winner and NAACP Image Award nominee Lorraine Toussaint most notably shocked audiences as the viciously seductive inmate "Vee" on the second season of the hit Netflix series Orange is the New Black. Toussaint's epically thrilling performance won her glowing reviews from the likes of TV Guide and Vanity Fair, and a Best Supporting Actress Award from the Critics Choice TV Awards. Toussaint also received praise for her performances in the Academy Award-nominated feature film Selma and her starring role in the ABC fantasy/drama series Forever.

Toussaint currently leads the ensemble cast of NBC's drama The Village. She plays Patricia, a warm, vivacious grandmother figure and social worker who, unable to have her own children, became a caretaker for everyone around her. She also stars in season three of AMC's Into The Badlands and can be heard as the voice of "Shadow Weaver" in Netflix's animated series She-Ra and The Princess of Power, which returns for its second season in April.

In film, Toussaint will co-star in the upcoming sci-fi thriller Fast Color, which is set for release in April. Directed by Julia Hart, the film premiered at South by Southwest in 2018 to critical acclaim. She can also be seen in Guillermo del Toro's upcoming horror film Scary Stories To Tell In The Dark, which is slated for theatrical release in August 2019. Toussaint is currently in production on the upcoming Gloria Steinem bio pic entitled The Glorias, based on Steinem's memoir. She will portray the iconic feminist and civil right activist Flo Kennedy, opposite Julianne Moore.

No stranger to the silver screen, Toussaint's first film role was opposite Burt Reynolds in the Crime comedy Breaking In. She has also appeared in Dangerous Minds, the Soloist, and Ava DuVernay's Middle of Nowhere, which garnered her an Independent Spirit Award nomination for Best Supporting Female. Additional film credits include Sprinter, Universal Pictures' Girls Trip, the Seth Rogen comedy The Night Before, and Lionsgate's Love Beats Rhyme.

In television, Toussaint most recently starred in Fox's police procedural drama Rosewood. Among her many additional TV credits are recurring roles on NBC's Friday Night Lights, TNT's Saving Grace, Dick Wolf's Law & Order, ABC's Ugly Betty, and ABC's The Fosters. She has also had several guest appearances on hit television shows including CSI: Crime Investigation, ABC's Grey's Anatomy, ABC's Scandal opposite Kerry Washington and most recently Netflix's Grace and Frankie.

Toussaint spent the first 12 years of her career acting on stage in New York City before moving to Los Angeles. Her first television appearance was in 1983 in The Face of Rage. Toussaint's biggest career boost came from her co-starring role opposite Annie Potts in the TV series Any Day Now, which earned her an NAACP Image Award nomination for Best Actress in a Drama Series and the Wiley A. Branton Award for the National Bar Association.

Born in Trinidad, Toussaint and her mother moved to Brooklyn, NY when she was ten years old. An early interest in acting led to her enrollment in New York's renowned High School of Performing Arts, followed by the prestigious Julliard School's drama division where she graduated with a Bachelor's in Fine Arts degree. On her graduation day, she landed her first paying job as Lady MacBeth with Shakespeare & Company.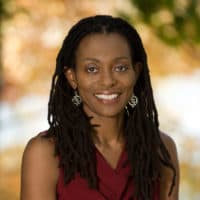 Kim McLarin's newest book is called "Womanish: A Grown Black Woman Speaks on Love and Life." She's also author of the critically-acclaimed novels Taming It Down (1999), Meeting of the Waters (2001), and Jump at the Sun (2006), all published by William Morrow Inc. Her memoir Divorce Dog: Motherhood, Men, & Midlife was published in 2014 by C&R Press. McLarin is also co-author of the memoir Growing Up X with Ilyasah Shabazz. Jump at the Sun was chosen as a 2007 Fiction Honor Book by the Massachusetts Center for the Book. The novel was also nominated for a Hurston-Wright Legacy Award and selected by the Black Caucus of the American Library Association as a 2007 Fiction Honor Book.

McLarin's nonfiction writing has appeared in The New York Times, Glamour, The Washington Post, Slate, The Root and other publications. She is a former staff writer for The New York Times, The Philadelphia Inquirer, The Greensboro News & Record, and The Associated Press. Previously, McLarin has taught at Northeastern University and Fairfield University.

McLarin appears regularly on the Emmy-Award winning show Basic Black, Boston's long-running television program devoted to African-American themes, which airs weekly on WGBH-TV. She is a member of the board of PEN New England and Boston Day and Evening Academy.