The Wisdom Of The Moving Man | With Lake Bell
21:11
Play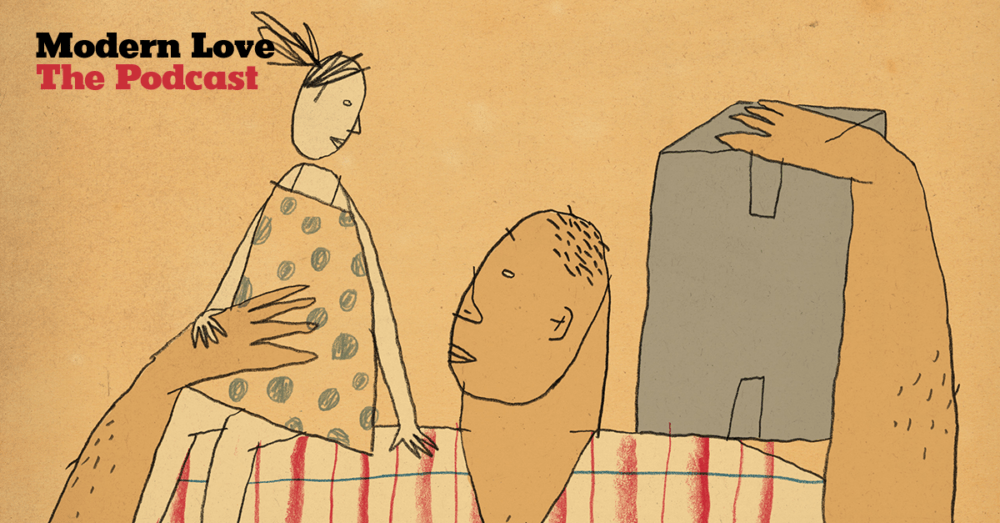 When we take stock of the people who matter most to us, there are the spouses, the family members, the best friends, the partners. And then there are the people who aren't any of those things, but who change our lives anyway.
Emily Raboteau's essay "The Wisdom of the Moving Man" is about one of those people. It's read by Lake Bell, who has starred in "In a World...," "It's Complicated," and "Wet Hot American Summer." You can see her now in "Bless this Mess" on ABC.
Where Are They Now?
Emily Raboteau says that in this piece, she wasn't interested in telling a traditional love story.
"It's kind of an exercise in misdirection. Because you think Derek is the love object — that I'll wind up with him. But I didn't. Really the reason I loved this guy was that he was a gifted caretaker, and that's really rare in his business," Emily says.
"But it wasn't the kind of love that was going to resolve in a typical way, or kind of story. It was a kind of love where he was really good at performing a job in a way that made me feel safe and held at times where I felt insecure and like I didn't know where I was going to wind up."
Story continues below
Subscribe to the podcast
But Emily hasn't heard from Derek in years.
"I did hear from someone who said Derek had moved back to Estonia, where he's originally from, and that he operates a food truck now, and has a family. I never heard from him, but I think that's okay. He was a really major character during several chapters of my life, but he probably doesn't remember me at all," she says.
When we talked to her, Emily told us more about the last line of her essay, where she describes her husband hoisting her roughly across the threshold of their new home, as if he never imagined that she was someone who could break. We asked her what was behind that line. She says it came from her history with her ex-boyfriend.
"After 9/11, his alcoholism spiked. He trashed our apartment. That's probably just one tossaway line in that essay. But what that looked like was he broke everything — he broke all of my possessions. He broke the chairs, he threw things against the wall. Now I'm getting emotional. Because actually what's behind that last line — I felt like he was trying to break me too."
And that relationship influenced how Emily saw herself.
"I thought about myself as being extremely vulnerable, especially in relation to other men," she says. "By which I mean, I've been in an abusive relationship. And so I had a sense of myself as being perhaps vulnerable or fragile because it was so difficult to extricate myself from that relationship."
"Derek was a person — this may be really why I loved him — because every time he came into my life to move me out of the apartment that I shared with that boyfriend, or back into the next apartment that I shared with that boyfriend, or out of it again, he always was telling me, 'You're going to be okay. And not only are you going to be okay, but you're okay already.' He was an optimist, in other words, and his optimism was infectious."
"My husband, the man I married — he's also like that," Emily says. "He didn't have a story about me as someone who'd been abused or stuck in a relationship with an alcoholic. But rather as somebody who was okay, and who was going to be okay, and who was on an awesome path that he wanted to share."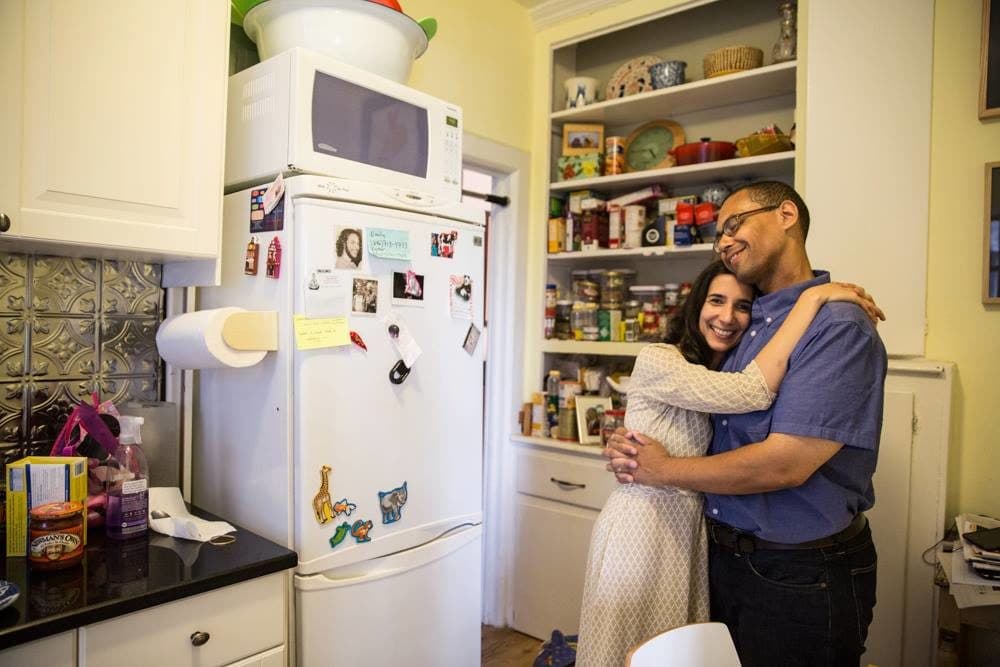 "For someone like Derek, they see so much — this emotional thing I just revealed — that's their job, to see messy life like that, over and over and over again," she continues. "They say moving is up there as a stressful moment in people's lives along with death and public speaking. A lot of the time people are moving because something good has happened. But a lot of the time they're moving because something terrible has happened."
Now, Emily and her family are in the process of moving again, out of the apartment where she gave birth to their two children.
"I just hired a painter, and he'll be painting over the pencil marks in the kitchen doorframes where I measured their growth, which makes me a little sad," she says. "But our family outgrew that place, just as I outgrew all those other apartments when I was single that Derek moved me out of. And I would like for him to see the next place, because I know he'd say something nice about me moving up again that would make me feel good."
Voices in this Episode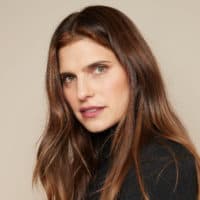 Lake Bell is a director, writer, producer and actor currently starring opposite Dax Shepard in ABC's "Bless This Mess," a new comedy that centers on a newlywed couple that gives up their drab and unfulfilling lives in New York and move to Nebraska for a simpler life.

This summer, Bell reprises her role as the lackadaisical cat Chloe in the second installment of Universal's "The Secret Life of Pets 2" opposite Patton Oswalt, Bobby Moynihan, Jenny Slate, Dana Carvey, and Kevin Hart. The film is set to release June 7, 2019.

Most recently, Bell starred opposite Reese Witherspoon in Hallie Meyers-Shyer's "Home Again." On television, she directed two episodes of the popular Hulu original series "Casual" and starred in "Wet Hot American Summer: First Day of Camp" and "Wet Hot American Summer: Ten Years Later," a satirical comedy television series written by David Wain and Michael Showalter and directed by Wain. The Netflix series was a follow-up to the 2001 hit film by the same name.

Bell made waves at the Sundance film festival when she premiered her first film, "In a World..." in which she wrote, directed, and acted. Bell's second directorial project, "I Do … Until I Don't," which she also wrote and starred in, premiered in September 2017.

Other film credits include: "Into the Spider-Verse" opposite Jake Johnson, "Shot Caller" opposite Nickolaj Coster-Waldau, "No Escape" opposite Owen Wilson and Pierce Brosnan, "Million Dollar Arm" opposite John Hamm and Alan Arkin, "Black Rock" opposite Kate Bosworth, "No Strings Attached" alongside Natalie Portman and Ashton Kutcher, Nancy Meyer's "It's Complicated" starring opposite Meryl Streep, Alec Baldwin and Steve Martin, "What Happens in Vegas" opposite Cameron Diaz and Ashton Kutcher, "Pride and Glory" opposite Colin Farrell, "Over Her Dead Body" opposite Paul Rudd and the independent film "Under Still Waters" opposite Jason Clarke. On television, Bell's other credits include: "Bojack Horseman," "How to Make It In America," "Surface," "Boston Legal," "Miss Match," and "War Stories." She also appeared on the Emmy Award winning Adult Swim series "Children's Hospital" for seven years and directed several of its most acclaimed episodes.

Bell was born in New York City and currently splits her time between New York and Los Angeles. She is married to artist, Scott Campbell, with whom she has two children. Above all, Bell spends her days balancing her passion towards her art with her commitment to her family. She also loves Classic Rock.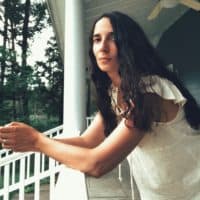 Emily Raboteau is the author of a novel, The Professor's Daughter (Henry Holt) and a work of creative nonfiction, Searching for Zion (Grove/Atlantic), named a best book of 2013 by The Huffington Post and The San Francisco Chronicle, a finalist for the Hurston Wright Legacy Award, and winner of a 2014 American Book Award.  Her fiction and essays have been widely published and anthologized in Best American Short Stories, The New York Times, The New Yorker, Tin House, Buzzfeed, Literary Hub, The Guardian, Guernica, VQR, The Believer, Salon,  and elsewhere.  Honors include a Pushcart Prize, The Chicago Tribune's Nelson Algren Award, and fellowships from the National Endowment for the Arts, the New York Foundation for the Arts, the Lannan Foundation, and the MacDowell Colony.  Raboteau resides in New York City and teaches creative writing in Harlem at City College.  She is completing a novel about a building superintendent in Upper Manhattan.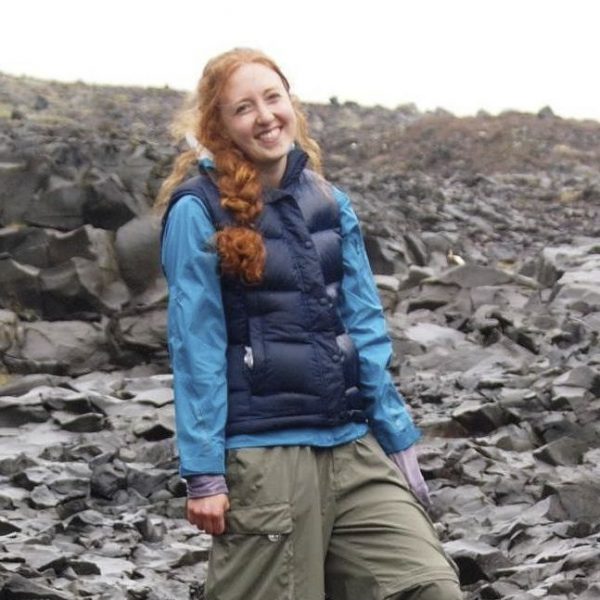 Caitlin O'Keefe Producer, Podcasts & New Programs
Caitlin O'Keefe is a producer of podcasts and new programming at WBUR.