An Affection Multiplier | With Zachary Quinto
18:47
Play
Bob Morris used to be a self-described curmudgeon and dog skeptic. He writes about the miniature dachshund that changed all that in his essay "An Affection Multiplier, with Four Feet and a Wet Nose."
Zachary Quinto reads this week's essay. He's known for playing Spock in "Star Trek," and he's starring now in AMC's NOS4A2.
Where Are They Now?
Bob Morris's essay was published in 2009, and Zoloft the dog is about twelve now. Bob brought Zoloft with him to the studio when he came to talk to us. He says that over the past decade, Zoloft has lowered his I.Q. but improved his marriage.
"What shocked me after I wrote the essay was that I had become some kind of an insane Mr. Rodgers when I would walk this dog around the neighborhood," Bob says.
"Suddenly, I found myself picking this dog up in my arms and holding her like a baby so people could pet her face and belly. I really do believe she's lowered my intelligence by 20 points. And it wasn't so high in the first place that I could lose that, especially as a writer."
Bob likes that Zoloft has no conception of his successes, or failures.
"This dog has no idea how many walls I've hit in my career since I wrote that essay," he says. "I can remember HBO passing on a show when I first got the dog. [I had] to lie down, and she was right there on my chest. And our breath pretty much synchronizes, even though she's much littler than me."
"I have a wonderful marriage and good friends and family, but they're not always there, and you don't always want to tell them about a disappointment that knocks your self-esteem very hard," he adds. "A knock to self-esteem is a huge cause of depression. But this dog is ignorant of all of that."
"If I'm depressed and I come home and I open the door, she's going to be there, being so excited to see me — far more excited than any publisher or producer, or even my husband," Bob adds. "That dog ... literally spins in joy when I walk in the door. And if it's a really bad day, do you know what I do? I go back out, close the door and I walk in again."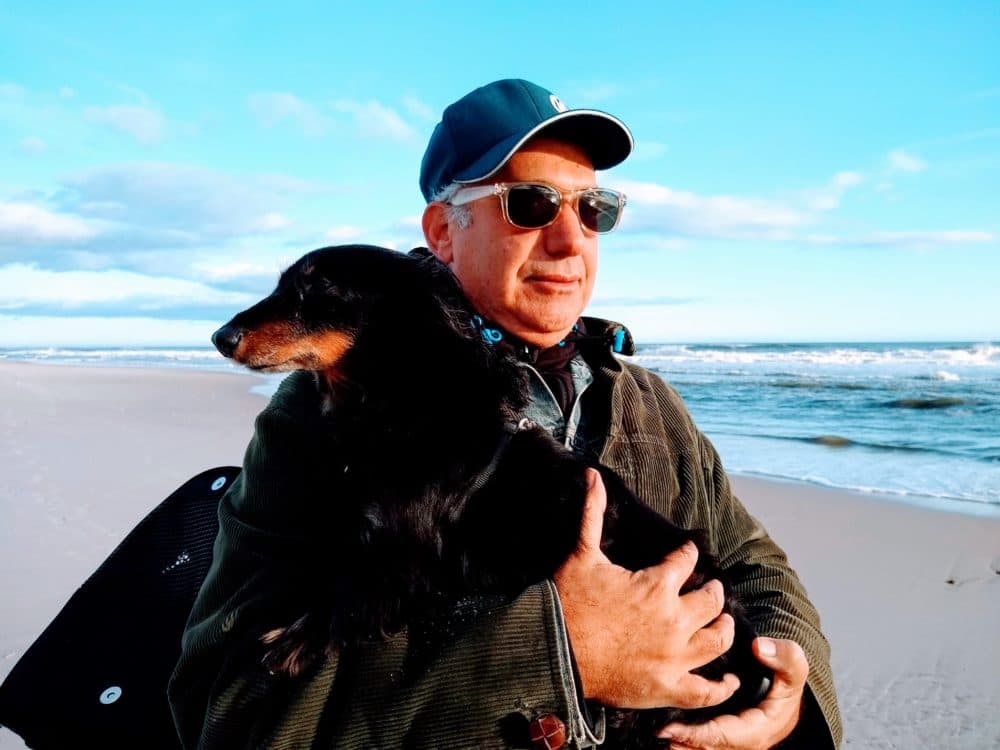 And Zoloft has also helped Bob and his husband Ira connect.
"When [Ira and I] first got together, the idea of falling asleep entwined in an embrace was out of the question. As a certified light sleeper, there was no way that I was going to be able to fall asleep with him in my arms. You add in a dog who just has to be nestled up against me, and to me, and even if I accomplish nothing else in my life, to have accomplished this beautiful domestic feeling is enough for me."
Voices In This Episode
In theater, Quinto appeared as Louis Ironson in the 2010 Signature revival of Tony Kushner's Angels In America,for which he won a Theater World Award and a Drama Desk Award nomination. Last year, he starred in the Joe Mantello directed, Tony winning revival of The Boys in the Band, alongside Jim Parsons, Matt Bomer and Andrew Rannells at The Booth Theater.
On screen, Quinto appeared this year in Steven Soderbergh's Netflix film, High Flying Bird and in two episodes ofUnbreakable Kimmy Schmidt. Over the last few years, he starred opposite James Franco in I Am Michael in 2015, and as journalist Glenn Greenwald in Oliver Stone's film Snowden in 2016.
Quinto currently resides in New York.
Bob Morris is a frequent New York Times contributor and the author of the books "Bobby Wonderful," "Ássisted Loving," "Crispin the Terrible" and "The Legs Are The Last To Go" with actress Diahann Carroll. A former commentator on NPR's All Things Considered, he has contributed to the New Yorker, The New York Times Magazine, Vogue, New York, Elle and Town and Country, among others. His plays have been staged at Capital Repertory Theater, MCC Theater, Jewish Rep, Theater for the New City, Dixon Place, and at Daryl Roth Theater. Morris has also had readings with the Streisand Festival in Los Angeles, Asolo Rep in Sarasota, and New York Theater Workshop. He is the founding curator of Museum of Your Parents, a graduate of Brown University and has a Masters in creative writing from Stony Brook University. He lives in Manhattan and Long Island with a man named Ira and dog named Zoloft.