How 30 Blocks Became 30 Years | With Peter Sarsgaard
Resume
Ben Mattlin has been in an interabled relationship, where one partner lives with a disability and the other doesn't, for more than 30 years. In fact, he says he coined the word. And in his essay, he writes about why, and how, that relationship has endured.
His piece is read by Peter Sarsgaard. Peter has starred in "An Education" and "Wormwood," and his new movie is "The Sound of Silence."
Where Are They Now?
Ben Mattlin's Modern Love essay was published in January of 2018. But he says his wife still hasn't read it.
"She's a very private person, and she doesn't often read what I write," he says. "She gives me permission of course, and supports what I do. But she gets a little embarrassed by it."
Ben is 56 now, and he described what it was like to grow up with spinal muscular atrophy.
"It's a genetic neuromuscular condition, so I have full sensation from head to toe, but no muscles," he says. "And it's progressive, so as a baby I crawled a little bit, but I never walked or stood at all. I always used a wheelchair, and always needed help for things. But growing up I always expected to live a normal life, and have all the things anyone else would have, including a career, including love and marriage."
Ben is a journalist and essayist who writes about finance and investing. He has also written two books. One is a deep investigation of interabled romances like his own.
"With interabled romance, or any romance, there are perils," Ben says. "There are stresses that can drive people apart. There's a difference between the partners that can seem unbridgeable."
But he says that interabled romances also come with unique pleasures.
"[Those pleasures] are related to this sense that you put pretenses aside. You know each other, warts and all," he says. "There's intimacy from the vulnerability, from the interdependence, that breeds a closeness, I think. You can become like one unit. My disability becomes her disability. But her strengths become mine too."
Ben says that he struggles with suggesting that his relationship with Mary Lois is anything extraordinary.
"We all get tired of the people who stop us in the mall and say, 'God, you guys, you inspire me, you're my heroes, you're beautiful.' Shut up. We 're just another couple. Treat us like anybody else."
"But on the other hand, maybe we are something special," he continues. "We're not in it to inspire other people, thank you very much. But maybe we've faced things, and had to face things, that might seem scary. But you can get through them. And once you do, you feel closer."
And Mary Lois and Ben have had to face difficult things, including health scares, almost five years spent trying to get pregnant, and judgment from the people around them.
"The waiter in the restaurant who assumes [Mary Lois has] ordered for me, or says 'What will he have?' The worst was when she was pregnant with our second daughter and I had a bad bronchitis. I was hospitalized. One of the nurses pulled [Mary Lois] aside and said, 'He's not really the father, is he?'"
"People say these things. People can't believe that we're a couple, that we have sex, that we have children. People have assumed that she's my nurse or my sister, or sometimes my mother. And it can be upsetting. It can make you angry. But also, you say, 'It's you and me against the world.'"
"We're not an exemplary couple by any means," Ben continues. "We have our problems, Lord knows. But perhaps our example, and all the other ones on the Internet and out in the world, can show people the possibilities are bigger, more interesting, more diverse than people had realized not so long ago."
Voices In This Episode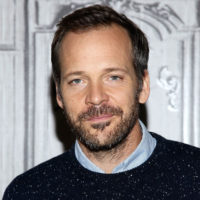 Peter Sarsgaard is an actor renowned for his range and ability to access what is behind the often-complicated facades of the characters he plays. Sarsgaard stars in "The Sound of Silence" directed by Michael Tyburski, which debuted at the 2019 Sundance Film Festival and is currently playing in theaters courtesy of IFC Films. Sarsgaard was also recently seen in Hulu's "The Looming Tower." The 10-episode drama is based on the Pulitzer Prize-winning expose by Lawrence Wright on the in-fighting between the FBI and CIA in the years leading up to 9/11. He was also recently seen in "Wormwood." The story tells the true story of Frank Olson's (Sarsgaard) sixty-year journey to uncover the truth about his father's mysterious death.

Peter may next be seen in "The Lie," produced by Blumhouse and directed by Veena Sud. In the fall of 2016, he starred in Antoine Fuqua's "The Magnificent Seven" opposite Denzel Washington, Ethan Hawke, Chris Pratt and Haley Bennett. The film held its world premiere as the Opening Night Film at the 2016 Toronto International Film Festival and opened at #1 at the Box Office. He was also seen Pablo Larrain's award-winning film, "Jackie." The film follows the First Lady, Jacqueline Kennedy, in the immediate aftermath of John F. Kennedy's assassination in 1963. Sarsgaard plays Robert Kennedy opposite Natalie Portman as Jackie.

Previous film credits include: Scott Cooper's "Black Mass," Ed Zwick's "Pawn Sacrifice," Kelly Reichardt's "Night Moves," Woody Allen's "Blue Jasmine" opposite Cate Blanchett, "Lovelace" opposite Amanda Seyfried, "Green Lantern," "Knight and Day," "An Education," "Orphan," "In the Electric Mist," "Elegy" and "Rendition." Other film credits include: "Year of the Dog" directed by Mike White; "Jarhead" directed by Sam Mendes; "Flightplan" opposite Jodie Foster; "The Dying Gaul" opposite Campbell Scott and Patricia Clarkson; "Kinsey" directed by Bill Condon and starring Liam Neeson and Laura Linney; "Garden State" opposite Zach Braff and Natalie Portman; "Shattered Glass" opposite Hayden Christensen, for which he was nominated for a Golden Globe, and "K-19 Widowmaker" opposite Harrison Ford and Liam Neeson.

On the big screen, Sarsgaard first received wide acclaim for his role as John Lotter in Kimberly Pierce's "Boys Don't Cry." In 1995, Sarsgaard made his theatrical debut in the Off-Broadway production of Horton Foote's "Laura Dennis," which was directed by James Houghton. In 2008 Sarsgaard made his Broadway debut as "Trigorin" in Anton Chekov's The Seagull opposite Kristin Scott Thomas and Carey Mulligan. This was the beginning of his critically acclaimed Anton Chekov run, which was followed by an off-Broadway run of "Uncle Vanya" and culminated with "Three Sisters," both starring opposite Maggie Gyllenhaal. "Three Sisters" was nominated for a Lucille Lortel Award for Outstanding Achievement Off- Broadway and a Drama Desk Award.

Sarsgaard attended the Actors' Studio Program at Washington University in St. Louis, Missouri. He currently resides in Brooklyn with his wife, actress Maggie Gyllenhaal, and their two children.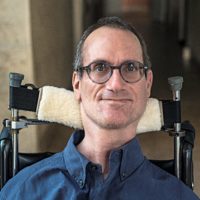 Ben Mattlin is a freelance writer in Los Angeles.

A frequent contributor to Financial Advisor magazine, he's the author of MIRACLE BOY GROWS UP and IN SICKNESS AND IN HEALTH.

His essays have appeared in The New York Times, New York Daily News, The Washington Post, Los Angeles Times, Chicago Tribune, USA Today, and Self magazine, and been broadcast on NPR's "Morning Edition." He's also a former contributing editor at Institutional Investor, the late Windows In Financial Services, Dealmaker, Buyside, and Individual Investor magazines.

Non-print credits include the Mark Taper Forum, Blonde and Brunette Productions, and the children's television program BIKER MICE FROM MARS.

He has a nice butt, too, but you'll never see it because he's always sitting in a wheelchair.

His writing has led to appearances on the NPR programs "Morning Edition" and "Here & Now," NowThis News, ABC's Prime Time Live, CNN, E! Entertainment Network, and radio stations across the U.S., Canada, and the UK. He's also been quoted in The Wall Street Journal, U.S. News & World Report, USA Today, and Penthouse.

Born in New York City in 1962 with spinal muscular atrophy, a congenital muscle weakness, he attended the Walden School, Rudolf Steiner High School, and Harvard (graduating cum laude in 1984). He's been married for 30 years (to the same woman!), and they have two 20-something daughters, a cat, and a turtle.