When Cupid Is A Prying Journalist | With Susan Kelechi Watson
Resume
It's easy to dwell on missed connections. On the moments when life goes one way, when it could so easily have gone another — and by the idea that something as small as a lost piece of paper could alter the course of a life.
Deborah Copaken's essay "When Cupid Is A Prying Journalist" is about one of those missed connections. It's read by Susan Kelechi Watson. She stars in the NBC show "This Is Us."
Where Are They Now?
Deborah Copaken brought Justin and Kate back together. And she told us what happened to them after that reunion.
"[They didn't] just saunter off into the sunset," Deborah says. "They had to figure out who they were. They were a couple in college ... And they still loved each other, but who were they as adults? What did they want together as a couple? There were a lot of questions both of them had. They'd planned a wedding, and Justin called off the wedding, much to Kate's consternation."
"There was a lot of back and forth and trying to get to the point where they knew what [their] love was, how they wanted to define it, and how they wanted to define themselves," Deborah says. "So they did a lot of work. And they decided to elope with five people present. I was the only guest. They did it in the living room of their apartment in Williamsburg. And it was the most beautiful wedding I had ever witnessed, just because of what I know they went through to get to that moment."
Kate and Justin are still married, and Kate recently had a baby.
"They called me an hour later and I rushed over, and I got to see [the baby] at about 23 hours old. I can't describe how special this young couple is to me. It's the hope and it's the life expression of the love that I didn't get to live."
And Deborah told us more about the man she lost in Paris in her early 20s, and the weekend he lost her address.
"Friday rolls around and [I was] really excited. We had spoken that morning and I knew he was going to leave. [And on Friday night] I'm wondering where he is, because he said he'd be coming in around [in the afternoon], and it's now 6 p.m., it's now 7, it's 8, it's 9, it's 10, and I'm a little desperate."
Deborah says that she tried calling his number in London, but no one answered. As she later learned, he was in a youth hostel in Paris.
"I cried the whole weekend," she says. "I thought, 'Wow, I didn't expect this from him, what a disappointment.'"
Deborah says that reconnecting with that man during what she calls the "free-fall of her marriage" was a powerful experience. "We would talk to each other, and we would have conversations that I couldn't have with my girlfriends [or] my couple friends, because they knew my husband. I didn't want to malign him. But with this person that had known me and loved me, there was safety, and there was also an unlived life. And so this man became a catalyst for me to understand what I was missing in my marriage, and what I needed to do, which was to end the marriage and seek out what I'd found in this other relationship."
But those conversations led to something different for him.
"I think [he saw] the real issues I was having, which were unfixable, versus the issues he and his wife were having, which were normal and fixable," Deborah says. "When he would talk about her, I could tell he loved her. And I'd point this out. I'd say, 'Yeah, it's hard, but look at the way you talk about her. You love this woman.' And for him, it was eye opening in terms of, 'Oh yeah, I do. I love my family, I love my daughters, I love this little unit we've created, and I can't wait to get back to it.'"
Deborah isn't in close touch with him anymore. And we asked her if she ever thinks about that unlived life that she might have had with him.
"I wasn't going to stand between him and his beautiful kids and his beautiful wife," Deborah says. "That was not going to happen. Of course I fantasized about it. What would it have been like. What would it be like. But you can't do that to someone else's love story. You just can't. So the unlived life — instead of being sad about it, it teaches us. For me, that unlived life with him taught me about what I was not getting in my current life, that I absolutely needed to move forward in life."
And Deborah did move forward. In 2017, she met her partner, Will, who she's been with ever since.
"Now I look at that lost love back in 1989 as the thing that led me to Will," she says. "Had I not lost that love, I wouldn't have married the man I married. Had I not married that man, I wouldn't have had the wonderful kids I had. Had I not had a bad marriage, I wouldn't have gotten divorced. And had I not gotten divorced, I wouldn't have gone on Bumble that day that Will happened to have a photo up and met him."
"One event, as in all of our lives, led to the other, and I feel just grateful to be with Will right now," she continues. "So it's bittersweet insofar as the love back in 1989 didn't work out, but look what it spawned."
"Love is the goal, it's not the person," she says. "I know we like to think of finding the love of our life. In Judaism, we have the idea of bashert. I'm 53 right now, and I don't believe in bashert. I don't believe in the one. I believe that there are many ones for all of us. And the key to any love story is to go into it with your heart open for the possibility of what it can be."
Voices In This Episode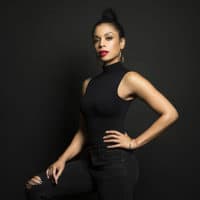 Susan Kelechi Watson can most recently be seen in Marielle Heller's A BEAUTIFUL DAY IN THE NEIGHBORHOOD for TriStar, starring opposite Tom Hanks. Susan is best known for her portrayal of "Beth Pearson" on NBC's Emmy-winning hit show THIS IS US, which won two SAG Awards for Best Outstanding Ensemble in A Drama Series. Susan's performance has been nominated for both the Critics Choice Awards and 3 NAACP Image Awards. She has also recurred on LOUIE, NCIS, and appeared on numerous other tv series. She currently serves on the board of Drama Club, a program for incarcerated youth in NYC and runs a program for inner-city youth through Epic Theater Ensemble.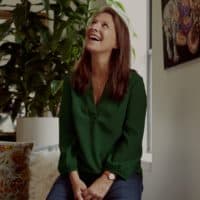 Deborah Copaken is an award-winning, New York Times bestselling author of Shutterbabe, The Red Book, and Between Here and April, among others; an Emmy-award winning TV news producer (for ABC, NBC, CNN); a multiple award-winning photojournalist for hundreds of publications, including Time, Newsweek, and The New York Times; a columnist at the Atlantic as well as a former columnist at both the Financial Times and the Observer; a staff writer on Darren Star's new show, EMILY IN PARIS, as well as a consultant on the TV show YOUNGER; and a screenwriter of the TV version of Shutterbabe for NBC/Universal and Eva Longoria's UnbeliEVAble. Her NYT "Modern Love" column, "When Cupid is a Prying Journalist," was adapted into an episode for the new Amazon series by the same name. Deborah's writing has also appeared in many other publications, including The New Yorker, The New York Times, The Wall Street Journal, The Nation, Slate, Elle, Glamour, and Paris Match.

She's performed improv, live-storytelling, and frankly totally mediocre guitar playing on the New York City stage multiple times, at the P.I.T., The Moth, The Six Word Memoir Series, TueNight, Joe's Pub, Greenwich House, and City Winery. She's currently at work on her seventh book, Ladyparts, a memoir of bodily destruction and resurrection during marital rupture, to be published by Random House in 2021. She also has a full-time position as Head Writer at tech start-up, Neurotrack, a Silicon Valley company aimed at preventing the ravages of Alzheimer's. She lives with her youngest son and new partner in Williamsburg, Brooklyn.