The Language Of Love With Saoirse Ronan | Encore
Resume
Love relies on communication. But what about when you're trying to communicate with someone in a different language that you're not fully fluent in? Emily Robbins writes about that in her essay, "Grappling with the Language of Love."
It's read by Saoirse Ronan, who recently starred as Jo March in "Little Women."
Where Are They Now?
Emily Robbins says that she went to Syria to study Arabic back in 2008 because of her cousin, Rachel Corrie.
"She was a peace activist in Palestine, and she was killed when she was protesting the demolition of a Palestinian home," Emily says. "She was the first American to die in that way, so she became famous. And her death threw my whole extended family into a conflict that at the time we knew very little about."
Emily was 18 at the time, and decided to study Arabic because of Rachel. But she says, "When I got to Syria, I found that I loved Arabic as a language so much. And my time in Syria was a time of a lot of learning and growth. I think everyone has those times in their lives. And my time, when I felt that I became an adult, was in Syria."
That connection to Syria stayed with Emily. Years after she left the country, she took a job doing Arabic translation for an NGO that worked with survivors of torture. Then, she went back to the doctor's poems.
"I had really cared for the doctor, and I knew he was a deep and thoughtful person," Emily says. "But [he was] much more deep and thoughtful than I, in my lack of Arabic, was giving him credit for. And that was a really powerful realization to come to years after what became a young romance. We had both moved on, and so much had changed. And yet it felt in a lot of ways really hopeful to come back to that, and to realize ... that I could still go back and learn something new in my memory."
Emily says she didn't tell the doctor what she'd realized about his poems — or that she had written this Modern Love piece.
"I think that was because we don't really talk anymore," she says. "It was a romance of the past, and how many of your former lovers do you really talk to? And I'm married in a wonderful relationship, and he's married. And even though this was a really important realization for me to have, that time in our lives has passed. And I think that's OK, and both of us are OK with that."
But Emily did show the piece to her husband.
"I was living in Jordan in the year that my piece came out," she says. "And so my husband, the brave soul that he is, went to Thanksgiving with my entire extended family, all by himself. The piece had come out right before Thanksgiving. And so my whole family was asking him, 'What do you think of this piece? What do you think about the fact that your wife had this other love?' But he thought it was fine. My husband doesn't get jealous easily. When it came out, he shared it on Facebook. I think he said something like, 'If you want to read about my wife's past love affairs, then read this piece.'"
Emily and her husband have been together for eight years now. He is a researcher in biology at the University of Oslo, and she is a writer. Her novel is "A Word for Love." They live in Norway with their new baby boy.
More From Saoirse Ronan
Saoirse Ronan explains why she connected with Emily's essay. "What I felt most connected to in the piece was the clarity that she gained after this relationship," she says. "It was something that seemed like everything at the time, and it ended up shaping her life years after. I love that idea, that every relationship we've been in, whether it's romantic or a friendship — it really does make us who we are, and helps us to see the world and other people a little bit clearer."
Voices In This Episode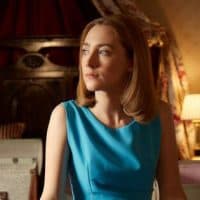 Saoirse Ronan is a three-time Oscar nominee who broke into Hollywood at just 13 years of age, with her critically-acclaimed performance as 'Briony Tallis' in "Atonement," opposite Keira Knightley and James McAvoy. The role garnered her a Golden Globe, BAFTA and Oscar nomination. In 2015, Ronan starred as 'Eilis' in Fox Searchlight's "Brooklyn," directed by John Crowley. Her portrayal of a young Irish woman in the 1950s, forced to choose between two men and two countries, earned her Oscar, Golden Globe, and BAFTA nominations for Actress in a Lead Role. The film was also nominated for Best Motion Picture of the Year.

Ronan can currently be seen in "Lady Bird," directed by Greta Gerwig, about the adventures of a young woman living in Northern California for a year. The role earned her an Oscar, Golden Globe, BAFTA, Critics' Choice, and Independent Spirit Award nominations for Actress in a Leading Role. Also released this year was "Loving Vincent," an illustrated feature film about the life and death of Vincent Van Gogh. The film was nominated for an Oscar and Golden Globe for Best Animated Motion Picture.

She recently wrapped production on "Mary Queen of Scots," produced by Focus Features, which will release in the US this November. Ronan plays the title character and the film follows her life after being condemned to years in prison after attempting to overthrow her cousin Queen Elizabeth I. In May of this year she will be seen starring in "On Chesil Beach," a drama set in the early 1960s centered around a young couple on their honeymoon, directed by Dominic Cooke with screenplay and novel by Ian McEwan. Also releasing in May is the adaptation of Anton Chekhov's "The Seagull" directed by Michael Mayer, where she stars opposite Annette Bening and Corey Stoll. The film centers on the fading actress Irina Arkadina's relationship with her son Konstantin, a failing playwright in love with a young actress 'Nina,' portrayed by Ronan.

Last year, Ronan made her Broadway debut in Ivo van Hove's revival of "The Crucible" alongside Ben Whishaw, Sophie Okonedo, and Ciaran Hinds. In 2014, Ronan was seen in Wes Anderson's "The Grand Budapest Hotel," which details the adventures of Gustave H, a legendary concierge at a famous European hotel between the wars. The film also starred Ralph Fiennes, Adrien Brody, Jude Law, Bill Murray and Edward Norton.

Her other credits include Focus Features' action-thriller "Hanna," directed by Joe Wright; The Lovely Bones," directed by Peter Jackson and based on the popular novel; "The Way Back," directed by Peter Weir and starring Ed Harris, Colin Farrell and Jim Sturgess; "Lost River," Ryan Gosling's directorial debut; Open Road Films' "The Host;" "How I Live Now;" "Byzantium;" "Violet & Daisy" "City of Ember" starring Bill Murray, Tim Robbins, and Toby Jones; Amy Heckerling's "I Could Never Be Your Woman," starring Michelle Pfeiffer and Paul Rudd; Bill Clark's "The Christmas Miracle of Jonathan Toomey; Gillian Armstrong's "Death Defying Acts" starring Catherine Zeta-Jones and Guy Pearce; and "Stockholm, Pennsylvania," opposite Cynthia Nixon and directed by Nikole Beckwith.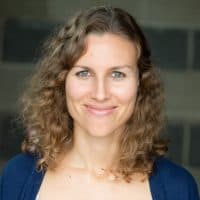 Emily Robbins' debut novel, "A Word for Love," was inspired by her time as a Fulbright Fellow in Syria, where she studied Arabic with a women's mosque movement and lived with the family of a leading intellectual. She is the recipient of a second Fulbright for creative writing in Jordan, and her nonfiction has appeared in The New York Times. She lives with her husband and son in Oslo, Norway.