Springfield Man Incarcerated For 30 Years Is Set Free After Judge Overturns Rape Conviction
Resume
A Springfield man twice tried and convicted for raping an elderly woman was released Wednesday on his own recognizance after serving 30 years in prison.
George Perrot now awaits a decision from prosecutors about whether they will put him on trial again for the 1985 crime he has always denied committing.
'He's Coming Home' 
Two weeks ago, Bristol County Superior Court Judge Robert Kane overturned Perrot's conviction because of improper scientific evidence used against him.
Kane had to decide whether Perrot was to be released on bail while he awaited a third trial. Prosecutors objected, arguing Perrot had repeatedly tried to break out of prison, jumped bail and was a flight risk.
But Judge Kane wasn't buying any of those arguments.
"The record before the court, which I have subjected to rigorous examination, makes me reasonably sure that George Perrot did not commit those grave offenses," he said.
Judge Kane set Perrot free, pending retrial, which Kane said would be unwarranted and unjust.
The decision stunned those in court.
Prosecutors had no comment. Perrot's family and friends were overjoyed.
"I'm so happy he's coming home," Perrot's mother, Beverly Garrant, said. "I don't think we can celebrate enough for this."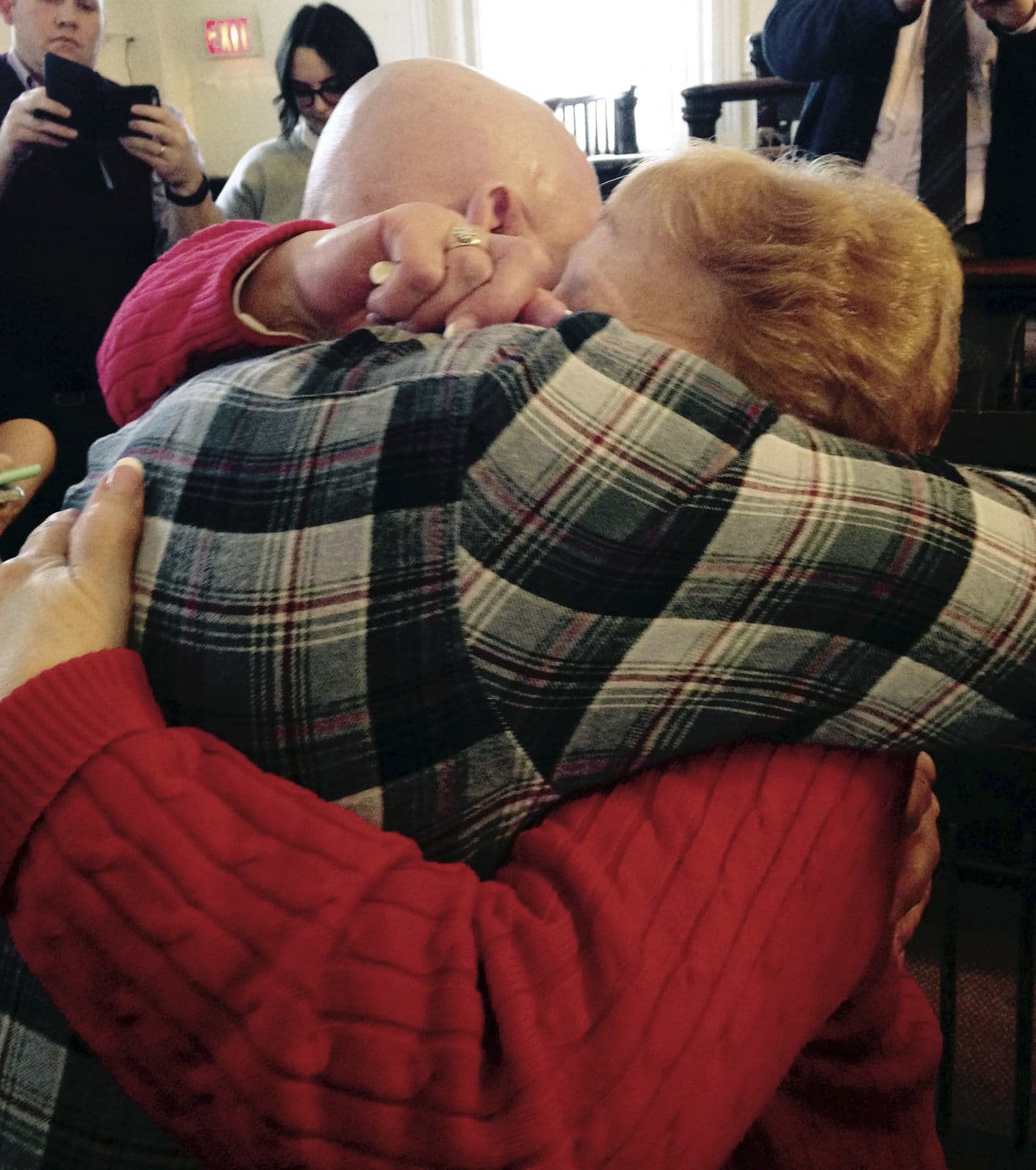 Garrant fought back tears as a court officer unlocked Perrot's leg irons, and mother and son embraced.
"I'm just so happy that he's given another chance," Garrant said.
"I'm grateful for my legal team, they did an unbelievable job, that's all I want to say right now," Perrot said moments before he exited the courtroom to get a steak with his mother and spend time with the rest of his family.
Judge Kane ruled Perrot will have to report twice a week to a parole officer, be tested for drugs and attend AA and Narcotics Anonymous meetings. But he didn't have to put up cash bail and won't have to wear a GPS monitoring device.
Perrot has a construction job lined up and will be living with Sherrie Frisone, a legal researcher with the Schuster Institute for Investigative Journalism at Brandeis University, which helped investigate his case.
"He has suffered so much, and the judge spoke to him like he was a decent human being, like he was wronged, and it was huge for him to hear that," Frisone said. "Thirty years. I mean, it's unconscionable what they did to him. And it wasn't just the jury got it wrong."
FBI Testimony Raises 'Huge Red Flag'
A jury convicted Perrot for the first time in 1985. He was 17. At his trial, the 78-year-old rape victim testified her attacker was clean-shaven, and said Perrot, who had a mustache and beard at the time, was not the man who brutally assaulted her.
Perrot's first conviction was based on evidence later deemed wrongly admitted into the trial. He was tried a second time, and convicted again. That time, his conviction was based on expert FBI testimony that a single hair found at the crime scene matched Perrot's.
"The minute I saw his case, and I saw that it involved FBI hair testimony, I realized that that was a huge red flag," said Florence Graves, who founded the Schuster Institute.
At the time of the crime DNA evidence wasn't available. The FBI used microscopes and testified in 20,000 cases, but the FBI would later acknowledge that its experts entered flawed testimony in 90 percent of the cases it reviewed. In five cases, hair microscopy was used to obtain convictions that later led to executions.
"Many people in the scientific community knew decades ago, including the FBI, that hair microscopy was used beyond the limits of science," Graves said.
It's All New For Perrot
Outside the New Bedford courthouse reporters surrounded Perrot and his family and friends as they left.
"I got a good support team. I'm grounded. I'm good," Perrot said.
"Did you ever lose hope after all those years?" a reporter asked.
"Absolutely, of course, I've been there 30 years, a crime I didn't commit," Perrot replied. "Of course I lost hope."
It's all new for Perrot, cell phones and computers, all of those things we take for granted. Now after serving in prison for 30 years, Perrot fianlly — if only temporarily — has the most precious of thing of all: his freedom.
This article was originally published on February 11, 2016.
This segment aired on February 11, 2016.