The Story Behind Cambridge's Street Sweeping Announcement
04:31
Play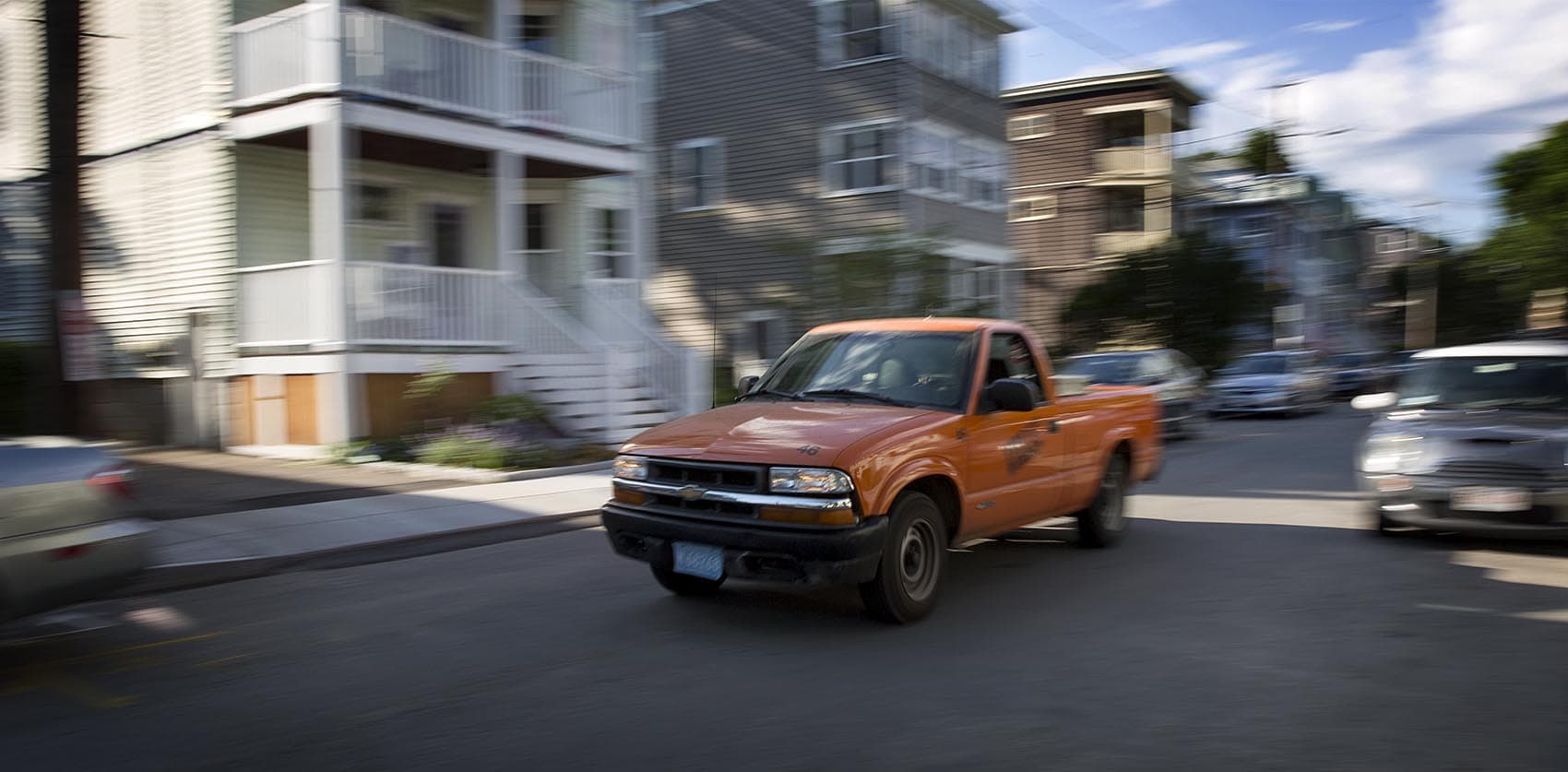 This article is more than 4 years old.
I climb two steps into a huge dump truck — my ride for the morning.
Bill Hannafin is in the driver's seat, wearing a ball cap and a bright-green reflective vest over a jacket. The amicable 62-year-old grew up in Cambridge and has worked for its Department of Public Works for 10 years. On this morning, he's driving a street sweeping announcement truck.
If you live in Cambridge, you've likely heard the announcement — over and over — coming from city vehicles driving by. It's an early morning reminder for residents to move their cars off the street.
In fact, you may even be able to recite it verbatim: "Street cleaning. No parking on the odd- (or even-) numbered side. You will be tagged and towed."
Hannafin is ready to roll. We maneuver through the parking lot of orange city vehicles and when we reach Zone B near MIT — our area for this first Monday of the month — Hannafin turns on the CD player. A voice comes from a speaker. "Street cleaning. No parking on the odd-numbered side. ..."
We ride for about 20 minutes, the recording playing the whole time. Hannafin tells me he's seen people run out in their pajamas to move their cars. He says hello to guys driving the "wreckers" — those are the tow trucks — and we stop for some Dunkin' coffee. We also get a few confused stares from onlookers.
"I don't think they know actually [if] that's your voice on a microphone, or if it's a tape," Hannafin says in a Boston accent. "Cause they're just looking at you like, why are you doing that? Maybe they don't drive cars and they just drive bikes and they have no idea, you know. There's a lot of people around who don't drive cars, quite a few."
When street cleaning is going on, about 40 cars a day are towed citywide. Towing is an unwanted but necessary step to get to the curb, says John Fitzgerald, the city environmental services manager. Hence the announcement, which Fitzgerald stresses is a courtesy.
Other cities and towns have email reminders and the like for street sweeping, but Fitzgerald says he believes Cambridge is the only community in the area to have an announcement program.
The announcement itself started in the '70s, when street cleaning began. At first, it was indeed a city worker speaking into a loudspeaker. It didn't go so well, says Lenny Silva, who heads street sweeping.
"We had some guy driving around speaking into the loudspeaker," Silva, a big guy with a strong handshake, tells me in his Cambridge office. "And it gets pretty tiring after maybe four or five streets. You're not able to make him out too good -- he's mumbling after four or five streets."
Silva has worked for the DPW for 44 years. About 15 years ago, he proposed replacing the loudspeaker system with a taped message. So they went to those trained talkers at the 911 dispatch.
"Hector Perez is over there and he came up with the winning voice," Silva says, laughing.
"...[I]n this case, yes, I actually told you I was going to tow your car, and I did it."

Hector Perez
Perez has been an emergency dispatcher in Cambridge for 17 years, and he meets me ahead of an overnight shift at police headquarters.
Amazingly, Perez, who lives in Milton with his family, says he's never heard the announcement.
He does have some good stories, though. Like: A family friend heard it one morning and said she thought she was losing her mind, until he confirmed to her it was indeed his voice.
And then there's this: "I have to handle the calls for people looking for their cars after they've been street cleaned," Perez tells me, smiling wryly. "And I'm always afraid they're going to recognize my voice. Cause they'll say, you know, generically, 'You towed my car,' or you know, 'You people towed my car,' but in this case, yes, I actually told you I was going to tow your car, and I did it. So I actually have to do my telephone voice, and, you know, talk a little softer. 'No, don't recognize me, I'm just a voice from behind the phone. No, I'll find your car, right away, just give me a few minutes.' "
The voice behind the tow. Just don't blame him for your tow.
This segment aired on July 1, 2016.