Why It's Taking So Long To Fix The Longfellow Bridge
Play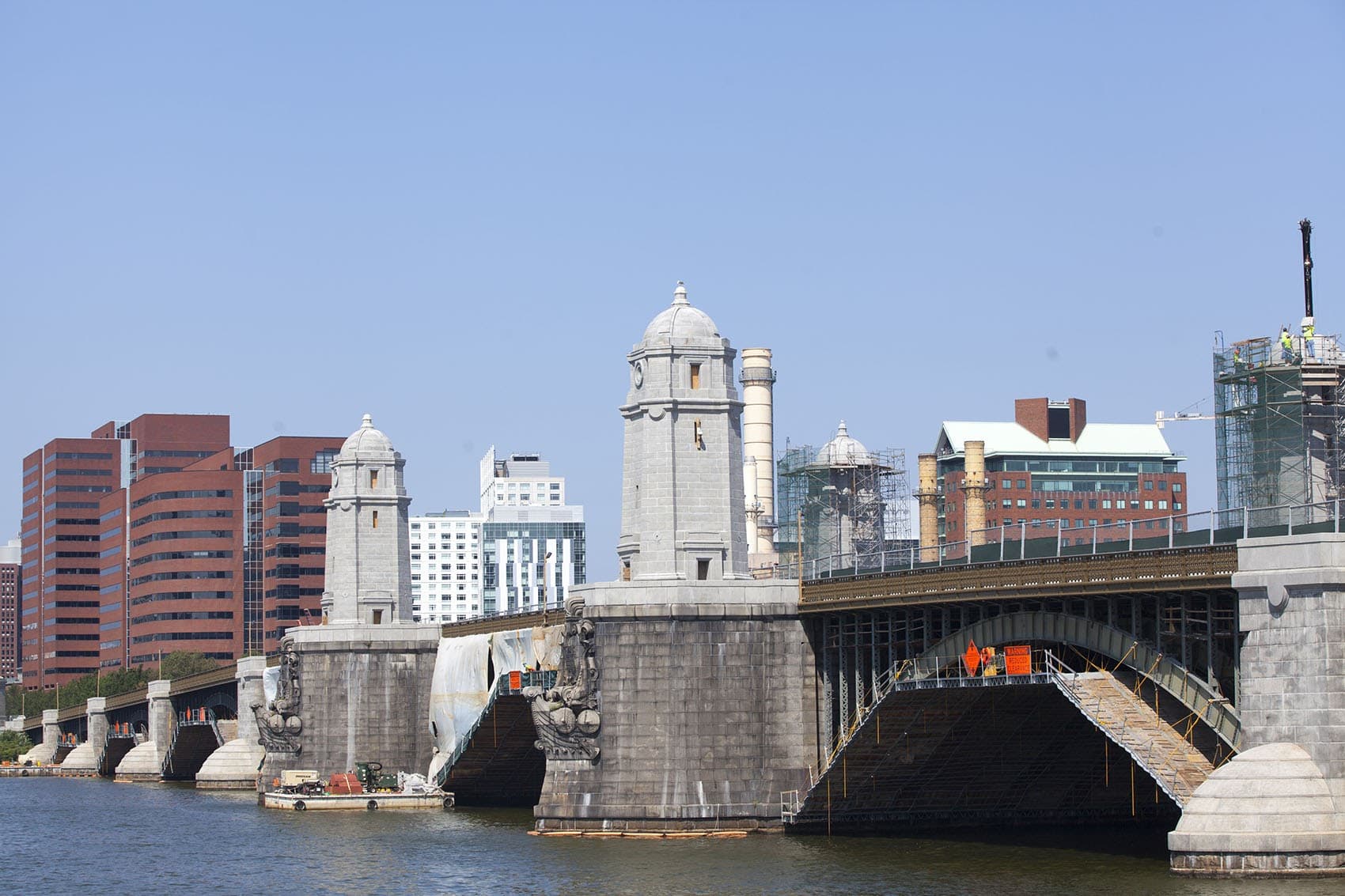 This article is more than 6 years old.
Charles Sullivan says the Longfellow Bridge was already in bad shape when he got his job as director of the Cambridge Historical Commission in 1974.
"You could always look up and see the rusting girders, and see that things were falling off it," Sullivan says.
Things got so bad that in 2007 the MBTA had to limit the speed of Red Line trains crossing the bridge to 10 miles per hour. And the state regularly closed the bridge on the Fourth of July to keep people from breaking through the rusty railings and tumbling into the Charles River.
It wasn't until 2008 that the Longfellow Bridge and other decaying bridges in Massachusetts finally got some love, in the form of a $3 billion bridge repair fund.
The Longfellow was "at the top of the list" for rehabilitation because of its condition, according to Sullivan. "It would have been a regional disaster if they had let it go any longer."
But fixing the historic bridge is turning out to be an even bigger challenge than engineers expected. A massive overhaul that began in 2013 was originally expected to wrap up this year. Contractors now expect the work to continue until mid-2018, thanks to two big complications.
The first problem was rust.
The big steel arches connecting the 12 masonry piers and abutments were in good shape. So were the bridge's 58-foot "salt and pepper" stone towers, although the 529 granite blocks in each tower, some weighing as much as 3 tons, needed a good cleaning — a process that has now been completed.
But the 2,000 steel "spandrel columns" that rise from the arches to support the deck were beyond hope of repair. Many of them were so rusted through they had to be replaced.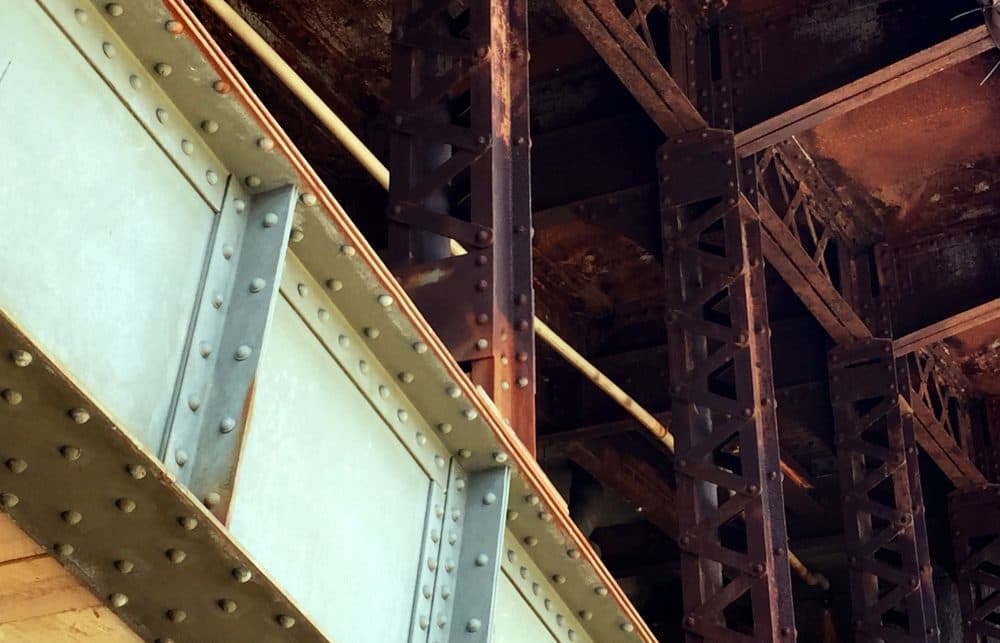 The second problem was history.
The bridge is an important landmark to Bostonians, Sullivan points out. "We've got the State House on Beacon Hill. We've got the Bunker Hill Monument. We've got the Longfellow Bridge. So it's right up there as an iconic object."
More to the point, Sullivan says, the bridge and the entire Charles River Basin were put on the National Register of Historic Places in 1976. Federal preservation regulations required that every visible part of the bridge — down to the smallest piece — had to be restored using the same technology and material used when the bridge was built.
And that included thousands and thousands of rivets.
Riveting is an ancient technology for fastening metal, dating back 5,000 years. But its heyday was from the 1800s until World War II.
"In the old days, when they would build a high-rise steel frame, the men would have a furnace on the upper floors of the building," Sullivan explains. "They would heat the rivets until they were red hot. Somebody would toss that rivet. Somebody else would catch it in a bucket, and, with tongs, would push it into a hole."
One worker would hold one end of each rivet, while another attacked the other end with a pneumatic hammer until it had deformed into a half-ball.
"I remember, as a child, that was sort of a background noise on a construction project — somebody way up high going bang, bang, bang, bang, bang with a rivet gun," Sullivan says. "And at some point that disappeared."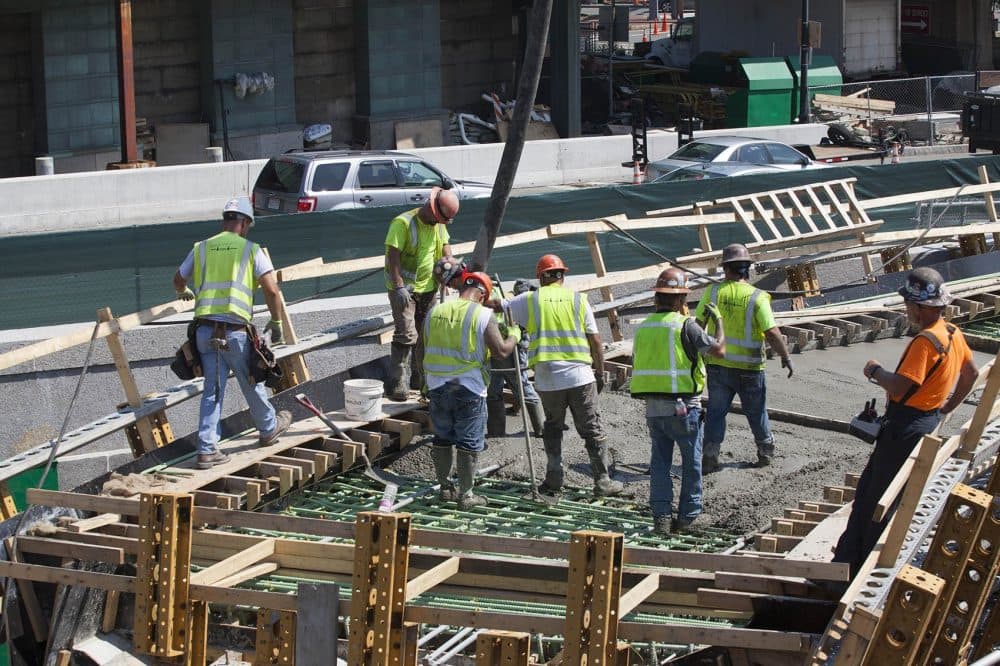 Hot riveting died out in the '50s, replaced by faster, cheaper methods like welding and high-strength bolts. Engineers on the Longfellow Bridge project knew that in order to follow the letter of the historic preservation law, they'd have to bring back this nearly lost art.
That job fell to Cianbro Fabrication and Coating Corp. The company is making all of the new steel parts for the Longfellow Bridge at its factory in Georgetown — including spandrel columns and other components containing more than 50,000 rivets.
Why so many? That's partly a matter of steelmaking technology. Today, the spandrel columns would be made from simple I-shaped steel. But the technology to extrude steel in that shape didn't exist in 1906-'07, when the Longfellow Bridge was being built.
Instead, as Cianbro manager Jack Klimp explains, each of the bridge's spandrel columns was built using two long C-shaped pieces of steel, "placed back to back, about a foot part, connected in a lattice pattern with bars that crisscross." And at every single connection, there's a rivet.
To handle all that riveting, Cianbro turned to a modern hydraulic press that requires only two workers to do the job that used to take four.
"The press has got many, many tons of force and the rivet just deforms, not like it's butter, but like it's clay," Klimp says. "So there's no banging, booming, there's none of that. It's a much more civilized process."
"I think sometimes we sort of fetishize historical accuracy and let that impede progress."

Tom Keane, former Boston city councilor
But while the process may be quieter, it's still time consuming. Rebuilding all the visible parts of the Longfellow Bridge using the historically correct technology turned out to be a big job.
And the delays in the project have led some observers in Boston to wonder whether it would have been easier just to demolish the Longfellow Bridge and start over.
"I think sometimes we sort of fetishize historical accuracy and let that impede progress," says Tom Keane, a former Boston city councilor. "Quite frankly we could have built a brand-new bridge and done it much more quickly and it would be up and running right now."
Keane points to the Zakim Bridge just a mile down river from the Longfellow. That cable-stayed span became an instant icon of Boston when it opened in 2003.
"You could have made a beautiful bridge that might be more reflective even of what Boston looks like now, rather than just trying to replicate the past," says Keane, who represented Back Bay and Beacon Hill. "And that's really what we are doing, is replicating the past."
Sullivan, at the Cambridge Historical Commission, acknowledges that using the old fashioned riveting method did slow things down. Even though engineers recently shaved about three months off the project by closing the sidewalk on the bridge's downstream side — giving construction crews room to work faster — the projected June 2018 completion date is still almost two years behind the original schedule.
"It's taken longer than we expected," Sullivan says. "But it's just marvelous to see this thing come back together. And the engineering that's gone into it has been really first-class."
Sullivan predicts that when the work is over, the people of Boston and Cambridge will once again appreciate the glory of their 109-year-old bridge.
"It was nothing to be proud of for the last 50 years. It was something to be ashamed of," Sullivan says. "But I think when it's done, they will be proud of it."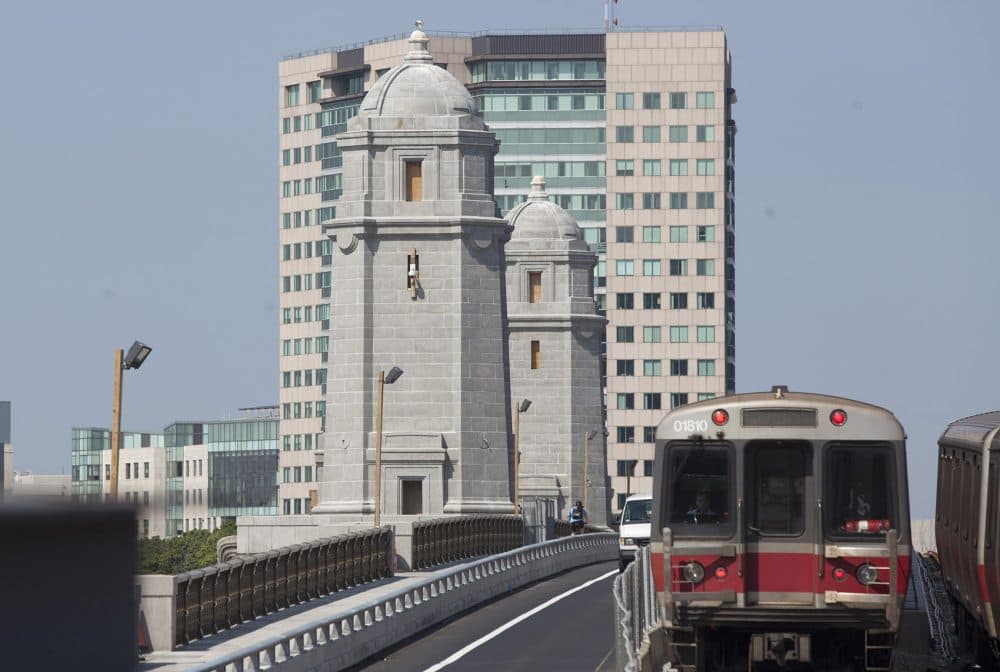 This segment aired on September 15, 2016.