Reaction to Cape Wind Report
This article is more than 13 years old.
Wind turbines along the horizon of Nantucket Sound are a step closer to reality today.
The lead federal agency reviewing the project released a draft report yesterday, saying the project would have little environmental impact. WBUR's Martha Bebinger reports on the latest findings and reaction.
TEXT OF STORY:
MARTHA BEBINGER: In its draft statement, the Minerals Management Service looks at how the construction and operation of 130 turbines would affect water quality, fish, birds, tourism and two dozen other areas. Rodney Cluck is with MMS, the federal agency that reviews off shore energy applications.
RODNEY CLUCK: Most of the impacts are minor or negligible. There are a few that are moderate. But didn't come up with or find any major impacts.
BEBINGER: Cluck says moderate harm to some birds and fish could be largely offset by adjusting elements of the projects. MMS will incorporate any changes from the developers as well as comments from opponents that could change the findings in its final environmental impact report expected late this year. But as Cape Wind Associates President Jim Gordon sees it, the project now has at least initial favorable state and federal reviews.
JIM GORDON: So with those federal and state approvals, with public opinion demanding that our leaders provide greater energy independence and tackle climate change. I am confident that this project will move forward and provide significant benefit to citizens in this region.
BEBINGER: Not so fast say Cape Wind opponents, who plan to challenge the Minerals Management Service findings. A spokesman for Congressman William Delahunt says Cape Wind should not go forward without a competitive bidding process. (Senator Ted Kennedy urges public comment from Cape residents concerned about the wind farm). The Mashpee Wampanoag Indian tribe says the proposed construction area includes sacred lands. And Cape Cod chamber of Commerce CEO Wendy Northcross objects to the MMS finding that the impact on tourism would be minor.
WENDY NORTHCROSS: We know why people come to Cape Cod and certainly the natural beauty has always been our calling card. So to place an industrial power plant in our sound just doesn't make sense.
BEBINGER: Audra Parker at the Alliance to Protect Nantucket Sound says MMS overlooks the findings of other federal agencies that have raised objections to Cape Wind. Parker mentions a letter from the Federal Aviation Agency that says the turbines might interfere with flights from Barnstable to Martha's Vineyard and Nantucket.
AUDRA PARKER: It's a red flag when on the one hand you have MMS reporting that impacts to aviation would be minor and on the other hand have FAA issuing a presumed hazard determination. So we will be assembling an extensive team of experts to review MMS' evaluation of all the different impact areas.
BEBINGER: And Parker argues that the proposed wind farm benefits are exaggerated because the cost of energy produced by the turbines would be more than double current electricity prices in Southeastern Massachusetts. Cape Wind Associates counter that wind offers long term stable prices and that the project will provide economic and environment benefits such as reducing carbon dioxide emissions and other sources of air pollution. Environmental groups that are hoping Cape Wind sets a precedent for off shore wind power are celebrating. Barbara Hill is with the Cape Cod group, "Clean Power Now."
BARBARA HILL: This is historic and we should be delighted in the state of Massachusetts to be at the forefront of this, what we're considering a renewable energy revolution.
BEBINGER: The revolution continues with 4 public hearings on this draft environmental report in March. At the state level, Cape Wind is challenging a finding that would prevent it from connecting to the power grid. The company says it hopes to begin construction is 2010.
For WBUR, I'm Martha Bebinger.
This program aired on January 15, 2008. The audio for this program is not available.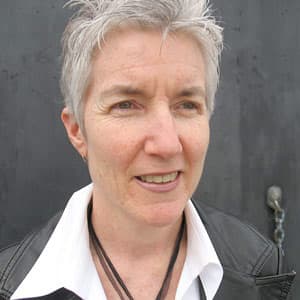 Martha Bebinger Reporter
Martha Bebinger covers health care and other general assignments for WBUR.