Construction Slump Hits Home
This article is more than 12 years old.
The latest home sales numbers show that the Massachusetts housing market is still declining. That means no recovery is in sight yet for the residential construction industry either.
The state has lost 3,000 construction jobs over the past year. And many of those who still have work are getting less of it.
WBUR's Business and Technology Reporter Curt Nickisch rides along with one asphalt and concrete contractor who's hitting the pavement...to find more jobs.
TEXT OF STORY
CURT NICKISCH: Adrian Morgado is a stocky man behind the sturdy wheel of his full-size pickup. He's wearing jeans and a T-shirt that says Morgado Construction - the name of the small concrete and asphalt paving company he runs in New Bedford. He bought this truck four years ago when business was as blazing as its red paint job.
ADRIAN MORGADO: It was amazing, there was all these condominiums being built. Non-stop. Every day, paving. Every morning, I knew my schedule.
NICKISCH: Dawn to dusk. Money was good. Morgado hired a crew ten strong, and there was more than enough work for them close to home.
Today it's different. Now Morgado's heavy work boot rides the gas pedal, rumbling his truck down a Cape Cod highway on $4-a-gallon diesel. He has to drive much further now just to give estimates for paving jobs.
MORGADO: Every time things get slow you gotta branch out a little bit.
[SOUND OF CHIMES AND BIRDS CHIRPING]
NICKISCH: The first stop today is a collection of rental cottages in Hyannis. Owner Jill Gulden wants to patch some problem areas in the asphalt that branches through her property.
MORGADO: This is the main entrance, right?
JILL GULDEN: Yeah.
MORGADO: So over here we'll have to saw cut and dig it all up and make it nice and sturdy.
GULDEN: Or you can just go over it.
MORGADO: Going over is not like proper.
GULDEN: It might not be the right way, but when you're working with this kind of a budget, at times I have to do things the wrong way.
MORGADO: I can price it both ways.
GULDEN: Okay, that's fine.
[SOUND OF ROLLER MEASURING THE DISTANC]
NICKISCH: Morgado measures the section, knowing that each square foot costs more nowadays than just a few years ago. Fuel prices have driven up the cost of asphalt — a petroleum product — and the price of hauling it. It's added more than a thousand dollars to the cost of paving an average driveway. And so even though Jill Gulden had her busiest April ever renting out cottages, she braces for sticker shock.
GULDEN: Do I need a tranquilizer or am I gonna faint?
MORGADO: No, ma'am.
NICKISCH: But she breathes easier when she sees his estimate. Morgado has to bid low now to get work. To stay in business, he just needs to break even.
[SOUND OF CELL PHONE RINGING]
MORGADO: Hello, Adrian Morgado
NICKISCH: On the way to his next bid, he gets a call out of the blue from an unemployed construction worker, wondering if he's hiring. One thing Morgado can afford to be is selective.
MORGADO: Obviously you're not giving me a straight answer, I'm asking you, do you have dump experience? All right. You just said you had dump truck experience. And then I asked you again if you have dump experience, and now you said no. What kind of work did you do before, buddy?
NICKISCH: Morgado says he gets calls looking for work almost every day, and he already cut his crew of ten in half for lack of work.
MORGADO: I'm not even running an ad for like Help Wanted, you know and they say, oh, I was reading your ad out of the phone book. And then call and say: are you hiring? I say, no, it's slow. I got my own people. I'm gonna call back my own people if I call anybody else.
[SOUND OF TRUCK DOOR SLAMMING, THEN SOUNDS OF SPRAY PAINT CAN]
NICKISCH: Morgado's next stop is Centerville: a street lined with ranch-style homes. It's where Steve Lozzi is spray-painting a line in his backyard for where he'd like a new cement patio poured. Lozzi's no stranger to estimates — he's in home repair himself: mainly painting and carpentry. He's been getting fewer jobs lately.
STEPHEN LOZZI: That's why I'm getting an estimate for the patio, because I gotta see what I gotta give up. Maybe not do a vacation, this year, and put the patio in, you know. Maybe do some day trips instead of going away for a week, or whatever.
NICKISCH: After bidding that job, Morgado heads home, glancing now and then down at the photos of his three children he's got stuck in his dashboard.
MORGADO: Hello, Adrian? What's going on? (It's my ex-wife!) What, nothing, you want me to pick her up, the baby?
NICKISCH: Morgado says the one bright spot to the slowdown is that he has more time for family. It's why he and his second wife decided to have another baby — she's due any day now — and he'll have more time to spend at home.
MORGADO: That's probably what corrupted me with my first wife. Cause I was always working. You know we like the money, but we never had that time, you know. Women need their nourishment. It's crazy because if you don't nourish the garden you ain't gonna get good results. You do asphalt, it's there for years. But it's different, you know.
NICKISCH: Still, Morgado says family time doesn't pay the bills. So he's sticking to the strategy that got him through downturns in the twenty-three years he's been in this business: doing good work and breaking even for now, with the promise of repeat customers when times are better.
MORGADO: Quality and survival. Because I'm sure it's gonna break through, you know? It's gonna break through, we're gonna stay in there right now.
For WBUR, I'm Curt Nickisch.
This program aired on April 29, 2008. The audio for this program is not available.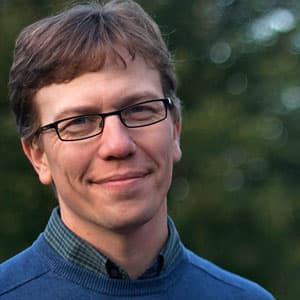 Curt Nickisch Business & Technology Reporter
Curt Nickisch was formerly WBUR's business and technology reporter.