Roundup: Boston Celebrates Inauguration
This article is more than 12 years old.
You didn't have to be in Washington to experience Inauguration Day and night. From early morning yesterday into the wee hours of today — in homes and schools, at parties and balls across Massachusetts, people gathered for the historic occasion.
We sent our WBUR reporters to a variety of locations in the Boston area. Here's their roundup of the celebrations.
DANIEL BURNS SENIOR HOUSING COMPLEX
This is Sacha Pfeiffer at the Daniel Burns apartment building in North Cambridge, which is a mixed-race, subsidized complex, mostly for the elderly.
One of the residents I spoke with is Cathy Mullane. She's 62 and she says she got a lot of just plain joy out of watching Obama be sworn in.
"I think it's wonderful. I really, really do. Not just because he's black, but — it's taken us so long to get here, you know?"
I also talked to Helen Spann, who's 70. She says the sight of so many black and white faces on the Washington Mall warmed her heart.
"Darling, that made me feel like the world is coming to a change. This is history."
She also says she knows Obama has a tough task in front of him.
"I know he can handle it but we, as people, have to be patient and give him time to solve the problem. The problem wasn't done overnight, so it can't be solved overnight."
And I spoke with Phyllis Stern, who's 77. She called Obama's election, in her words, "wonderful and historic." But she did mention that she voted for Hillary Clinton in the primary.
"I'm very happy for Obama. I am happy for the black community. However, we women are waiting for a woman president. And I do hope that this will occur in the future."
But, just like everyone else I talked to here, she says she wishes Obama and the country the very best.
CHARLESTOWN HIGH SCHOOL
I'm Sarah Bush at Charlestown High School where students gathered to watch the speech.
Many students felt a sense of hope.
11th grader Yusra Shamsoddine is excited to have a black president:
"He probably thought he wouldn't be president because of his skin color, but look he did, so he let everyone know that you can do what you put your mind to."
But 12th grader Gerald Nwosu says Obama's race is less important than what he accomplishes.
"I expect not only for him to not just bring hope, that's too broad. i also expect him to bring financial reforms and also fix health care.
PLATFORM 2'S MANIFESTO SLAM
I'm Andrea Shea and I'm in a green, bio-diesel bus driving around Boston.
Nearly two dozen bundled up people are here, taking turns on a soap box: reading, singing, even screaming their thoughts in this "Manifesto Slam" to celebrate Obama's inauguration.
SONG MANIFESTO: "Hey welcome to our new world Barack Obama, Barack Barack Obama..."
"I'm Andi Sutton, and I'm with the artist collective Platform2, and the reason we're having a manifesto slam on a bus is that we're interested in gathering people to read their manifestos or their favorite manifestos, but also for others on the street to have access to that same kind of energy and excitement and sense of possibility."
MANIFESTO: "Power to the people…"
People outside can hear the manifestos too, through loud speakers rigged to the bus.
TEACHER MANIFESTO: "Value, trust, systems that work for all schools, for all kids. We owe it to ourselves, we owe it to the world."
In the coming weeks the artists here will send hard copies of these words and thoughts to the White House.
This program aired on January 21, 2009. The audio for this program is not available.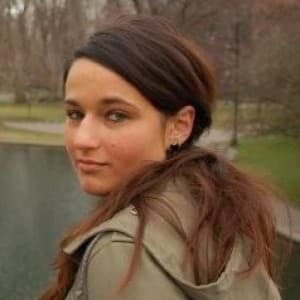 Lisa Tobin Senior Podcast Producer
Lisa Tobin was formerly WBUR's senior podcast producer.