With A New Face, New England Man Gets A New Lease On Life
03:31
Play
This article is more than 10 years old.
When James Maki burned off most of his face after falling onto an electrified third rail in a Boston subway station four years ago, he was left so deformed he didn't want to be seen in public.
But on Thursday, at a very public news conference, Maki showed off the partial face transplant he received at Brigham & Women's Hospital last month. His 17-hour operation by a 35-person surgical team was the first such procedure in New England and only the second in the United States. And Maki, along with the widow of the man whose donated face Maki now has, say they're delighted with the results.
On the night Jim Maki was rushed to Brigham & Women's Hospital with most of his face melted away, Dr. Bo Pomahac was the burn surgeon on call. He still remembers the sight.
"He was brought to Brigham emergency department so horribly disfigured that I cannot share with you the pictures. He burned off his face, including nose, upper lip, roof of the mouth, and pretty much the entire facial skin."
Even after multiple operations, Maki still had a hole in the middle of his face where his nose used to be. His speech was garbled because of damage to his mouth.
"It is hard for us to imagine how difficult it was for Jim," Dr. Pomahac said. "He had difficulty speaking and even eating. He feared going outside, and when he did he would often get ridiculed and teased."
But a few months later the world's first facial transplant was done in France. That gave Maki and his doctors an idea: Could they perform the same surgery on him? Last month they did, giving Maki a new nasal structure, nose, hard palette, upper lip and facial skin. They also replaced the muscles that give the face expression and the nerves that give it sensation.
Maki says when he looks in a mirror now, the person he sees has an amazing resemblance to the man he was before he fell on the tracks.
"Now I suspect one of first questions you might have for me is this," Maki said. "What did you think the first time you saw yourself after the surgery? My first thought: My nose looks exactly the same as my old nose."
Maki is keeping most of his personal life private, including where he lives. But he does say he has a 23-year-old daughter and is separated from his wife. He also says he's a Vietnam veteran who returned from the war addicted to drugs and has been on disability for the past decade. He describes his transplant as a second chance.
"The first part of my life was nothing but trouble," he said. "So I'm just glad that I can start over."
Maki's new face will still get stares from strangers. It's scarred and swollen, and two massive scars start between his eyes, run down each cheek and reach almost to his neck. One of his eye sockets is covered with skin. The eyeball is visible only through a tiny hole. But Maki says he's deeply grateful to the Brookline man whose face he received, Joseph Helfgot, who died during heart transplant surgery. Helfgot's widow, Susan Whitman-Helfgot, was at Thursday's news conference.
"Joseph's life ended in vain, too soon," she said. "But not really. Because it's been my great joy now to meet Jim and find him able to breathe and to speak and eat on his own, for the first time in four years. It is a miracle, and it's a blessing."
She urged other people to also become organ donors to help save lives.
"Small children with congenital heart defects who cannot run and play, soldiers who have served in Iraq and Afghanistan coming home without faces and limbs, and young mothers watching children in kidney failure."
Officials at the Brigham say they won't charge for the $200,000 surgery, because it was the hospital's first time doing the complicated procedure. Maki has no more operations scheduled for his face, although his doctors say he has excess facial tissue that could eventually be trimmed.
He'll remain on medication for the rest of his life to prevent his body from rejecting the transplanted face, and those drugs could have fatal side effects. But Maki says that's well worth the chance to eat normally, breathe normally and walk in public again.
This program aired on May 21, 2009.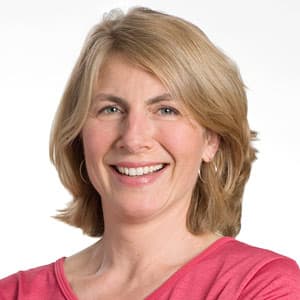 Sacha Pfeiffer Host, All Things Considered
Sacha Pfeiffer was formerly the host of WBUR's All Things Considered.