Boston Hopes New Business Library Is Good For Business
01:46
Play
This article is more than 10 years old.
Recessions force people to change their lives.  When people lose their jobs, they try to acquire new skills.  They want to get smarter about investments.  And some folks decide to start their own businesses, which can end up creating jobs for others.
To try to help the public find that sort of information, the Boston Public Library is moving its little-known business branch from a tucked-away Financial District location to the main site at Copley Square.
The president of the BPL, Amy Ryan, knows a thing or two about recessions.  She earned her degree researching how people used libraries during the Great Depression and the 1970s recession.
"People turn to the library in droves," she said, "to think about furthering their careers, looking for jobs, seeking out educational opportunities."
Or starting their own businesses.
So here's what bothered Ryan: The number of people walking into the Kirstein Business Branch downtown with questions has dropped more than 50 percent over the last dozen years.
She decided to close the narrow building with no public restrooms and move the branch to the basement of the Boston Public Library on Boylston Street.  Ryan says the business branch will now be open longer with about two-thirds more space.
"Now we'll really have a place for this to be a living, breathing business resource for the citizens of Boston," Ryan said. "Right when we need it the most."
These past few weeks, the Kirstein staff has been busy stacking its volumes of market research reports, demographic tables, small business guides and investment tutorials in the Copley building.
Librarian Laura Pattison said she'll miss the Financial District's charm and the regulars there, but hopes to serve more people at the new location. Lately, Pattison has noticed an increase in clients wanting to start green businesses, such as the patron who wanted to sell synthetic ivy to help buildings save energy.
"Many of the things that people want to do that walk in our doors are not in any typical business categories," Pattison said.  "So we're very challenged on a regular basis to find them what they want, about the industry they want, and about the location they want."
One person Pattison has helped in the past is Kafi Dixon. The Dorchester woman researched the viability of opening a small grocery on Talbot Avenue. Dixon said she never would have been able to open Milk & Honey Neighborhood Produce without the Kirstein materials, staffers and seminars.
"They were great," Dixon said of the librarians, who knew her on a first-name basis.  "I didn't have to, you know, jockey for any computer position with a kid that was on MySpace, or people that are in there for another cause. Everybody that was in there was predominantly and primarily working on a business cause. And it was energizing!"
By moving the Kirstein Business Branch to the Copley Square location, the Boston Public Library is hoping to energize more people to adapt to today's financial realities, to start new businesses and thereby help the city's economy recover.
This program aired on September 15, 2009.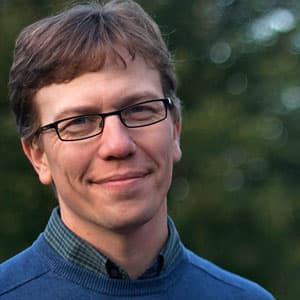 Curt Nickisch Business & Technology Reporter
Curt Nickisch was formerly WBUR's business and technology reporter.