Boston Researcher Shares 2009 Nobel In Medicine
This article is more than 10 years old.
Jack W. Szostak was supposed to teach a class on introductory biochemistry this morning, but someone else covered for him.
That's because Szostak, a molecular biologist at Harvard Medical School and Massachusetts General Hospital, was busy basking in congratulations for becoming Boston's latest Nobel laureate. He is among three scientists sharing in the 2009 Nobel Prize in medicine.
Szostak won the award for research he did in the 1980s into a cellular mechanism that protects the ends of chromosomes from disintegrating when cells divide. That's an important discovery because when chromosomes disintegrate, they can cause abnormalities that may lead to health problems such as cancer.
Many scientists believe that the enzyme Szostak studied, called telomerase, could be manipulated to fight cancer and other diseases.
"It's a great example of work that was extremely basic, very basic science — I'd say at this point it's a greater understanding of diseases of aging and of cancer," Szostak said, "and hopefully that will lead to practical benefits."
Szostak, whose laboratory was decorated this morning with balloons and streamers, said he got a call at 4:45 a.m. telling him he'd won the award, which he called "the highest scientific honor."
"I've been at Harvard Medical School for 30 years, I've been here at Mass. General for 25 years, and it's been a great ride the whole time," said Szostak, a professor of genetics at Harvard and a "distinguished investigator" at MGH's department of molecular biology. "I've been able to do anything scientifically, pursue any scientific question I wanted, and it's just been wonderful."
Szostak, 56, was born in London and earned his undergraduate degree at age 19 from McGill University in Montreal and his Ph.D. from Cornell University.
Along with Elizabeth Blackburn and Carol Greider, Szostak solved a big mystery in biology: How chromosomes, the rod-like structures that carry DNA, can be "copied in a complete way during cell divisions and how they are protected against degradation," the Nobel prize committee said in its citation.
The committee said the laureates have shown that the solution is to be found in the ends of the chromosomes (called telomeres) and in an enzyme (called telomerase) that forms them. Telomeres are often compared to aglets, those plastic tips at the end of shoe laces that keep those laces from unraveling.
"The discoveries by Blackburn, Greider and Szostak have added a new dimension to our understanding of the cell, shed light on disease mechanisms, and stimulated the development of potential new therapies," the committee wrote.
The prize-winners' work, done in the late 1970s and 1980s, set the stage for research suggesting that cancer cells use telomerase to sustain their uncontrolled growth. Scientists are studying whether drugs that block the enzyme can fight the disease. In addition, scientists believe that the DNA erosion the enzyme repairs might play a role in some illnesses.
Blackburn, who holds both U.S. and Australian citizenships, is a professor of biology and physiology at the University of California, San Francisco. Greider, 48, is a professor in the department of molecular biology and genetics at Johns Hopkins University School of Medicine in Baltimore.
It is the first time two women have been among the winners of the medicine prize.
The award includes a $1.4 million purse, a diploma and an invitation to the prize ceremonies in Stockholm on Dec. 10. Szostak said he may use part of his share of the money for his kids' college tuitions.
The Nobel Prizes in physics, chemistry and literature, and the Nobel Peace Prize, will be announced later this week, and the economics award will be presented on Oct. 12.
Material from the Associated Press was used in this story.
This program aired on October 5, 2009. The audio for this program is not available.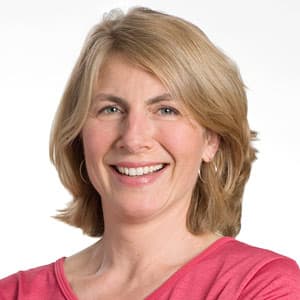 Sacha Pfeiffer Host, All Things Considered
Sacha Pfeiffer was formerly the host of WBUR's All Things Considered.