Controlling Health Care Cost Will Take Years, Legislator Says
This article is more than 11 years old.
Despite having reached its goal of near-universal health coverage, Massachusetts could be years away from controlling the rapidly rising cost of health care, according to a key legislator involved in state health reform.
"I don't think we're going to get cost containment done this year," said state Rep. Harriett Stanley, speaking at a national conference on Massachusetts health reform in Boston on Thursday.
"I don't think we'll even get started this year," added Stanley, who chairs the House Health Care Financing Committee. "I think we're looking at five, 10, 15, 20 years. It will take that long to turn the entire culture around to be looking at health care and health care costs very differently."
Stanley's comments came during the opening session of a gathering that drew about 300 government officials, policy makers and academics from across the country.
The conference is focused on what Secretary Jay Gonzalez of the Massachusetts Executive Office for Administration and Finance, during his introductory remarks, called "the principle piece of unfinished business" in state health reform: reigning in health care expenses.
Gonzalez — who is also board chairman of the Connector, which oversees the state reform effort — described health care costs as "growing at unsustainable rates."
Nationwide, the cost of health care has been increasing at 2 percent above the rate of inflation for the past four decades, and private health insurance premiums in Massachusetts have risen 10 to 15 percent annually in recent years.
Health care programs now account for half of all state spending, Gonzalez said, and are "crowding out the ability to do other things we want to do with the state budget."
But Gonzalez maintained that health reform has not been the cause of rising health care costs in Massachusetts. Instead, he said, those escalating expenses are "rooted in the fundamentals of how we deliver and pay for health care."
He criticized the current delivery and payment systems as outdated and inefficient, leading to higher costs — caused, for example, by unnecessary hospitalizations and emergency room visits — that often don't result in better care.
High-quality and cost-effective care are "not either/or propositions," Gonzalez said, "but in fact go hand-in-hand."
Since Massachusetts passed its landmark health reform law in 2006, about 97 percent of all state residents now have health coverage. Health care cost control, however, has remained elusive.
So, last year, a special state commission issued recommendations for controlling health care spending in Massachusetts. The commission's most dramatic and controversial recommendation was a move toward "global payments," fixed amounts of money that doctors would receive to spend on their patients' health care for a full year.
Global payments would replace the current system in which doctors receive a fee for every service they provide. Critics say this approach rewards doctors for the quantity — not quality — of their care, and creates a financial incentive for unnecessary tests and procedures.
Rep. Stanley is a member of the special commission that endorses global payments.
Also speaking at the conference were Brandeis health policy professor Stuart Altman, Institute for Healthcare Improvement President Don Berwick, Massachusetts Secretary of Health and Human Services JudyAnn Bigby, AcademyHealth president David Helms, Connector Executive Director Jon Kingsdale and state Sen. Richard Moore, who is Senate chairman of the Joint Committee on Health Care Financing in Massachusetts.
The conference continues Friday with a series of technical workshops open only to state officials.
This program aired on January 22, 2010. The audio for this program is not available.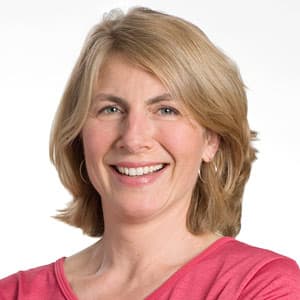 Sacha Pfeiffer Host, All Things Considered
Sacha Pfeiffer was formerly the host of WBUR's All Things Considered.