A Mother Savors Life While Battling Cancer
This article is more than 11 years old.
My friend Marie Pechet recently learned that the colorectal cancer she'd thought was gone has re-emerged. Doctors tell her the surgery and chemotherapy regimen she is now undergoing must be 100% effective for a chance at long-term survival. At the same time, she has two young sons, a husband, and a full, active life to lead.
I know Marie because our children are the same age, and at the same schools, but I learned about the details of her cancer because rather than hunker down and suffer privately, Marie decided very early on in her treatment to share her sometimes excruciating journey with the community. She sends out regular email updates on life and chemotherapy to hundreds of family members and friends, and she was recently interviewed by Dr. Annie Brewster, a Boston internist who is working on a project documenting the lives of patients and their families.
Marie's essay, about how to create moments of joy for her family while navigating harsh, life-threatening realities, offers lessons to anyone who has ever lost it with their kids, yelled at another driver or simply forgotten — momentarily — what is truly important in life. Marie is 47 years old:
As a mother to two young boys who love to watch movies, certain lyrics tend to run through my head, like Chitty Chitty Bang Bang we love you! or You've got a friend in me…. from Toy Story.
Since my most recent cancer diagnosis, the lyrics that stick in my mind are from Frosty the Snowman:
Frosty the Snowman
Knew the sun was hot that day
But he said let's run and we'll have some fun
Now, before I melt away….
I was initially diagnosed with colorectal cancer when my sons were 1 and 4 years old. At that time, we put our lives on hold for an entire school year while I had surgery to remove part of my colon followed by chemotherapy to kill any remaining cancer cells. Our lives revolved around my healing, and any treatment that might make me well again — like acupuncture or sleep — took priority. While I missed doing many activities with the kids, my husband and I decided that the trade-off would be worth it in the long run.
After nine months, I completed chemotherapy. There was no sign of cancer, and I returned to living my life.
Like many people, being diagnosed with cancer shifted my view on what was important, and I swore that I would never again take life for granted. But one of the beautiful things about living life as a healthy person is that you do get to take it for granted. So, as I returned to health, I also returned to doing all the things that I swore I would never do again. I became easily annoyed with other drivers, got impatient with the kids, juggled too many commitments, and spent time doing things out of obligation rather than joy. Still, this made life feel comfortable and normal, and there seemed to be security in that.
Of course, security is an illusion, and almost a year later, we saw the first signs that the cancer had returned.
Like a lot of bad news, it was delivered over the phone. Though the doctor primarily called to have me repeat a blood test, the request gave me an ominous feel in the pit of my stomach.
I hung up the phone and sat in the kitchen, looking out the window at my boys, now almost three and six years old, playing in the backyard. It was a warm spring day in late May, they were running and laughing, and I realized that, more than anything, I wanted their life to continue that way.
I also realized that I wanted a planter on our back deck, and now seemed like as good a time as any to get it.
I called the boys– we were going on an adventure! They were excited and we drove to the best plant store I knew. I wandered around the enormous planters while the boys amused themselves playing in the water fountains. At first, I tried to keep them out of the fountains, but the sales folks didn't seem to mind, so I let it go.
By the time I made my purchases, the laughter was bubbling out of their bodies and water was dripping from their clothes. As we got everything into the car, the boys stripped down for a naked ride home and the saleswoman commented that I was the calmest mother she's ever met. We had a truly beautiful day in spite of the news, and I remember that triumph every time I look at that planter.
The rest of our summer and fall days were filled with ultrasounds, blood tests and surgeries. I had one 2½ hour surgery to remove and rebuild my entire rectal area, followed a few months later by a 7½ hour surgery to remove it all again. This surgery included a full hysterectomy to remove a large tumor growing on an ovary and touching every other abdominal body part, and the surgeon removed parts of the fat in my abdomen where there was evidence of more tumor growth.
Doctors at MGH and at Sloan Kettering told me that both the surgery and the chemotherapy regimen would need go 100% to have a chance of long-term survival. In the last surgery, there was tumor left behind, and we learned that cancer cells were in my abdominal fluid. So we had more work to do.
Only three weeks after that surgery, I started a regimen of chemotherapy every other week. This requires a full day at the hospital having an infusion. Then I go home carrying a continuous infusion pump attached to my chest for two days. The pump comes in a black bag containing chemotherapy; an IV line runs from the bag to a port-a-cath in my chest. Not only does the chemotherapy taste awful and remind me that I am a cancer patient, but it affects how I sleep as I try to keep the line from tangling, and how I shower, because I can't get the apparatus wet. The kids know that they need to be careful around my body, and I worry that they are less spontaneous with their affection as a result.
I wish I could count down to the end of the treatments, but the doctors soberly recommended no end date.
Though I am trying every complementary treatment I can to get off chemo, it sounded like this would be our way of life for the foreseeable future. I knew that I couldn't put my life on hold to heal; this IS my life.
It took a few weeks for me to accept this hated reality and the scariness of an uncertain future. I wanted to put the whole package back on the shelf and select a different path for myself and my family.
Slowly, the reality settled in and, while I still resisted it, I gradually tried to view it as a gift. I had time, I was able to be home and not in the hospital, and, other than cancer, I was in good shape physically and had a life I mostly loved. I started to look outside myself. I couldn't imagine what this experience would be like for my sons. What could I do to help them navigate terrain that few adults are equipped to manage?
Determined to provide my boys with joy and laughter and – if my health took a bad turn, with happy memories of us all together — I started my mission to "have some fun."
This is easier said than done, of course, particularly when the feeling of illness can permeate your life and be part of your household and psyche. One night, I vomited every few minutes for six hours (even though I had taken the anti-nausea drugs that day). My husband was out of town, and my mother was staying with us. I couldn't stop long enough to get her help, and she couldn't hear me call her. Eventually, my three-year-old son woke up and found me in the bathroom. It makes me both proud and sad that he calmly walked to find his grandmother to help with the situation.
It's hard to think about "fun" when I must unexpectedly miss a school assembly I hoped to attend or a movie that we all planned to see together. It is now a way of life that the kids accept, but saddens me as I watch them go off without me. As I see them walk away, I wonder if this is what their future will look like, and whether I will get to be part of it.
So, how could we have fun in the midst of all this? How could we have a household that is not permeated by illness, but is instead light and joyful?
Between all the cancer treatments, I was lucky enough to have a series of good days and we ran with them. In a one-month period we took the Polar Express Ride in New Hampshire, celebrated Christmas with extended family in Pittsburgh, went skiing for a week in Stowe, VT, and took a long weekend trip to Disney World. My husband and I traveled to New York (to see doctors at Sloan Kettering) and managed to make that into a mini-vacation with a shopping trip to Bloomingdale's and a delicious Indian dinner.
In my quest to make the most of my time with the boys, I can push us all too far. In my son's first-grade classroom, they tapped trees for maple syrup and processed it. Given his excitement about this, I decided that we would go maple sugaring one weekend. I packed the kids into the car and drove 40 minutes to take an hour-long tour, followed by hot dogs. At the end of the adventure, my six-year-old told me, "That wasn't worth the long drive, Mom. We learned all that at school already, and the hot dogs weren't very good."
So I am learning to balance these trips with doing simple, everyday things, like riding bikes, playing restaurant and hunting for rabbits in our back yard. It is hard to know what would be memorable, and how to make the most of every day. I still have moments, even days, when I am not up to activity or even conversation. At those times, I try to remind myself that tomorrow might be worse, and that will make today look like a good day. So I'd better get up and repeat my mantra, the simple lyrics from Frosty the Snowman: We'll have some fun now…
Marie Pechet lives with her husband and two sons in Cambridge, Mass. To hear interviews with her husband, Tiron, and her best friend, Julie, listen here: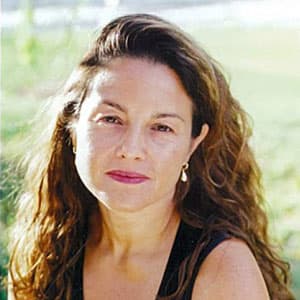 Rachel Zimmerman Health Reporter
Rachel Zimmerman previously reported on health and the intersection of health and business for Bostonomix.