A Long, Sad Night For Celtics Fans
01:47
Play
This article is more than 10 years old.
The Boston Celtics fell short in their bid for an 18th NBA championship Thursday night. After running a stifling defense, they gave up a fourth quarter lead and lost to their rival Los Angeles Lakers, 83-79, out in LA.
After the last seconds had ticked away, the crowd inside The Four's, a bar near TD Garden, grimaced to see on TV purple and gold confetti raining down in LA. John Strauss, of North Andover, had a seat at the wall beneath a framed Larry Bird jersey. Strauss paid his bill and shook his head.
"It hurts, it hurts. I lived through '87, I lived through '85, but it doesn't matter," Strauss said. "It hurts. You don't want to lose to that team."
"It hurts. I lived through '87, I lived through '85, but it doesn't matter."

John Strauss
The Lakers. The Celtics had never lost to their rival in a deciding Game 7 of the NBA Finals. In fact, the Celtics could have extended their championship titles lead over the Lakers by hanging yet another banner next to the 17 already in the Garden rafters.
Elvis De La Cruz of Jamaica Plain thought fate was with Boston.
"I thought it was a sign. June 17, and the area code is 617, I thought that was a sign right there. We got 17 banners up, I thought gonna be 18, but oh well," De La Cruz said.
Outside, rows of police stood guard against rowdy fans, but there were none to be seen. People in green jerseys and caps just made their way down into the T or looked for taxis home.
"Well, you know we're fans, but we're not idiots," said Ryan Laliberte of Manchester, N.H. He and Nicole Lehtinen, from Everett, were trying to catch a cab. They seemed to be taking the Celtics loss in stride.
"Feeling good, you know, we had a good time, we were out at the bars. Drinking. It was a tough game. Very close," Lehtinen said.
"I thought we had it, but we didn't," Laliberte said.
The mood didn't get somber until the end of the game, when the Celtics let it slip away. Before that, the people who turned on their TVs at home or packed bars throughout the city watched the Celtics run a stifling defense and hold a lead after each of the first three quarters.
"I thought it was a sign. June 17, and the area code is 617, I thought that was a sign right there."

Elvis De La Cruz
"Our ball! Our ball! Our ball!" they cheered.
During the first quarter at the Galway House, a pub in Jamaica Plain, Derek Curtis clenched his fist each time Boston made a shot. How does a guy with an East Tennessee accent end up here, cheering for Boston?
"My dad's from Indiana, Larry Bird was from Indiana and Larry Bird came here, and since then I've been a Celtics fan," Curtis said.
Curtis was a Celtics fan back when Larry Bird duked it out with the Lakers. And Curtis was a Celtics fan two years ago when Boston won its first title since then.
"And when they won that game, I walked out, it was a very dark night and I walked out of the bar, I felt so happy I almost felt guilty to feel that happy," Curtis said.
But last night was not one of those nights for Celtics fans. The Lakers wrote an alternative ending to the story by playing a strong fourth quarter against a Celtics team that couldn't finish out. All that was left for fans to do was walk out into a dark Boston night.
This program aired on June 18, 2010.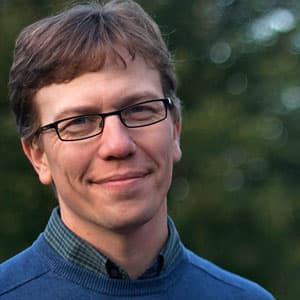 Curt Nickisch Business & Technology Reporter
Curt Nickisch was formerly WBUR's business and technology reporter.