Rockport Cartoonist Marks 20 Years Of Drawing 'For Dummies'
02:24
Play
This article is more than 8 years old.
BOSTON — You know those distinctive black-and-yellow Dummies books? "Weight Lifting for Dummies," "Italian Verbs for Dummies," "Violin for Dummies" and on and on?
That very popular book series got its start in Massachusetts and is 20 years old this year. There are now nearly 1,800 different Dummies titles — and a man from Rockport, on the North Shore, has drawn the cartoons for almost every single one of them.
Richard Tennant started cartooning for the very first book in the series, "DOS for Dummies," in 1991, and he's been doing it ever since. WBUR's All Things Considered host Sacha Pfeiffer spoke with him about his work.
---
SACHA PFEIFFER: The first Dummies book was computer-oriented, but the series has since expanded to an incredible range of titles. Give us a sense of the titles you've drawn cartoons for.
RICHARD TENNANT: We've done every tech title you can imagine, every version of a software program, but we've also done "Pregnancy for Dummies," "Baby Massage for Dummies," "Speaking Arab for Dummies," "The Koran for Dummies," "San Francisco for Dummies," "Traveling Through China for Dummies." Anything you can imagine, there's a Dummies book for it.
How much research, if any, do you have to do before you draw cartoons for topics that range so wildly?
As soon as I start to feel funny, then I know I've done my research right. And I've got a few words that I know I'm using correctly and my slant on it is going to come as a surprise to the reader, hopefully. It really happens when I feel this kind of inner ring of authenticity.
You've also drawn cartoons for "Boston for Dummies." Do you remember what it was like cartooning for a book for a city that you presumably know pretty well?

I do, and sometimes it's harder doing cartoons about something that you know a lot about and really like because you don't want to be — I don't know; it's really close to you.
You had one that dealt with a certain time in the city. It showed three tourists standing in downtown Boston, looking at their maps, and they're saying: "Where's the North End?" "Well, that depends; where's the Big Dig today?"
Exactly, yeah. Now that's what's called a time-perishable cartoon, which I try to avoid, but it was certainly ripe for the picking at that time.
I went to my local library to look at some of the Dummies titles and many of the newest titles had to do with technology. There was "BlackBerry for Dummies," "BlackBerry Storm for Dummies," "Facebook for Dummies," "LinkedIn for Dummies," "Wireless Home Networking for Dummies." That made me think that you might see societal trends based on the titles you're asked to cartoon for.
Very much so. Twenty years ago, when I started doing computer cartoons, I said, you know, this job's going to end for me as soon as computers become ubiquitous because they're not going to be interesting anymore. And now, the cartoons I do about technology are not so much about the big plastic boxes that sit on our desks; it's really about the way we interact. It's the Internet. It's social networking. That's where technology is today and that's how it manifests itself. So it's almost become sociological as opposed to just doing cartoons about, oh, this is a mainframe and this is a desktop computer.
If technology is one trend that you've been able to track through the titles you've drawn for, what are other trends you've seen come and go based on what you're asked to draw?
I'm seeing a lot of green titles. We're doing "Sustainable Living for Dummies," "Solar Powering Your Home for Dummies." You have your set of illnesses du jour that come and go — and I'm not putting them down. But gluten free has been very hot lately, so we've done a number of gluten-free cookbooks and gluten-free this and You May Be Gluten-Free for Dummies. So a lot of gluten.
Was there one title, or more than one title, that when the publishing company came to you and said we need you to draw cartoons for this topic, you thought, "Really? We're really going to do a ___ for Dummies on this topic?"
I used to think that way. Not anymore. Anything could come in as a title. Many years ago they told me that they never would do religious titles, that those would be a little just too dicey to do. But we've done every religion you can imagine now since then. We've done "Islam for Dummies," "The Koran for Dummies," Buddhism, Hinduism, Catholicism, women of the Bible, the Bible, Judaism, "Kabala for Dummies." Everything you can imagine.
You must be great at Trivial Pursuit after all the research you've had to do over the years.
One would think. What I'm finding out is that I'm not accumulating knowledge; I'm supplanting knowledge. I'm knowledgeable about weather one week. I'm knowledgeable about string theory the next week. But I don't seem to be accumulating all this. I should be a real smart guy by now, but I'm not.
This program aired on April 29, 2011.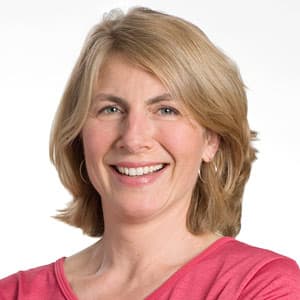 Sacha Pfeiffer Host, All Things Considered
Sacha Pfeiffer was formerly the host of WBUR's All Things Considered.