New Technology, Smartphone Apps Offer Alternative Ways To Pay Cab Fare
05:08
Play
This article is more than 9 years old.
If you've taken a cab in Boston lately, you may have noticed a sign some cabbies are displaying in the backseat, informing passengers that the driver pays a 6 percent fee on all credit card charges.
It's the latest move by drivers who are resisting the city's two-year-old policy requiring taxis to accept credit cards. Many passengers report getting into arguments with drivers who try to demand cash.
But new payment technology might be harnessed to ease the friction.
'There's Gotta Be A Better Way To Do This'
Michael Carter has been driving a cab in Boston for 12 years. All of the recent press coverage about the resistance among cabbies to take plastic has really gotten to him.
"Like I get the feeling that people everywhere just think like we all met up at one big Dunkin' Donuts and agreed to be jerks about it. But, it's just a bad deal," Carter said.
"I get the feeling that people everywhere just think we all met up at one big Dunkin' Donuts and agreed to be jerks about it. But, it's just a bad deal."

Michael Carter, Boston cab driver
The credit card processing company that Carter's required to use pockets 6 percent on every fare to cover the cost of the swipe machine in the back of the taxi. It can take as many is four days for the money to get deposited into his account, there are hidden fees and the swipe machines break down a lot of the time.
"There's gotta be a better way to do this. There's gotta be a way for me to take credit cards and not have it hurt me so much," he said.
Perhaps.
Paying Cab Fare Through Your Phone
"I just thought one night while I was out when somebody asked me, 'Do you take credit cards, or can we stop at a cash machine?' I said, 'Well, sure we can do that, but do you have an iPhone or a smartphone that has apps?" Justin Sneddon spoke to me from the cab he drives in London.
"And he says, 'Yes.' So I said, 'Well you can use PayPal if you wish.' And within seconds he was downloading it from the app store, and within seconds of him pressing transfer, I got a little email saying 'you've received funds,' and it was done."
And PayPal doesn't take nearly as big a cut, because there's no card swipe machine to pay for. Sounds simple enough, though no one I've talked to in Boston's cab industry has ever tried to do it.
There is one way that some cabbies here are now accepting payment by smartphone: it's through a company called Taxi Magic.
"It's very much like Open Table for booking restaurant reservations," said Jay McClary, the vice president of marketing at Taxi Magic. If you want to take a cab, you can go to their website and put your credit card information on file. When you're ready to go, "You download an app, and when you open the app up, using the GPS on the phone, it will show you all the local taxi fleets that are available to that user."
I tried Taxi Magic at my desk Tuesday. The app asked me for my address, and I went outside to wait. The app shows you a map with real time updates on where your cab is.
At that time, my cab was down by the Brigham.
A few minutes later, a cab pulls up to me on Commonwealth Avenue.
I asked my cabbie to take me to Kenmore Square and back again. The cost of the trip is $9.80.
"OK, so I hit pay, I'll give you a $5 tip, so I'll just say $15 even," I tell the cabbie.
I tapped a button on my iPhone, and within seconds, my cabbie's computer screen beeped, showing my $15 payment, and I got a receipt in my email. It's pretty easy, and again, no card swipe. And because my payment got processed through my cabbie's dispatch company, the company will be the ones waiting a few days for the money to come through. They'll hand the driver cash at the end of the day.
That's the good part. The bad part is that Taxi Magic works through the credit card and dispatch system the cabbie already has, so there's still a 6 percent fee for him, plus a $2.50 surcharge for me. And hey, not everybody has a smartphone! For a solution that gets around all of that, we have to go to another Brit.
Robin Major is the vice president of business development for Dash Taxi in the U.K. Dash Taxi is a spinoff of Dash Park, one of many services in Europe that allows you to pay your parking meter by sending a simple text message. No fancy smartphone required, just a regular cell. Four months ago, Major's company stared applying the same principle to cabs in London.
"When you get in the cab, there are three things that need to be present: the driver and his cell phone, you and your cell phone, and a sticker visible within the cab which has a unique location ID identifying that driver."
When it comes time to pay, you either call or text the driver ID and the fare amount to Dash Taxi.
"And then we clear the payment and both the driver and the customer get a text message confirming that the payment's gone through," Major said.
It's easy, and it costs less in the way of a processing fee because the driver and the passenger are essentially providing their own equipment. Could it work in Boston? Dash Taxi and other companies are looking into it, and the city's cab regulators say they are open to considering new technology.
But Boston is unique in that we require cabbies to take plastic, whether you have a cell phone or not. That means, for at least some transactions, the existing card swipe machines are probably here to stay.
Earlier Coverage:
This program aired on May 25, 2011.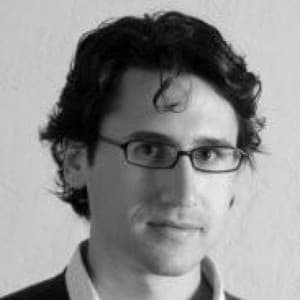 Adam Ragusea Reporter/Associate Producer
Adam Ragusea was formerly a reporter and producer for WBUR.