Downtown Crossing Laments Upcoming Borders Closure
04:06
Play
This article is more than 9 years old.
Downtown Crossing didn't need any more bad news. But on Thursday, the Borders bookstore chain said it would close its store in downtown Boston at the corner of Washington and School streets. That means there could soon be another empty storefront in Downtown Crossing — this one a three-story, 35,000-square-foot building in one of the most visible and heavily trafficked parts of the shopping district.
The closure comes as city officials are still trying to fill several other vacancies, including the giant hole in the ground that used to be Filene's. To talk about what the Borders closure means for Boston's efforts to revitalize Downtown Crossing, WBUR's All Things Considered host Sacha Pfeiffer spoke with Rosemarie Sansone, president of the Downtown Boston Business Improvement District.
---
Sacha Pfeiffer: This closure, as you know, is part of the chain's bankruptcy plan, which involves shutting down about a third of its stores nationwide. What was your immediate thought when you heard that the Downtown Crossing Borders would be one of those closures?
Rosemarie Sansone: It's obviously in a prime location on the Freedom Trail that has over 3.5 million visitors a year. Obviously this was disappointing, not only to those of us that are trying to revitalize the area, but to the many loyal customers who have been frequenting the Borders store for so many years.
The public reaction has generally been that this is yet another blow for Downtown Crossing's revitalization effort. But city officials seem to be putting a positive face on it. How much do you view this as a setback and how much do you view it as an opportunity?
We try to look at everything as an opportunity. There are many, many, many positive things that are happening: the new store openings, new businesses and over $20 million of investment in the last two years alone. We have spoken to the owner of the building, of the Clarendon Group, Mike Murphy, and I know that they're working very hard to make sure that this space gets marked as quickly as possible.
You mentioned new businesses opening, and Mayor Thomas Menino recently celebrated the opening of about 40 downtown businesses within the past year. But some of Downtown Crossing's largest and most visible properties are empty. Do you think that the symbolic effect of that — the visual effect of those prominent vacancies — ends up overshadowing the success of businesses that have opened?
Well, there's no question that empty storefronts is the enemy of any kind of revitalization.
The Borders building is large — again, three stories, 35,000-square feet. How challenging do you think that space will be to fill?
Well, according to the new Redevelopment Authority director, Peter Meade, who's been talking to national and local brands locally and across the country, there's a lot of interest because that is such a key location. Being on the Freedom Trail, having 3.5 million people pass by and having it be a destination that so many people are familiar with, I would say that that building will probably fill sooner than we think.
A rental broker, I believe, has already been hired to find a new tenant. Any prospective tenants so far, or anyone ideal you have in mind?
People have talked about a brand-name retailer as an anchor there. A small grocery store, a boutique grocery store, could certainly be useful in this neighborhood. So I'm feeling very positive about that particular space.
If I'm running through the Downtown Crossing map in my mind correctly, the Borders closure will mean that there's no bookstore left in downtown Boston, this very literary city. Any feeling that we need to get a bookstore back in the area, even though it's a tough climate for bookstores these days?
It certainly is a tough climate for bookstores, but I can't imagine there not being a bookstore in this area in the future. It may not be the same kind of bookstore, but it was a very, very popular destination — and I would like to see some return of some kind of format of bookstores, magazines and other things, because it was a place where residents could go and spend some time and just get away from the hustle and bustle of urban life.
This program aired on June 10, 2011.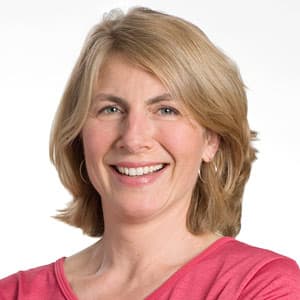 Sacha Pfeiffer Host, All Things Considered
Sacha Pfeiffer was formerly the host of WBUR's All Things Considered.