Beth Israel's New CEO Brings Focus On Technology
04:46
Play
This article is more than 8 years old.
One of the city's leading hospitals, Beth Israel Deaconess Medical Center, has a new president and CEO: Kevin Tabb, now the chief medical officer for the Stanford Hospital & Clinics in California.
Dr. Tabb, 47, who starts his new job on Oct. 17, will be moving to Massachusetts as the state is considering dramatic ways to rein in health care costs. One proposal would put doctors on annual budgets and give them bonus payments for improving their patients' health.
When WBUR's All Things Considered host Sacha Pfeiffer spoke with Tabb on Tuesday, she asked him if he is a backer of this kind of so-called global payment system.
---
Kevin Tabb: That is one way to attack the issue of rising health care costs, although I don't think it's the only way. I think all of us are going to need to become more efficient and global payments is one way of getting there — but it's not going to be the panacea, to tell you the truth.
Sacha Pfeiffer: Would you support Massachusetts using that as one of the ways it will help control health care costs?
I would, with the caveat that, like all academic medical centers, we take care of very sick, very complex patients and very sick, very complex patients don't always lend themselves to simplistic plans. So, I think we just need to make sure that we take that into account as we look at global payments. That being said, all of us in academic medical centers are going to have to think about taking care of patients across the continuum of care, not only here at the hospital when they're really sick but also out in the community — things like primary care and other things.
You're defined in many ways as a data guy; you seem to be thought of as an IT guy. And you've also spent quite a bit of time in private industry. If you had to, in 30 seconds, describe what you've done since you got out of medical school, how would you sum it up for a layperson?
A lot of what I've done is to take information systems, technology and data and use it to improve the delivery of care for large populations of patients, and even down to the individual patient level. I've done that at small start-up companies, I've done that at large corporations and I've done it within a hospital setting.
How do you think that experience will benefit Beth Israel?
I think as we see health care changing, we need to think about health care differently. We need to think about ways of delivering health care based on information, not simply based on anecdotes. And some of my background will help with that.
Your predecessor at Beth Israel, Paul Levy, had a very unusual leadership style, in a way. He was a blogger; he was a hospital CEO who blogged regularly. How would you describe your leadership style compared to what Paul Levy's leadership style was?
You know, I really don't want to compare myself to any leader that came before me. I don't know Paul, but what I do know from the small amount of time and interaction I've had here is that there's a fantastic team in place here and a lot of great work has been done. Specifically about my leadership style, I'm open and transparent, which I think people are used to and want here. I'm also known to be pretty collaborative and I really look forward to working with our partners in the community, our nursing staff, the physicians here. So I don't think that that will be radically different than what people are used to here.
As you know, Levy left in somewhat of a controversy. He had had an acknowledged close relationship with a female employee and he ended up being fined $50,000 by the board for "undisclosed lapses in judgment," as the hospital put it. Do you have a sense that you may be walking into a poor morale situation at the hospital?
That's not the sense that I've gotten at all. I've gotten the sense that it's a fantastic team that is really looking forward to moving forward. I think people are excited about the future. And not only that, but there have been fantastic things that have been done here in the past 10 years. So I really don't think that morale is an issue here.
A union question for you: Beth Israel is not a unionized hospital. It's been the target of a critical campaign by the SEIU, which wants to see it unionize. How do you plan to tackle that issue?
You know, I've worked in a lot of different environments, both with and without collective bargaining agreements. So, from my perspective, there are laws — the National Labor Relations Act protects employees' right to organize. And I'm committed, as I think the entire leadership here is, to following the letter and the spirit of the law. What's more important for me is that we treat every single worker here with dignity and respect to ensure that their work environment will allow them to achieve their highest professional capacity.
This program aired on September 6, 2011.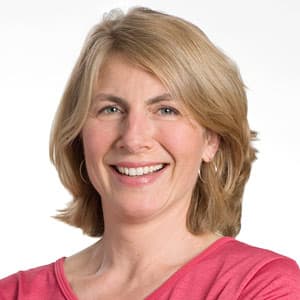 Sacha Pfeiffer Host, All Things Considered
Sacha Pfeiffer was formerly the host of WBUR's All Things Considered.