Recession A Major Factor In Shift To Public Health Insurance
05:19
Play
This article is more than 9 years old.
In the early years of Massachusetts health care reform, the motto was "shared responsibility." It was the view that individuals, employers and state government all played in expanding coverage for the uninsured.
"We will not rest until all the stakeholders are at this big table of shared responsibility and shared sacrifice," the Rev. Hurmon Hamilton with the Greater Boston Interfaith Organization reminded supporters at a rally in 2008.
In reality, shared responsibility for the uninsured in Massachusetts has quietly disappeared. The latest numbers show that virtually all Massachusetts residents who have gained coverage since the landmark 2006 law passed are now in a government health care program.
Kate Bicego, who manages the helpline at Health Care for All, is a virtual human barometer for this coverage change. Bicego said the vast majority of her helpline's 35,000 callers last year either did not have the option of employer-sponsored insurance or could not afford to buy insurance on their own.
"So they are looking for an option that is affordable or accessible to them, and most often that's through one of the state-subsidized programs," Bicego said.
Bicego points to one dominant reason that so many people are moving to government-sponsored insurance such as MassHealth or Commonwealth Care.
"The recession has really strapped our callers' budgets," she said. "A lot of folks are (the) recently unemployed or long-term unemployed who can no longer afford to pay out of pocket for their own health insurance. So they want to know, for the first time in their lives, what Medicaid and Medicare or government health insurance options are available."
"First time in their life, does that come up?" I ask, wondering if callers are reluctant to sign up for a public insurance plan.
"We get varied responses and they do range from embarrassment and shame to relief," Bicego said. "I would say that once folks have one of these cards in their hand and they can pick up their prescription and they can go to the doctor, the shame or the embarrassment goes away."
The Recession A Major Factor In Shift To Public Coverage
Many experts agree the recession has played an enormous role in this shift from private to public coverage. Since the coverage law passed in 2006, 411,000 more residents of Massachusetts have health insurance; it's the largest insurance expansion in the country. In the first few years, the expansion was fairly evenly divided between private and public insurance. That's no longer the case.
According to Nancy Turnbull, an associate dean at the Harvard School of Public Health, "virtually everyone" of the Massachusetts residents who have received health care coverage with the implementation of the new law are enrolled in a public plan.
"It's virtually everyone because the number of people who have employer coverage has gone down," Turnbull said. "That's not at all surprising, that's happening all over the country."
That's surprising because I covered many news conferences where supporters of the law stressed the success of shared responsibility. They used that analogy of the three-legged stool (individual, employers and state government all doing their part) over and over.
"Yes," said Turnbull nodding, "but the difference here is the timing issue. This is the effect of the recession."
Government-Funded Health Care A Sensitive Topic
Recession or no recession, public officials have downplayed this major move to government-funded health care because it's seen as too politically sensitive. There's concern these numbers will reinforce the view that Massachusetts, and by association, the national health reform law, is launching a government health care takeover.
To be clear, the number of employers offering insurance is up slightly, but the number of workers who are signing on the coverage through work is down. Turnbull said the law has served as an important safety net during the recession.
"When the economy was good there were contributions both from (the) private and public, just as the law was intended to have," Turnbull said. "Now that the economy has changed radically, the good effect of our law is that we have not had the large increases in the number of people without health coverage."
Even so, Turnbull and others are worried about the consequences that expanded state health coverage will have on the state budget.
"The trend is certainly alarming and one state policymakers should take a closer look at," said Josh Archambault, the director of health care policy at the Pioneer Institute. "We need to have a serious conversation about how we deliver our public insurance, because it means less money for education and less money for public safety. It's going all into MassHealth at this point."
Health and Human Services Secretary JudyAnn Bigby said state spending on Medicaid actually went down during the recession because the federal government picked up the tab for many residents who came into the program in 2009 and 2010. And Bigby said the most recent, not-yet-published data shows that as more residents find work, they are moving off public coverage and back into employer-sponsored plans.
"As the economy is getting better, I think we're seeing that mirrored in the way that people have access to health insurance," Bigby said.
Which might be another way of saying to critics of the Massachusetts law, hold your fire until we see what happens as the the economy rebounds. We'll keep you posted.
More:
This program aired on October 3, 2011.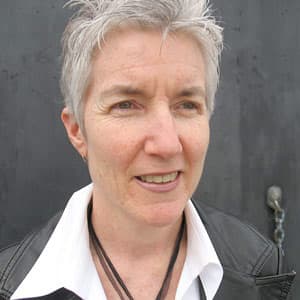 Martha Bebinger Reporter
Martha Bebinger covers health care and other general assignments for WBUR.