The Art Of Surviving Anorexia
This article is more than 9 years old.
By Karen Weintraub
Guest Contributor
Judith Shaw never meant to create art.
She was just annoyed at a "really pedantic" assignment in her recovery program, to make a timeline of her life with anorexia. She was in her 50s, had raised a family and had a career – unlike the other participants, who were adolescents or 20-somethings. And she couldn't write a history of key events in her eating disorder, because that would mean distinguishing her anorexia from herself.
Instead, she made a life-sized portrait. And somehow a switch flipped in her brain. Making art could allow her to express what she had long kept deep inside.
That self-portrait was the first of many artworks Shaw would make as she came to terms with giving up her anorexia and claiming a new life.
Next Thursday, Shaw's art goes on exhibit at Harvard, in the Student Organization Center at Hilles (SOCH) Penthouse level, 59 Shephard Street, in Cambridge. The exhibit is open to the public that first night from 8-10 p.m., and then to the Harvard community through March 10.
Pieces on exhibit include several self portrait cutouts, and UPS boxes filled with items that represent her struggles. (Yes, she made friends with the guy at her local UPS store who called her the "box lady" and told her of his sister's eating disorder.)
Zuri Sullivan, co-ordinator of Harvard's Eating Concerns Hotline and Outreach, the student-run organization that is sponsoring the exhibit, said the group felt Shaw's work "spoke to the external experience" of having anorexia.
"Judith does a great job of capturing the tension between full recovery and partial recovery and all the ambivalence that goes into it… that people don't necessarily talk about," said Sullivan, a senior majoring in molecular and cellular biology. Eating disorders are a perceived solution to an underlying problem that isn't solved by "just eating" or not purging, as many people suggest, she said.
Student artwork will also be shown alongside Shaw's cardboard cutouts and displays.
Shaw said she sought out treatment after breaking two bones and being diagnosed with osteoporosis – a direct result of depriving herself of food and exercising compulsively for so many years.
She organized  her first exhibit herself, to thank the people who had helped her through treatment. She has been showing her artwork to students and doctors over the last six years, hoping to  give them a better understanding of the experience of living with an eating disorder.
"Everyone, if not touched personally with an eating disorder, they likely know someone who is," she said.
Emily Fox-Kales, a clinical psychologist who teaches at both Harvard Medical School and Northeastern, said she's often found art to be an important part of the recovery process. One man she treated drew expressionistic giants to represent his hunger.
"Because he was giving me this information about his inner sense of himself, it was very helpful to the recovery process," remembered Fox-Kales, author of Body Shots: Hollywood and the Culture of Eating Disorders. Other patients "would sculpt these beautiful Degas-like bodies with large breasts and hips and begin to feel they could control their sensuality in a way."
Shaw said her artwork has helped her reconnect with her body. "I feel like now for the first time, I'm really living as myself," she said. "I feel like I was masked by the eating disorder for a good part of my life. I couldn't really focus on anything else other than getting thinner."
This program aired on February 24, 2012. The audio for this program is not available.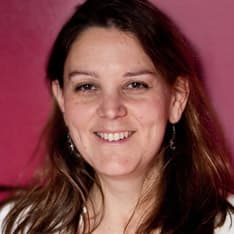 Karen Weintraub Contributor, CommonHealth
Karen Weintraub spent 20 years in newsrooms before becoming a freelance writer. She's a contributor to WBUR's CommonHealth.