Memorial Holds Shared Grief And, Perhaps, Peace
05:02
Play
This article is more than 8 years old.
There are 52 new names carved into stone in a Boston park. These men and women were remembered Thursday night during an annual dedication of the Garden of Peace, a memorial to Massachusetts victims of homicide.
If you've lived in or around Boston for any length of time, a visit to this small space tucked between towering government buildings (here are directions) triggers an explosion of poignant, frustrating and sometimes painful memories.
And the experience catches me by surprise. The garden is an oasis of tranquility surrounded by the hustle of downtown. I enter along a winding sidewalk. Smooth, melon-size stones line a sort of dry riverbed on one side of the walk. Tall green grass rustles in the wind. I relax in this tranquil scene, until I look down. The first name that catches my eye, etched in stone, is Molly Anne Bish.
"Molly Bish was abducted from Cummins Pond in June of 2000," recalls Bob Ward, a Garden of Peace board member and reporter at FOX-TV. Ward covered the stories of many of the men and women remembered here.
"She was a lifeguard," Ward says of Molly Bish. "Her mother dropped her off and she was never seen alive again."
I glance at the stone next to Molly's. I see the soft smile of the boy with a baseball bat whose picture was on the front pages of papers and on TV for months in the late 1990s.
"A horrific case," Ward says. "Jeff Curley, an East Cambridge boy, out with his bicycle. Two young men kidnapped him, wanted to have sex with him. They asphyxiated him with a gas-soaked rag in the backseat of a car. That case almost reinstated the death penalty in Massachusetts. It lost by one vote."
Looking past the stones that commemorate Bish, Curley and Holly Piirainen, Ward points toward the one that reads John Fitzgerald Kennedy.
"So you have a most powerful person in the world and a most common person in the world and what unites them here is what happened to them," Ward says.
Continuing down the path I see the name Matthew Eapen. The infant died of shaken baby syndrome. His nanny, Louise Woodward, was convicted of involuntary manslaughter.
Next is Carol Ann DiMaiti, who was pregnant when her husband, Charles Stuart, shot her. He blamed a black man and the search for that fictitious murderer rocked Boston.
Near the end of the river of stones is Jermaine Goffigan, the 9-year-old shot while counting his Halloween candy near his grandmother's home in Roxbury.
Evelyn Tobin, a Garden of Peace founder, looks out over the hundreds of stones. Tobin lost her daughter, Kathy Dempsey, in 1992. A burglar broke into Dempsey's home in Lexington and attacked her.
"The way the garden is designed," Tobin says, "the beginning of it is the granite orb representing deep grief. The most recent murders are close to the early grief and then they make their way around in this riverbed and [the stones] culminate at the statue, which is the symbol of hope. So those of us who've had a longer journey and are closer to some kind of peace and resolution are closer to the symbol of hope."
"Are you there, Evelyn?" I ask, wondering if she has found peace.
"I am there," she says. "Our daughter's murder was just resolved after 20 years. And I can feel, not acceptance, and not that horrible word closure, but at least I know justice was served."
I ask: "Although these people may have been killed in very different circumstances, in different neighborhoods or communities around the state, there's a merging of experience, is that how you think of it?"
"Yes, it is how I think of it," Tobin says. "Look around. It's a sea of faces that mirror the city or the commonwealth. I've lived in or near Boston all my life and it's the only time I've seen such a diverse group of people come together with a common experience."
In Boston, we share a history on many levels, from the founding of our country, to current politics, our beloved and reviled sports teams, and even the weather. But I've worked in Boston for almost 20 years, and until I stumbled on this garden, I hadn't thought about this dark side, our history of shared horror and grief.
The Rev. Jeffrey Brown, of the TenPoint Coalition, tells an audience gathered for this annual tribute to homicide victims not to get stuck in the grief that violence leaves in its wake.
"In this time of reflection, in all of the work that we have yet to do," Brown says, "we must all pledge that we can be neighborly to one another and come together to end the dominance of violence in our community. It has to end. Somebody ought to say 'Amen' to that."
"Amen," shout back some in the crowd.
The 52 new names added to the Garden of Peace at this ceremony are carved in a stone wall. The garden, now with 793 victims, is out of space for more stones. A half dozen groups incorporate the garden in their violence-prevention programs for school-age children and adults. They're working hard to limit the need to find space for more names.
This program aired on September 21, 2012.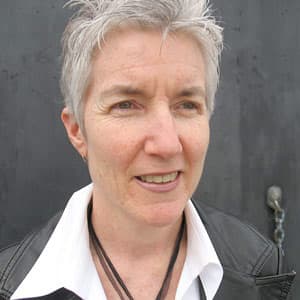 Martha Bebinger Reporter
Martha Bebinger covers health care and other general assignments for WBUR.