After Heartfelt Debates, Mass. Voters Split On Assisted Suicide
This article is more than 8 years old.
The debate was perhaps harder and more heartfelt than any other in the country this election.
It took the form of deeply personal essays on when life is worth living and when it is not; of panel discussions on thorny ethical issues; of painful public narratives about bad deaths, and of talk among neighbors and friends that continued right up into the lines at the polls.
In the end, Massachusetts voters split almost evenly on Question 2, the "Death With Dignity" ballot question, which would allow terminally ill patients to request life-ending prescriptions from their doctors.
As of 5 a.m. this morning, with 93% of precincts reporting, the "no" side appeared to be just barely winning, 50.7% to 49.3%, but the race remained too close to call. The two camps said they would hope for a final tally this morning.
Massachusetts would have been the third state to approve physician-assisted suicide, after Oregon and Washington. Data from those states suggest that physician-assisted suicide is used very rarely, and unlikely to be abused.
The measure was widely considered one of the most controversial on ballots nationwide, and was one of the tightest votes statewide in Tuesday's election.
In total, Question 2 drew more than $6 million in contributions, many from out of state. According to official campaign financing reports, the proponents raised and spent about $1 million total and the opponents about $5 million.
The Catholic church, the Massachusetts Medical Society, and some national conservative groups were among the measure's opponents. Its backers included prominent physicians, among them former New England Journal of Medicine editor Marcia Angell, and the ACLU. Hundreds of individuals sent in small donations to support that camp.
The plentiful opposition money paid for a final blitz of broadcast ads warning of the dangers and downsides of assisted suicide in the last few days. In one, "a pharmacist dumps out the 100 red pills the patient would consume alone, without a doctor present, to end his life," the Boston Globe reported.
Whether it was the ads or some other factor, public opinion appeared to shift notably against the measure in the weeks before the election. According to the Western New England University Polling Institute, late October polling found that 44 percent of likely voters supported Question 2, while 42 percent were and 14 percent unclear.
That was a sharp drop in support from the institute's earlier poll in late May, which found that 60 percent of registered voters supported the measure while 29 percent opposed it. The institute's demographic breakdown in broad strokes: Supporters were likelier to be Democrats, under 65, more educated and less religious. Opponents tended to be Republican, over 65, less educated and Catholic, particularly church-going Catholics.
Sentiment about the "death with dignity" ballot measure varies by partisanship, age and education. Democrats support the proposal by a margin of 54 percent to 35 percent, while Republicans are opposed 50 percent to 28 percent. Forty-six percent of independent likely voters also oppose the measure, while 40 percent are in favor.

Nearly half of likely voters under the age of 65 back the proposal, while just over one-third of those voters oppose it. Among likely voters ages 65 and older, however, 52 percent are against the measure, while 39 percent favor it.

Support for the "death with dignity" proposal increases by level of education. Only 25 percent of likely voters with a high school diploma or less favor the measure, compared to 44 percent of likely voters with some college and 49 percent of likely voters with college degrees.

Public attitudes also vary by religion and level of religious observance. The Catholic Church in Massachusetts has spoken out strongly against the proposal, and 51 percent of Catholic likely voters say they oppose the measure. The magnitude of the opposition varies among Catholics, however, depending on how frequently they attend religious services. Seventy-six percent of Catholic likely voters who attend services at least once a week or almost every week oppose the proposal, while the same is true of 38 percent of Catholics who attend services about once a month, seldom or never.
But though preferences showed such strong correlations with demographics, they also tended to be deeply personal, depending on individual experiences. When we posted an invitation to readers to share the experiences that influenced their views on assisted suicide, they sent in an array of wrenching stories, including this one:
I will be voting yes on Question 2. In Feb 2011 my mother was diagnosed with lung cancer that had already spread to her brain and her bones. She was told that she had 3-6 months to live. Three months later she died at home, after deteriorating in hospice for about 6 weeks. She was kept physically comfortable but suffered emotionally, asking her children and doctor on multiple occasions to help her go. One day she woke up and in a disappointed, unhappy and somewhat annoyed voice said "I'm not dead yet?" Fortunately for her she didn't have to wait long, but knowing her fate she didn't want to wait at all. She should have had a choice.
For some, personal and medical experience informed their opposition to the measure. Dr. Ira Byock, a leading palliative care specialist, wrote here:
Physicians always have more power than patients and once it is legal, physicians will agree to write a lethal prescription when they cannot imagine anything else to do for a patient. But I know from 34 years of clinical experience that the limitation is within the physician – in his or her ability to imagine what else we might do. Perhaps the physician is undertrained in end-of-life care, or exhausted and spent, or has had a fight with a spouse or is simply over his or her head. That's why we work in teams. That's why we have professional principles that stop us from doing things that violate medical ethics.
Other powerful opinions abounded, from Ben Mattlin, a disabled journalist, in The New York Times to columnist Yvonne Abraham in the Boston Globe, whose mother was recently diagnosed with Alzheimer's.
Even people with no such personal ties to the issue could project a different personal experience: Their own deaths.
When I went to vote today, I asked my neighbor how she would vote on Question 2 and why.
"I'll vote yes," she said. "I don't know if I'd take it, but I'd want the choice."
This program aired on November 7, 2012. The audio for this program is not available.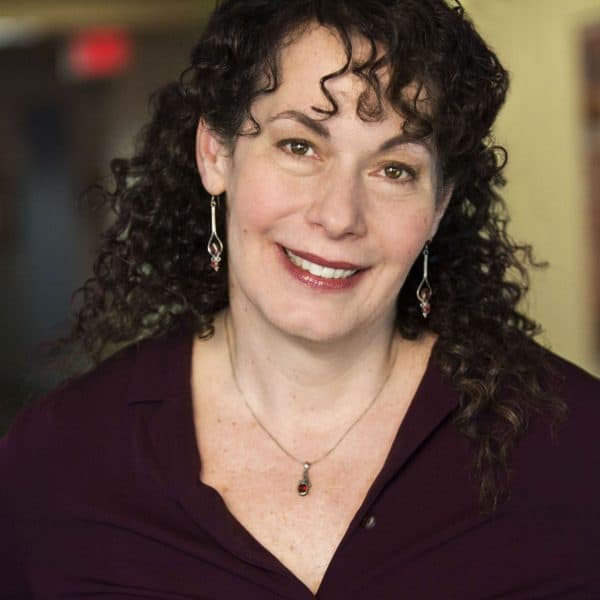 Carey Goldberg Editor, CommonHealth
Carey Goldberg is the editor of WBUR's CommonHealth section.