Brian McGrory Named New Boston Globe Editor
03:33
Play
This article is more than 8 years old.
There's a new editor at The Boston Globe.
Brian McGrory, who's currently a metro columnist, takes over the newsroom from Martin Baron, who stepped down to become the executive editor of The Washington Post.
McGrory, 51, has worked for the Globe for 23 years, including as a roving national reporter, a White House correspondent and editor of the metro section.
"Brian has distinguished himself throughout his career at the Globe as a reporter, editor and columnist and, as a native of Boston, he is the ideal candidate to lead the Globe's newsroom," the Globe's publisher, Christopher Mayer, said in a press release.
Following the announcement, McGrory spoke with WBUR All Things Considered host Sacha Pfeiffer, a former Globe reporter who worked there during McGrory's tenure.
---
Sacha Pfeiffer: Tell us how you feel. This is a challenging job. How do you feel right now, knowing that this is what you're going to do?
Brian McGrory: I feel extraordinary excitement. I mean, I have worked with these people, my colleagues over here, for a long, long time. I have endless respect for them and what we do here as an institution. But I will also confess to a little bit of anxiety. We're in a very difficult financial time for newspapers, and I've never been an editor-in-chief before. So that combination is making me a little anxious. But I'm equal parts excited and anxious. How's that?
In many ways, it is a somewhat traumatic time for the print industry in journalism. The Internet has done a real job on the business. On the other hand, the Globe has continued to do extremely good work. I'm wondering how hopeful you feel about print journalism right now.
That's the thing. And I'm really glad, Sacha, that you said the latter part of that. Because the business model is absolutely sputtering. You can't deny that fact. But the journalism that the Globe has produced throughout this crisis has been extraordinary. I mean, the Globe has held public officials accountable. We have told extraordinary narrative tales, including this week with that Bowdoin-Geneva series out of Dorchester.
Almost embedding in the local community [in the series].
The journalism here is flourishing, even while the business model is in rough shape. And, you know, my job here is to help with the business in whatever way I can, but to make sure people know that the best way you help with the business is by producing the best possible journalism that people want to read.
You mentioned you've never been an editor-in-chief before. And actually, despite your very illustrious journalism career, it hasn't involved a huge amount of editing. You've been national correspondent, White House correspondent, the metro editor for a while. But I'm wondering how big a learning curve you think you face?
Huge. It's probably too glib to say I have no idea what I'm doing. But I will learn quickly. I did do the metro job, the metro editor's job for three years. It has the largest staff on the paper, outside of the editor-in-chief's job. So I think I have a good familiarity with what it takes. But, look, it's going to be new for me. And it's a bit of an unorthodox move by the publisher to name a columnist as the editor. And it's a bit of an unorthodox move for the columnist to become the editor. So there will be a learning curve involved here. My colleagues, I know, will be patient with me while I get my legs under me, and I hope it ends well.
Do you have a sense yet of what you think the paper can and can't do, given the state of the industry now?
That's the key question here, and I'm going to be spending a lot of time looking at that. I could give you an answer that would probably be completely washed away in about a week, so I'm going to refrain and you should ask me that in a few weeks.
There are certainly many people who will miss you as a columnist, although maybe not the people of Hingham [a reference to McGrory's columns frequently targeting Hingham]. But will you keep writing? Do you think you'll find a way to still do that?
I hope to. I don't see why the editor can't write on occasion. I mean, it probably won't be an opinion column, because the editor shouldn't be playing that role. But I'm a reporter. It's what I do. And I hope that from time to time I can pick up my pen and write stories for the Globe.
This post has been updated with the All Things Considered feature version.
This article was originally published on December 20, 2012.
This program aired on December 20, 2012.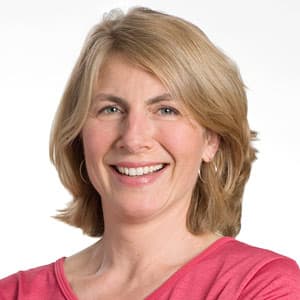 Sacha Pfeiffer Host, All Things Considered
Sacha Pfeiffer was formerly the host of WBUR's All Things Considered.