Boston Tests New Technology In Fight Against Potholes
04:24
Play
This article is more than 7 years old.
It's a fact of life in Massachusetts: A cold, snowy winter brings a spring full of potholes. Every March, road crews drive around towns patching up the holes in a ritual of spring cleaning.
This year, Boston is trying to fix potholes in record time: two business days. Since March 12, the city has filled more than 1,680.
Last weekend, driving down St. James Avenue in the Back Bay, my car stumbled over three consecutive potholes in just 20 feet — one little dip, one medium-sized hole and one giant crater filled with water.
Down the street I met Kyle Dailey, a car salesman who told me at his dealership they have a special area to fix bent rims, carry a surplus of tires, and offer rim and tire insurance.
As we drove around the corner, he showed me why he always recommends the insurance to his customers.
"So when I was taking this right, right here, I just went bump and then it just literally ate my rim," he recalled.
His warning light flashed, his car stalled and within minutes he was stuck on the side of the road with a flat tire.
'SpotHoles'
Five days later Dailey's pothole had been patched. An anonymous constituent reported it to the city on March 21.
Justin Holmes, director of constituent engagement for the city of Boston, says the pothole was filled on March 23, two days after it was reported. He says the city is trying to double its repairs during the normal post-winter rush so it's launched a campaign called "SpotHoles," urging the public to pitch in with complaints.
And complaints are indeed pouring in — they come through the old-school hotline, Twitter and mobile apps.
Public Works Commissioner Joanne Massaro says once the snow melts, people start seeing the potholes.
"You have roads that age over time, take a lot of wear and tear, maybe there's some cracks that develop," Massaro said. "Over time, water gets underneath there. In the wintertime it freezes, then thaws. Then the cracks become bigger and they become holes."
New Technology
During the March surge, when crews are working around the clock, they plug most holes with hot asphalt. But for year-round, quick fixes the city is experimenting with new technologies. One method is a temporary one: A bag filled with Silly-Putty-like material is placed over a pothole to protects cars until the hole can be permanently filled.
Another potential alternative comes from a company called Unique Pavement Materials.
"It's a permanent fix," said Michael Wohlfahrt, who works for UPM. "We fill a pothole like this and after we leave it today, the material, the patch and the repair is going to stay intact longer than this surrounding pavement."
Wohlfahrt demonstrated his product at a test site in Dorchester by compacting the fill and restoring the hole in minutes. The city will monitor this pilot site for the next six months to see how well the technology works and maybe use it next spring.
As for this spring, city officials say they're handling 95 percent of pothole requests within two days.
To put the city's claim to test I filed a complaint about the three potholes on St. James Avenue via the Citizens Connect mobile app. Two days later, all three holes were gone.
This program aired on March 29, 2013.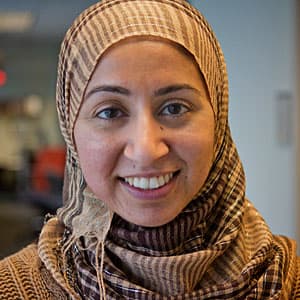 Asma Khalid Reporter
Asma Khalid formerly led WBUR's BostonomiX, a biz/tech team covering the innovation economy.