Fenway Adds New Voices, Including A Teacher's
This article is more than 8 years old.
The voice of Fenway Park is part of the Red Sox experience. The public address announcer welcomes fans, introduces players and helps shape ballpark memories.
In the past the job has belonged to local legends including Sherm Feller and most recently Carl Beane.
Beane began in 2003 but died suddenly last May. For the rest of last season a variety of people filled in as Fenway's public address announcer.
Now, just in time for Monday's home opener, the Red Sox have made it official: They will have three different announcers share the spot behind the microphone.
Two members of the rotating crew are longtime Boston television veterans: Bob Lobel and Dick Flavin.
The third is 31-year-old Charlestown High School history teacher Henry Mahegan, who joined WBUR's Sharon Brody to talk about his new part-time job.
---
Henry Mahegan: It really is an honor. It's pretty humbling. I knew Carl; I worked with Carl for a while, and it really is special to be considered in that group.
Sharon Brody: So, tell us why you wanted the PA announcer job?
A few years into my time at the Sox, they asked me one day, "Would you ever consider being the backup PA guy for Carl?" And I was thrilled. I said, "Yeah, I would love to." And then Carl made it to every game for his entire tenure — it was sort of like being backup first baseman to Lou Gehrig or something like that.
What role has baseball played throughout your life?
A huge role, actually. I'm sitting in my living room right now, and it's almost embarrassing how much there is baseball stuff around me right now. I've been a huge Red Sox fan as long as I can remember. I wrote my college admission essay about going and almost meeting Ted Williams during the opening of the Ted Williams Tunnel in 1995. Throughout high school and college, pretty much everything I did was aimed at hopefully one day landing a job at the Red Sox, and that happened for me in 2004.
Teaching high school history and serving as the Red Sox PA announcer — compare and contrast.
When you talk at the microphone at Fenway, no one talks back. They're two totally different things. Although, I think it earns me a little credit with my kids. Earlier this year, we had members of the 2004 Red Sox actually come to my classroom. I thought I was kind of the coolest teacher in the school. And then a couple of days later, one of the English teachers at our school did a backflip off a desk, and I can't compete with that.
Can you give us a sneak preview of your own signature greeting to the fans?
I haven't really done too much thinking about it. It's basically they give you a script, but I'd say, "Good evening, ladies and gentlemen, and welcome to Fenway Park for this evening's game between the Baltimore Orioles and the Boston Red Sox." Something like that.
How do you train your voice for that particular presentation?
This is kind of embarrassing, but — well, first of all, I teach all day, so I'm talking for a good portion of the day anyway. I have a lot of English language learners and stuff like that, and so I do try and be very clear in my pronunciation and stuff in class. But really the embarrassing part is that my ride from Charlestown to Fenway Park, I generally turn the radio down and announce batters on the way to work down Storrow Drive.
So, making out of yourself the equivalent of every 9-year-old boy who's ever lived?
Yeah, it's probably something I was doing with my brother playing wiffle ball in our backyard anyway when I was that age. It really is a dream come true.
Except when you're 9, you're inserting your own name into the lineup.
Yeah, well, when I was about 10, I realized that dream wasn't going to happen for me, so I had to get into baseball some other way.
This program aired on April 7, 2013. The audio for this program is not available.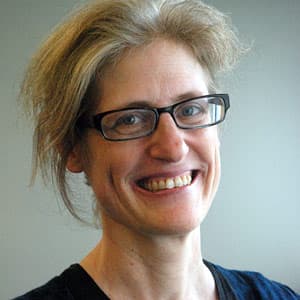 Sharon Brody News Anchor
Sharon Brody is the voice of WBUR's weekend mornings. On Saturdays and Sundays, she anchors the news for Weekend Edition and other popular programs.