BU Students Remember Bombing Victim Lu Lingzi
03:34
Play
This article is more than 8 years old.
Three people were killed in Monday's marathon explosions. One of the victims was 23-year-old Lu Lingzi, a graduate student from China studying at Boston University.
At 9 a.m. on Monday, April 15 — Lu posted a photo on the Chinese social media site Weibo with the caption "my wonderful breakfast" and a smiley emoticon. Lu was known to love food and cooking. But this photo would be her last post. Later that day, she was at the marathon with friends watching runners pass the finish line when two bombs exploded.
Chinese students at Boston University say her roommate couldn't find her so they took matters into their own hands.
"We were actually looking for her all day," said Shuang Gui, president of the Chinese Students and Scholars Association at BU. "We run around to all of the hospitals around."
Guo says members of her student group — even those who didn't know Lu personally — scoured the city. But they never found her.
"The BU police let us know that she was found at the Boston examiner office. So it was really sad because this girl was just like us," Guo said. "You know, we're international students, studying abroad, and we have our families waiting for us back home."
With no family to mourn Lu here in the U.S., fellow Chinese students say they need to be her family. A group of them held a makeshift memorial late Wednesday in front of BU's Marsh Chapel.
Most had never met Lu, but they wrote messages in Chinese telling her to rest in peace, that heaven would be better, that they hope her soul can go back to China with her family.
"It's a very, very sad time in our department right now," said Tasso Kaper, math and statistics chair at BU. He says Lu was a stellar student.
"Taking tough theoretical courses, she did very well," Kaper said. "She's one course shy of completing the course requirements for the degree. This is really in the full glory of her first year as a master's student, so it's a terrible loss"
All stats master's students are required to take a grueling first-year exam. Dan Weiner, who taught Lu this semester, says Lu was informed that she had passed part one of that test via email on Sunday.
"And she replied to me on Sunday, about 3 p.m.," Weiner said. It read, "Thank you very much for the good news, I'm so very happy now."
"That was exactly twenty-four hours before the incident," Weiner pointed out, a coincidence that only sharpened the shock for him.
Lu would have been at his 11 a.m. class on Wednesday mornings, but her seat was empty. So Weiner cut class short, gave students half a lecture, and allowed them to spend the rest of the morning sharing memories of their classmate.
---
This program aired on April 18, 2013.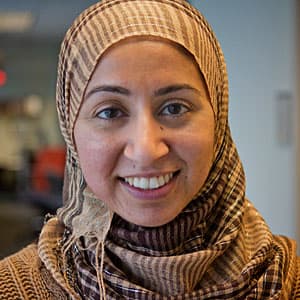 Asma Khalid Reporter
Asma Khalid formerly led WBUR's BostonomiX, a biz/tech team covering the innovation economy.