Republican Winslow, An 'Idea Factory,' Has A New Idea: The U.S. Senate
06:18
Play
This article is more than 7 years old.
Dan Winslow has a name recognition problem. He's the least known of the five candidates for U.S. Senate in Massachusetts — so little-known that in one recent poll 70 percent of voters had never heard of him. That's even though Winslow is a long-time Boston lawyer who's had high-level jobs in every branch of state government: district court judge, chief legal counsel to former Gov. Mitt Romney, and now a state representative from the town of Norfolk. Winslow's problem was evident at a debate in Springfield where the moderator repeatedly called him "Mr. Winthrop." But Mr. Winslow is still optimistic about his chances.
"People say, 'Why are you an optimist? How can you be an optimist? We've got so many challenges here,' " Winslow recounted. "Well, I'm a Republican in Massachusetts. That's the definition of being an optimist."
Fueled by that optimism, 54-year-old Winslow hopes he can win the Republican primary next Tuesday and become a U.S. senator.
To get his name out there, Winslow has been tweeting prolifically and campaigning so intensively that earlier this month his vocal cords were almost shot from overuse. But before a doctor's appointment, he fit in a high-energy appearance before a group of anti-tax activists.
"I've lost my voice, but I haven't lost my heart," he told the gathering.
Winslow quickly gets this conservative crowd nodding in agreement. He describes himself as "fiscally prudent" and says he wants a balanced federal budget, a simplified tax system and forced spending caps on Congress. He rails against what he calls Washington's wasteful ways.
"The way to grow revenue is not by tax increases but by growth," he said, "and the way to solve our deficit is not by increasing taxes but to stop the profligate spending."
On social issues, Winslow has what he calls a "big tent philosophy." He's pro-choice, pro gay marriage and a self-described environmentalist.
"I'm socially moderate," he said. "But I also understand people can agree to disagree respectfully on matters of conscience."
That balance makes Winslow a quintessential Massachusetts Republican. He's married with three kids — two in college, one in high school — and he's the only Senate candidate with roots in western Mass. He says that taught him the state doesn't begin in Boston and end at Route 128. He's vocal in his judgment that the Massachusetts political system is broken because of its lack of party balance. So he implores these voters to put a moderate, independent, reform-minded Republican in the Senate.
"The thing that's frightening to me is that the Democratic Party — either nominee of the Democratic party, Eddie Markey or Stevie Lynch — they will do whatever this president asks. When he says, 'Jump,' they'll say, 'How high?' "
Winslow sounds like any politician when he says he'll bring new ideas to Washington. But even his detractors say he will do that. Since childhood, he's been what one of his colleagues calls an "idea factory." Growing up in Amherst, Winslow noticed that when police direct traffic it's often hard to tell whether they're motioning for you to stop or go.
"So when I was in high school," he explained, "I designed gloves that were DayGlo green on the back of the hand and DayGlo red in the palm so when a police officer is telling you to stop you see a red glove and when he's telling you to come you see a green glove." He did that not for a class project, but "just because I had time on my hands," he said.
Classic Dan Winslow. Ideas are his hobby. As a judge, he developed a way to schedule trials more efficiently. As an attorney, he invented a cost-reduction technique dubbed the "litigation pre-nup." As chief counsel to Scott Brown's first U.S. Senate campaign, he came up with a method for putting campaign messages on snow banks using colored gelatin.
"Watch out for that guy, Dan Winslow, because he's always coming up with all these crazy ideas" is what Boston lawyer Phil Swain heard from some classmates when he and Winslow were undergraduates at Tufts University in the late 1970s. Some students thought Winslow's habit of always thinking up something new was a little kooky.
"Then I started to listen to his ideas," Swain recalled, "and I said, 'What are they talking about? These are all great ideas.' He was just making all these suggestions, like, 'Why don't we do this? Why do we just continue to follow tradition when we could change things up and come up with better ideas?' "
Winslow's ideas at Tufts and, later, Boston College Law School, were hardly radical — things like installing color TVs in dorm lounges. But his nonstop idea generation also raises eyebrows at the State House, where as a freshman state representative elected in 2010 he filed at least two dozen bills his first few weeks in office.
"You go to Beacon Hill and many people say, 'Well, he's a grandstander. He throws up all these ideas all over the wall, that it's all for publicity,' " said former state Attorney General Scott Harshbarger, a Democrat who worked with Winslow at the Boston law firm Proskauer Rose before Winslow resigned to run for Senate.
"We probably disagree on many major public issues, that's for sure," Harshbarger added, "but I respect his views. I know he is open-minded. I know he believes strongly in a new face to the Republican Party. What you see is what you get: a very innovative, entrepreneurial guy who I believe truly believes he is there to serve the public."
Harshbarger thinks Winslow ruffles feathers because he's not deferential to traditional power structures and has a flair for attracting press. He once delivered 10 jars of marshmallow Fluff to the state budget chief with suggestions for cutting "fluff" out of the budget. Winslow doesn't deny a fondness for dramatic gestures.
"Talk to Sam Adams," he retorted. "He was the one that dressed up in war paint and threw tea over Boston Harbor. Sometimes you have to be theatrical to make a point."
Democrat Harshbarger considers Winslow the most electable of the three Republicans in the race — more moderate than Michael Sullivan, a more skilled candidate than Gabriel Gomez. But in the few days left to campaign, this candidate still has to make sure voters remember it was a Mr. Winslow, not a Mr. Winthrop, who wanted their vote.
This program aired on April 26, 2013.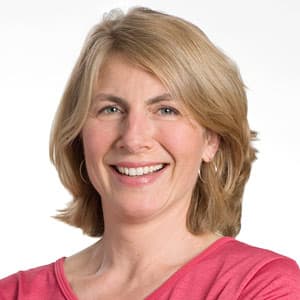 Sacha Pfeiffer Host, All Things Considered
Sacha Pfeiffer was formerly the host of WBUR's All Things Considered.