Watertown Cop: 'We Thought It Was Just A Carjacking'
06:53
Play
This article is more than 7 years old.
Laurel Street is in your typical Watertown neighborhood. It's lined with one- and two-family homes, perhaps smaller yards and maybe fewer trees than on many streets, but take a closer look and you'll see evidence that will forever make Laurel Street unique.
"If you look down the fence line you can see all the bullet holes coming down the fence line, a couple in the tree," Watertown Police Sgt. John MacLellan said. He's been on the force for 23 years and has never had a night like the one he experienced on April 18 when the Boston Marathon bombing suspects showed up in this neighborhood.
Then again, according to the ATF, neither has any other police officer in the U.S.
"You know, in America this has never, ever happened in the history of the United States. Ever. No officers have ever taken bombs thrown at them in a gun fight," MacLellan said. "You can't even think that through. So we are lucky that it worked out the way it did, the good guys are where they should be and the bad guys are where they should be, as far as I'm concerned."
Sgt. MacLellan has a straightforward worldview: There are good guys, and there are bad guys.
But for those of us who saw first responders in action after the Boston bombings and the Watertown shootout, there are people like John MacLellan.
'We Thought That It Was Just A Carjacking'
Just before midnight on April 18, MacLellan was working his shift as night patrol supervisor when the Cambridge Police Department radioed to say a hijacked Mercedes SUV was heading his way.
"Being the patrol supervisor when you have an incident like that, I'm the only one who's supposed to talk to the dispatchers," he explained. "Everything goes through me."
Watertown Officer Joe Reynolds heard MacLellan on the scanner. He was just about to go off duty when he spotted the SUV and a green Honda turn off Dexter Street. Reynolds was first on the scene, Sgt. MacLellan was right behind him.
"I said, 'Joe, hold off, don't pull it over until I get there,' " MacLellan recalled. "As I said that the vehicles took a left-hand turn onto Laurel [Street]. They ended up about 100 yards down the street with Joe Reynolds about 30 feet behind them. I see a male exit the vehicle, arm raised in a shooting position. I hear the pop, pop, pop."
Sgt. MacLellan and Officer Reynolds took out their Glock handguns — between them they had five clips, 67 bullets total.
"So I'm shooting and I have a shoulder mic and I'm talking on the shoulder mic and shooting down range," MacLellan said. "I take a round right through the windshield, right through my windshield, right through my headrest of my driver's side. I'm trying to get my patrol rifle, which is a civilian version of the M16. I tried two or three times but I can hear the rounds hitting my vehicle."
MacLellan said he had no idea he was dealing with the bombing suspects.
"We thought that it was just a carjacking. That when we pulled these kids over they're going to bail out and we'd chase them and catch them and that would be it. It just turned out a little different," he said.
MacLellan then released the handbrake on his patrol car, put it in drive, jumped from the vehicle and took cover behind a tree. The police car stopped right next to the hijacked Mercedes SUV. The younger suspect threw clips of bullets to the older suspect, then took three backpacks from the Honda.
"They come out from behind the Mercedes and engage the vehicle — they think someone is in it. They're just firing at it, boom, boom, boom, boom. They're firing at the vehicle," MacLellan recalled. "At this point they throw the first bomb, boom. I say, 'What was that?' I got on the radio and said, I actually said on the radio, 'Bigger than an M80. I'm not sure what it was.' That's when the second bomb goes off. He throws it up and it's a large pipe bomb."
It had been three and a half minutes since the shootout began when Sgt. Jeff Pugliese showed up and exchanged gunfire with the older suspect. The suspect then ran out of ammunition and charged MacLellan.
"I'm out here and I'm drawing down on him and I said, 'I'm going to kill you, get on the ground. I'm going to shoot you, get on the ground.' Now I have an empty gun, I don't have any ammo at all so I'm just bluffing him, hoping he's going to go down to the ground. He's not taking, he's coming right at me.
"Jeff Pugliese jumps on his back and as soon as he jumps on his back he just collapses him to the ground. The guy's been shot quite a few times. Drops him to the ground. My only thought at that point was that this guy was throwing bombs at us, he's either strapped or he's got another one or his brother's got a button as soon as we get on him he's going to blow us up."
MacLellan jumped on top and worked with Pugliese to keep the suspect down. He then looked back and saw the lights of the Mercedes coming at them, driven by the younger suspect who we now know was 19-year-old Dzhokhar Tsarnaev. Both officers pushed off the body and the car missed them but hit the other suspect — Dzhokhar's older brother, Tamerlan — dragging his body about 60 feet.
Immediately after the shootout, he and six other Watertown police officers were in the thick of it. They went on leave for two weeks and received counseling, were debriefed by investigators, and are now back on the job.
Listen to Bruce Gellerman's full interview with Sgt. John MacLellan below:
This program aired on May 15, 2013.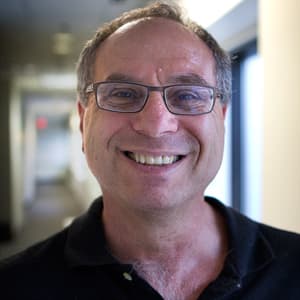 Bruce Gellerman Senior Reporter
Bruce Gellerman is an award-winning journalist and senior correspondent, frequently covering science, business, technology and the environment.