As NIH Funding Shrinks, Mass. Biomedical Researchers Compete For Fewer Grants
06:34
Play
This article is more than 7 years old.
In his laboratory at MIT's Whitehead Institute for Biomedical Research in Cambridge, Piyush Gupta is trying to figure out why cancer cells develop resistance to multiple drugs. The answer could save millions of lives and billions of dollars. Recent advances in biomedical research have already reduced the cancer death rate in the U.S. by 1 percent a year — saving the nation $500 billion annually.
Much of the research happens within walking distance of Gupta's Kendall Square lab — at Harvard, MIT and across the Charles River at Boston's teaching hospitals.
"It's an amazing place," Gupta said. "Within this one-mile radius it's probably the highest density, I would say, of individuals doing the cutting edge biomedical research."
More than 30,000 people in Massachusetts work directly in biomedical research. Gupta says that's due, in large part, to the grants researchers here get from the National Institutes of Health.
"The NIH is the source of funding that sustains laboratory research — the primary source of funding throughout the country," he said.
For 18 consecutive years, Boston has led the nation among all U.S. cities in the amount of funding from the NIH. Money for biomedical research here last year reached a near record. But the federal sequester calls for cutting the NIH budget by 5 percent, and more over the coming decade.
Collaboration Turned Competition
Massachusetts got $2.3 billion from the NIH last year. That works out to $377 per person. California was a distant second, with $90 per person. And if you look at just Cambridge and Boston, it's a whopping $3,000 a person.
Gupta says that's helped create not only a critical mass of money, but also a community of world class scientific talent.
"It happens all the time in science, where you're grappling with a problem and you enter slightly unknown territory that someone else, down the hall, is an expert in," Gupta said. "It's because collaboration is in the DNA of researchers today."
But that's changing. While collaboration is still the cornerstone of biomedical science, today competition is the watch word as federal funding shrinks.
"My fear is that we're putting an entire generation of U.S. scientists at risk," said Dr. Francis Collins, the head of the National Institutes of Health. "If they go away, they won't come back."
Today a researcher's chance of getting a NIH grant is the lowest in the agency's history — just 1 in 10 will get funded.
"Sequestration is compromising the future of biomedical research and slowing the improvement in the health of all Americans," Collins said. He is worried because while federal funding is declining in the U.S., in China, Japan and other nations it's increasing by as much as 20 percent a year. And those countries could be an attractive option for researchers competing for funding here.
'Pay If' 
At the Whitehead Institute, Gupta leads a team of young grad students and post docs.
"You couldn't have better, more dedicated, more idealistic, smarter people working in the lab," Gupta said. "You can feel the energy, right?"
These young scientists aren't in career crisis just yet, their pay is relatively low. It's scientists like 35-year-old Gupta who have to worry. He's at a critical transition: He's finished 12 years of post doc research and has his own lab, but now he needs outside funding to keep it going.
The average age when a researcher gets their first NIH grant is about 40. But with sequestration, federal funding is iffy at best. So these days Gupta spends a third of his time writing grant applications to nonprofits like the American Cancer Society. But so does everyone else. And even if research projects are approved, such organizations don't always have the money to fund them so they've have created a new category called "pay if."
"And so what that means, if funds magically appear between now and two and a half years from now, the work will be funded," Gupta explained. "We're in limbo and certainly we're not unique in being in that situation. There are many 'pay if' grants in New England, across the country, waiting."
Chuck Stiles has been at Harvard's Dana Farber Cancer Institute for nearly 40 years. He feels his funding is relatively safe, but he's concerned for the future generation.
"They are seeing professors like me tearing their hair out, trying to keep the lights turned down, trying to run a laboratory with duct tape and baling wire," Stiles said. "And good kids are saying, 'Business school is looking pretty good to me, maybe law. This science looks like it's not a dependable way to settle down and have a family.' "
In the U.S. Senate, the NIH enjoys strong bipartisan support — Democrats and most Republican senators favor not just rolling back the sequester cuts but increasing NIH funding next year. But not so in the House, where Republicans recently voted to cut the NIH budget by another 20 percent next year — that's in addition to the cuts already mandated by the sequester.
This program aired on May 28, 2013.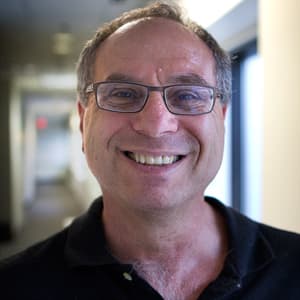 Bruce Gellerman Senior Reporter
Bruce Gellerman is an award-winning journalist and senior correspondent, frequently covering science, business, technology and the environment.