Syrian-Americans In Mass. Urge International Community To Act
06:04
Play
This article is more than 6 years old.
The crisis in Syria rages on as the international community debates how it should respond to news of chemical weapons attacks. But for many Syrian-Americans there is no debate. They say help is long overdue, and since the global community has stayed silent, many of them have personally stepped in to lend a hand to their homeland.
Since the uprising began, the Syrian American Medical Society estimates that more than 200 Syrian-American physicians, dentists and nurses have traveled overseas to work in refugee camps.
One of them is Omar Salem. He was born and raised in Damascus and now lives in Canton, Mass. He's an orthodontist, but when he's not fixing teeth he's fixated on the latest news from Syria.
Over tea and Syrian walnut cookies, Salem explained that his in-laws are living with him these days because life in Syria has become incredibly unsafe. A few months ago their house was hit by rocket fire.
Since the uprising in Syria began two and half years ago, Salem has tried to help his homeland — fundraising for Syrian hospitals, posting articles on Facebook — but he felt like none of that was enough.
"These people are my people and if we don't help them nobody will," he explained.
So last month Salem packed his bags and flew to Turkey, from where he crossed the border into Syria. He offered dental care and emotional support to refugees.
"I really felt an obligation almost that I should go," he said. "And I actually think that every Syrian-American should actually attempt at least to visit over there and see those people."
He corrects himself, "See our people."
Salem, like many Syrian-Americans, can rattle off the unsettling statistics of this war without any footnotes: 100,000 killed, four million refugees, one million child refugees. The data points are seemingly endless, but they all prove one point to Salem: Syrian President Bashar al-Assad needs to go.
Salem says the Syrian government has been a dictatorship for far too long. Salem says the secret police even went to his parents' home in Damascus and warned them that he — the son in America — was too outspoken, too radical.
Salem is disgusted with the Syrian regime, but for him the question of military intervention is a prickly one.
"It's almost unfair to live thousands of miles away and say I'm 100 percent for military intervention," he said.
Salem knows there's a possibility more civilians could be hurt in military strikes.
"I do have mixed feelings about it. But I really cannot see this crime go without any consequences. The regime must be told that enough is enough," he added.
For Ghazwan Acash, a pulmonologist in Burlington, there are no mixed feelings. His mother, father, siblings, in-laws — essentially, his entire family — live in Syria. He used to visit every summer, but he hasn't seen them in three years.
A few months ago, he too went to Syria to volunteer in the intensive care unit of a hospital in the northern city of Idlib. The situation was so dire, he says, a team of four doctors were performing about 20 surgeries a day.
Acash says international military intervention would be a welcome relief, but he won't believe it until he sees it.
"We've been let down so many times that we can only rely on God and ourselves," he said. "If we keep relying and hoping that the West will intervene, we're going to get disappointment after disappointment."
Acash says he saw a woman months ago in Syria who had boils all over her skin — the kind that might have come from a chemical attack. So when Acash heard the news of the large chemical attack last week that allegedly killed over 300 people, he wasn't surprised. He thinks the Syrian president has been using chemical weapons all along.
"I think it's important that there is some sort of intervention, at this point, and probably earlier would have been better considering it's been two and half years."

Ala'a El-Shaar
"The international community gave him break after break after break, so he decided to take his chances and do it on a larger scale," Acash said. "And I think if they don't do something soon, he's going to definitely do it on a much larger scale."
That's a sentiment Ala'a El-Shaar can agree with.
"I think it's important that there is some sort of intervention, at this point, and probably earlier would have been better considering it's been two and half years," she said.
El-Shaar's cynicism is a common theme among Syrian-Americans. They question why the world was silent as it watched 100,000 Syrians die.
El-Shaar is a 21-year-old graduate student at Boston University. Much of her extended family still lives in Syria. Last July she too volunteered in a refugee camp in Jordan. She worked with kids who drew pictures of little children flying to heaven as angels with wings.
The more El-Shaar thinks about a possible military strike, the more she fears the unintended consequences.
"Think back to the families and what the side effects are going to be of whatever the intervention is," she says. "You just hope for the best."
El-Shaar's fear that military strikes will inevitably lead to collateral damage is echoed by many Syrian-Americans, but in the same breath as their cautionary words, they'll insist that the killing must stop.
This program aired on August 30, 2013.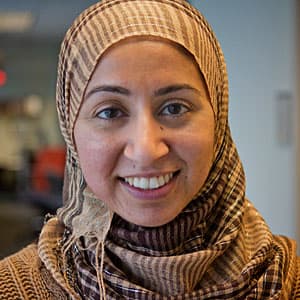 Asma Khalid Reporter
Asma Khalid formerly led WBUR's BostonomiX, a biz/tech team covering the innovation economy.