A Look At The Patriots' New Season: Will Brady, Teammates Deliver?
05:30
Play
The New England Patriots kick off their season Sunday afternoon playing the Buffalo Bills in Orchard Park, N.Y.
This first game will be getting close attention as Patriots quarterback Tom Brady goes to work without some of his most reliable weapons and with a defense that has to prove it can successfully defend against the pass.
For a preview of the season opener, WBUR's Weekend Edition spoke with Shalise Manza Young, who covers the Patriots for The Boston Globe.
---
Sharon Brody: We'll zero in on today's [Sunday's] game against the Buffalo Bills in a moment. But first, let's do the season overview. With the personnel changes on the offense, what changes do you think we'll see in the approach by Tom Brady and offensive coordinator Josh McDaniels?
Shalise Manza Young: At least early on, you might see them run the ball a little bit more than maybe Patriots fans have gotten used to seeing in the last few years. And the Patriots know that they have a good ground game that they can go to.
Last year was a very successful running attack ... Stevan Ridley had over 1,200 yards and 12 touchdowns. They have Shane Vereen at that running back position. He's very versatile. He can run the ball; he can catch the ball from several different places.
I think you'll just see Tom Brady that we saw a few years ago — Tom Brady that his favorite receiver was the open receiver, and not-his-favorite was Wes Welker, because that was almost the only option he had at times.
How strong does Tom Brady look going into this season? How many more years can he keep up a top tier performance?
Right now he looks phenomenal. Last year he said he wanted to play until he was 40. This year he's saying he wants to play into his forties. He turned 36 in early August, so obviously that would be at least five years. His contract currently does go until he's 40. He takes impeccable care of himself from a nutrition standpoint, from a fitness standpoint. His love of the game, his competitiveness are there, I think, just as strong — if not stronger — than ever.
Turning to the defense, this year the Patriots are facing some elite quarterbacks. How do you think they will do against the pass?
What is really key is how they do upfront in terms of getting to the passer and pressuring quarterbacks and not necessarily getting sacks but really making quarterbacks uncomfortable, and that's something they've really struggled to do consistently over the last three to four years. So if they can find that formula where they can consistently do that, I think it only serves to help the cornerbacks' and the safeties' attack coverage.
It's a different look for special teams on the Pats this year. Veteran punter Zoltan Mesko is gone. Tell us about the player who took his job — Ryan Allen.
Ryan Allen is an undrafted rookie. He was in college football. They give out the Ray Guy Award for the best punter in college football. Allen is the first two-time winner of that award, so clearly he was the best punter in college football. In terms of competing ... the competition was quite close in terms of statistically and yardage and things like that. There are couple of finer points, I think, that Allen is going to have to work on. But in the end, Allen costs almost $1 million less than Mesko this year, and Mesko was also heading into a free agent year. And this way, the Patriots know they have Allen at least through the 2015 season.
Moving on to the Bills game, the Patriots have had a fair amount of success during the Belichick-Brady era. And the Bills have missed the playoffs for 13 straight years. Do you think there could be any surprises Sunday?
I've learned to never say never. But the Bills are starting a rookie quarterback, E.J. Manuel. If Manuel can't finish the game for whatever reason, it would be an undrafted rookie quarterback, Jeff Tuel, who steps into the game. The Bills will be missing two of their best secondary players; their top quarterback Stephon Gilmore is injured, and their best safety Jairus Byrd is also injured. So clearly that would be something they have to account for. And it's a new coaching staff. So there's a bit of the unknown for the Patriots to deal with because they don't quite know what to expect from the new coaching staff. Doug Marrone is the first-year head coach with the Bills. But, at the same time, the Patriots still have enough key pieces in place. Tom Brady is 20-2 against Buffalo all time in his career.
What's the status of Danny Amendola who's replacing Wes Welker? And also the status of Rob Gronkowski?
Amendola was able to practice fully on Friday, and the Patriots upgraded him to "probable," which means that it's almost a certainty that they do expect him to play, so that's good news.
In terms of Gronkowski, he was on the practice field this week, but what the media are able to see in practice is a very small window. So when the Patriots say that's he's limited in practice, we don't know if he only did what we saw him do in terms of stretching and running around and things like that, or if he was able to do a little bit more. At either rate, he is listed as "doubtful" for today [Sunday], which means that there's only a 25 percent chance or less that the Patriots expect him to play.
OK, so you are calling the Pats over the Bills today [Sunday]. What is your call for the season for the Pats?
For the season, I predicted that they will go 11-5 and that they will win the AFC East, but I don't think I have them make it to the Super Bowl this year.
This program aired on September 8, 2013.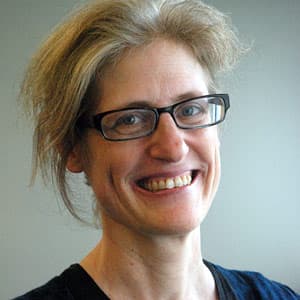 Sharon Brody News Anchor
Sharon Brody is the voice of WBUR's weekend mornings. On Saturdays and Sundays, she anchors the news for Weekend Edition and other popular programs.