John F. Kennedy, A Son Of Massachusetts
Play
This article is more than 9 years old.
John F. Kennedy was proud of his birthplace. All eight of his great-grandparents migrated from Ireland to Boston during the Irish Potato Famine, and in just a generation their devotion created a family fortune and started a political dynasty. We continue a series on JFK's presidency and legacy with a report on his life in the state he called home.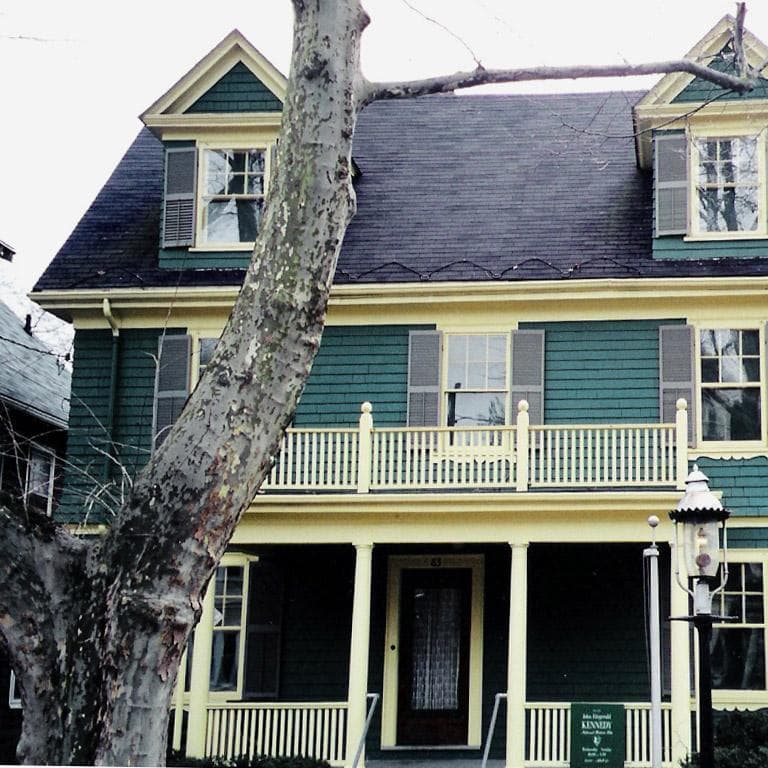 BOSTON — In 1914, soon after they were married, Joseph and Rose Kennedy moved into a nine-room Colonial house at 83 Beals St. in Brookline. Today, it's a National Historic Site.
In a recorded tour of the home where her second son was born on May 29, 1917, in the master bedroom, Rose Kennedy said that the house holds many happy memories.
Those who visit the house can still see the bassinet where John slept as a baby, along with the piano he played as a boy and the books his mother offered in an effort to instill a love of reading in her son.
"I was very careful to select books which were recommended at school or a children's bookshop," Kennedy said during the tour. "Probably Jack's favorite book was 'King Arthur and his Knights.' "
When John was just 10 years old, the family moved to New York. But John Kennedy returned to Massachusetts in 1936 to attend Harvard College.
He lived at Harvard's Winthrop House in Room F-14 from his sophomore to his senior year.
"It was recently refurbished in the style when JFK lived here," said Joanna Miller, Winthrop House's current administrator.
The desk houses an old Olivetti typewriter, similar to the one Kennedy used to write the senior thesis that would become a best-seller. There is a picture of Kennedy's mother, Rose, on the dresser. There is another photo above the fireplace — one of Kennedy himself, sitting in front of that same fireplace. It was taken by his roommate, Torbert MacDonald, who took a whole series of photos of JFK to practice using his new camera.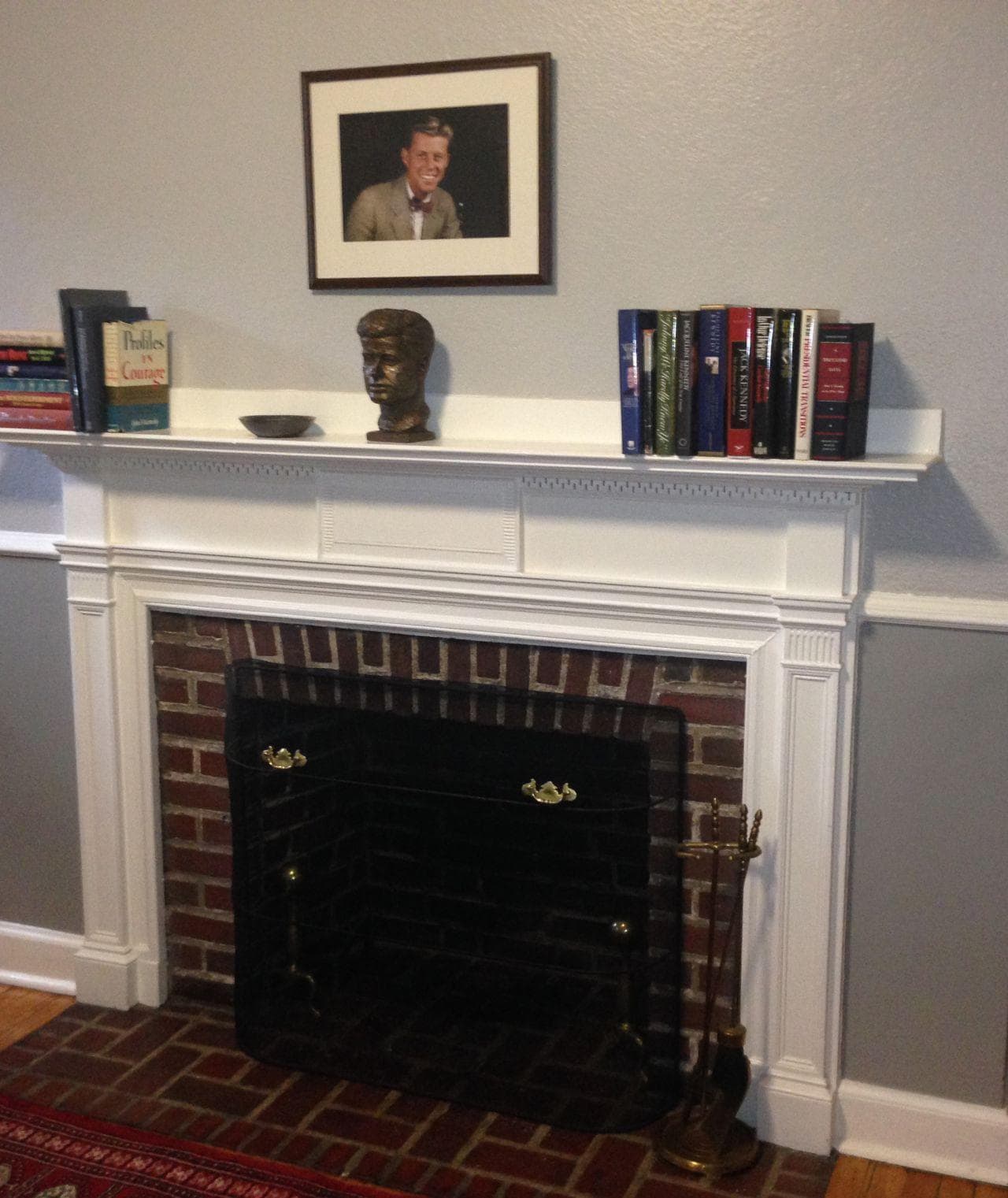 MacDonald was a working-class kid from Malden, and captain of Harvard's varsity football team. Kennedy played junior varsity. Both Kennedy and MacDonald would later command Navy PT boats, receive medals for heroism and serve as U.S. congressmen. They remained best friends for life. MacDonald was an usher at Kennedy's wedding and a pallbearer at his funeral.
Today, dignitaries visiting Harvard can stay in Kennedy and MacDonald's two-room suite.
"It's $125 a night," Miller said. "It's not a five-star hotel, but it does have a lot of history."
Just six years after graduating from Harvard, Kennedy won the same congressional seat that his grandfather, John Francis Fitzgerald, held a half-century earlier. Fitzgerald, who sometimes went by "Honey Fitz," would also serve as mayor of Boston.
On his father's side, Patrick Joseph "P.J." Kennedy was elected to both the Massachusetts House and Senate in the late 1800s.
JFK had the political pedigree. What he lacked was a Boston address.
While campaigning for Congress, he admitted, "I'm a stranger in the city of my birth." Kennedy's father took care of that by renting an apartment at 122 Bowdoin St., near the State House. It would be JFK's legal voting address for the rest of his life.
Haley Manella's boyfriend lives right next to the apartment that Kennedy used as his "mattress address." There is a makeshift memorial on the door of Apt. 36.
"It says, 'Ask not what your country can do for you. Ask what you can do for your country.' And there's just a plaque with his picture and a couple of stickers," Manella observed. "I think everyone in the building knows about it. They like to brag."
On his weekly return to Boston, the bachelor congressman was a Sunday afternoon regular at the Union Oyster House. A plaque identifies Booth 18 on the second floor as JFK's spot. Restaurant manager Jim Mallin said the young man would sit alone and order the usual.
"Lobster stew," he said, "which is a bland dish. It's a little bit of milk, a little bit of butter, a little bit of lobster. And, in the old Yankee tradition, nothing too fancy. And he would have that and sit here and do some work."
Not far from the Union Oyster House, and just down the block from JFK's Bowdoin Street apartment, is the Omni Parker House Hotel.
"The Kennedy legacy is huge here," said David Ritchie, director of sales and marketing at the hotel. "It goes back to his grandfather, who was the mayor of Boston."
In 1953, it was in the Omni Parker House restaurant — at Table 40, in the corner — where Jack Kennedy proposed to 24-year-old Jacqueline Bouvier.
According to Ritchie, there are more JFK memories on the mezzanine level of the hotel, in the ornate press room.
"This is where he gave his first speech when he was 6 years old, at his grandfather's 80th birthday party." And, Ritchie added, the room saw even more historical moments. "He announced his run for U.S. Congress. And his friends held his bachelor party in this room."
Kennedy's groomsman, George Smathers, reportedly broke his leg falling out the second-floor window during the bachelor party.
"We are not allowed to talk about any of those stories," Ritchie said. "We have to be very quiet about those things that happened at the bachelor party. But can you imagine? I'm sure they had a lot of fun."
Smathers and Kennedy's friendship began in Congress and continued in the U.S. Senate. They shared a passion for politics, golf and, reportedly, women. Kennedy was livid when Smathers decided to run against him in the 1960 Florida presidential primary as a "favorite son" candidate.
The Kennedy political machine, based in Irish Catholic Boston, went nationwide for the 1960 election. But JFK's presidential campaign got off to a slow start. In the early days, Kennedy made a stop at Harvard Law School. Herbert Gleason, who was head of the Democratic student organization there, invited the senator to speak.
On the way to the event, Kennedy asked Gleason what kind of audience he should anticipate. Gleason cautioned Kennedy to keep things lively, make his remarks short, and ask for questions.
"I introduced him, and he got up," remembered Gleason. "He said, 'My name is Jack Kennedy. I'm a candidate for president of the United States. Are there any questions?' "
It was quintessential Kennedy. He won the election by a slim margin.
Then, just days before his inauguration, he returned to Boston where, before a packed State House, he declared himself a "man from Massachusetts." He made it clear that he was saying thank you, and not farewell.
"For 43 years, whether I was in London or Washington or the South Pacific or elsewhere, this was my home," he said. "And, God willing, this shall remain my home."
Kennedy returned home to Massachusetts three times in the last four months of his life. The first time was for a tragedy.
On Aug. 7, 1963, Jacqueline Kennedy gave birth to a premature son on an Air Force base in Cape Cod. He was baptized as Patrick Bouvier. The president rushed from Washington, D.C., to be with his wife, and then traveled to Boston where his newborn son was taken in for intensive medical care at Children's Hospital.
The Boston Globe declared, "He'll make it, he's a Kennedy." But Patrick died as an infant, living a mere 39 hours.
In mid-October, JFK was back in Massachusetts to attend a Democratic fundraiser in Boston. A week later he made his final trip to the state for a groundbreaking of the Robert Frost Library at Amherst College. In his remarks, the president reflected on some advice he had received from the poet:
He once said to me, not to let the Harvard in me get to be too important. So we've followed that advice. Home, he once wrote, is the place where, when you have go there, they have to take you in.
And Massachusetts always did.