Learning English, But Lost In Translation
08:28
Play
This article is more than 6 years old.
The English-language learning population is the fastest-growing demographic in the Massachusetts public school system. But it's also consistently the worst performing, with the lowest MCAS scores and the highest dropout rates.
This school year, the Massachusetts Department of Education is rolling out a new program that aims to train thousands of teachers to help non-English-speaking students.
The mandated teacher training program has grand ambitions to improve student performance, but the changes come with a long, complicated history. In order to understand why the state is training some 30,000 teachers, you have to look back at 2002.
Eleven years ago, voters in Massachusetts approved a ballot referendum that essentially banned bilingual education for kids who enter the public school system and don't speak English. It passed overwhelmingly, with almost 70 percent of the vote.
Rosalie Porter was one of the ballot initiative's leading supporters. She used to direct the bilingual program for Newton Public Schools.
"We tried that native language approach," Porter said. "In fact, I believed in it. But over 20 or 30 years, the program simply didn't work for the students."
So with Porter's help Massachusetts became one of only three states in the country to mandate Sheltered English Immersion. That system — called SEI for short — means public school children are taught all subjects exclusively in English. Those who cannot understand are placed in a special classroom with a curriculum designed for children learning English. All the textbooks, all the teaching, is in English.
"We expected that within one to two years of such help, they would be able to do everything — you know, speak, read, write in English," Porter said.
She believed in this model, but she said it was implemented terribly here in Massachusetts.
"I did not see evidence of developing new curriculum, training teachers," Porter explained.
Then in July 2011, the U.S. Department of Justice intervened. It had been almost a decade since English immersion had become the law and it wasn't working. Most students were not learning English within a year. Many were falling behind, being put in special education classes, or dropping out of school entirely. The DOJ condemned the Massachusetts Department of Education, saying it had violated the Equal Educational Opportunities Act because the state never required teachers who worked with English-language learners to receive any sort of training.
In response to the DOJ complaint, the state agreed to train 30,000 teachers. Any teacher, with even one English-language learning student, is expected to complete a special course on how to work with kids who don't speak English as their first language.
In a district such as Boston, where about a third of kids are English-language learners, the challenge is magnified.
"We need to do two things at once," said Antonieta Bolomey, assistant superintendent in the office of English-language learners for BPS. "Students need to learn the content and they need to learn the English. And that's very challenging for any teacher."
That wasn't always the case. Twenty years ago a math teacher would have just been expected to teach algebra. Now, that same teacher is expected to infuse lessons about quadratic equations with English vocabulary.
The burden to teach English no longer falls solely on ESL teachers because kids are integrated into regular classrooms. Math, science and history teachers are all expected to chip in.
Jennifer McCabe runs a teacher training course in Malden where she asks teachers to use context to figure out what different pamphlets, printed in Chinese, Portuguese and French, say.
"What happens oftentimes, we're always like, 'Shh, stop talking, stop talking,' " McCabe said. "You might think that the ELL student is just chit-chatting with their peer. However, oftentimes they're trying to increase their comprehension."
According to McCabe, this model allows teachers to take a trial and error approach.
"A really good piece of this class is they're trying things in their classroom and then they're coming back and they're saying, 'Jen, can you help me with this strategy? It didn't go over so well.' Or, 'How do I change this a little bit to get the student to speak more?' " McCabe explained.
As for the price tag for these classes, it's $14 million in Massachusetts spread across four years.
And while the state is pouring money into training current teachers, it's also requiring that all new teachers complete one college course that focuses on English-language learning.
Chad Leith, who teaches at Salem State University, says all educators now have to think in new ways to ensure students learn English. To prove his point he walked through the thinking of an eighth grade math teacher.
"What I might do now is use sequencing words," he said. "So I'll very specifically and explicitly teach them, first I blank, then I blank, finally I blank, right? Because we know sequencing words are important not only in math but across disciplines for explaining procedures."
Leith said classes like his are important for giving teachers confidence.
"I think it is a practical first step, but it is not the end of the story," he said.
For Leith, part of the problem is that Sheltered English Immersion is a one-size-fits-all strategy. He said it's based on the assumption that most of these students are immigrants who will quickly learn English when immersed in public school.
But the state's own statistics show that 80 percent of English-language learners say the U.S. is their country of origin, meaning a good chunk of these students are not new immigrants.
Arizona has a similar mandate, and a recent study suggests teachers who go through one Sheltered English Immersion course are not likely to actually implement what they learn in the classroom.
The report shows that ESL teachers, and teachers with a background in bilingual education, were far more likely to be successful in the classroom. That makes opponents of English immersion say that this whole system is not effective.
The state's commissioner of education, Mitchell Chester, said that it's too soon to tell whether English immersion works.
"If you look at our track record prior to 2002, before Sheltered English Immersion became the law of the land, as well as since 2002, I don't think there's any evidence that we were more successful prior to this, or that we've been more successful since passing that law," Chester said.
That's not a ringing endorsement of Sheltered English Immersion but, as long as it remains "the law of the land," most experts say training teachers is at least a step in the right direction. And, it could be a model for the future. So far, six states have mandated teacher training — California, Florida, Arizona, New York, Pennsylvania and now Massachusetts.
This program aired on November 8, 2013.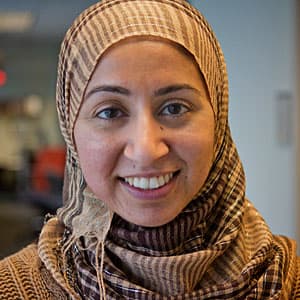 Asma Khalid Reporter
Asma Khalid formerly led WBUR's BostonomiX, a biz/tech team covering the innovation economy.