As Stores Open Early For Black Friday, Irving's Toy & Card Shop Remains Unchanged
06:18
Play
This article is more than 6 years old.
The storefront at 371 Harvard Street, in Brookline, Mass. is tiny, but you can't miss it. It's the one with the candy-cane striped awning that looks like a place Hansel and Gretel might call home.
A gentle jingle of the bells on the door, and you're in, and there, sitting in a sturdy armchair next to the candy display — filled chockablock with Snickers and Jujubes, Reese's Pieces, Life Savers, and Chuckles – is the person who makes Irving's Toy & Card Shop so special: owner Ethel Weiss.
Nearly 75 years ago Ethel and Irving Kravetz bought this little sliver of a store. He wanted to buy a bowling alley but this was all they could afford.
They tripled the size of the store in 1948. Today it's a shoebox-shaped space about 15 feet by 40. Irving passed away in 1960. Two years later Ethel married Abe Weiss. He too died, and Ethel, now 99, continues to run Irving's Toy & Card Shop.
"And I love it here, and I love the children that come from school," she says.
A trickle of students from the nearby Devotion School turns into a steady stream, exchanging coins, smiles and kind words with Ethel Weiss.  
"Have kids changed over these 74 years that you've been here?" I ask.
"Not really—the kids are still wonderful if they're approached properly," she says.
"What's the proper approach?"
"Treat them right — be fair with them," she says. "I try to discourage them from buying too much stuff."
"You're kidding?" I ask. "That's what you're in business for."
"Well I know," she says. "But I don't want them to gain too much weight and then blame me."
Arden Reamer enters Irving's Toy & Card Shop with her two kids in tow. They live right around the corner on Beals Street and are regular customers. The kids make a beeline to the toys.
Irving's is a time capsule — no video games, no batteries needed. There are squirt guns, and puzzles, yo-yos and pirate patches — imagination in abundance on neatly stocked shelves.
"They have bought probably every bit of merchandise in this store, several times over," she says. "Like these cars over here."
And if you need Groucho glasses, Silly Putty, or a Wooly Willy magnet hair toy, it seems Ethel's cornered the world market.
"I think there is a secret: everyone loves Ethel, and Ethel loves her customers," Reamer says.
It says so right on the button Ethel made and wears every day: "I love my customers." And she knows them and their parents and their parents' parents — generations returning to this tiny store filled with memories.
"They come from all over the world with their grandchildren," she says.
"And they stop in?" I ask.
"Of course," she says. "This is one place they have to come, see if I'm still here. And they buy my poster: 'Thoughts for a happier life.' It's on the refrigerator in many homes."
"Thoughts on Living a Happy Life" are the distilled words of wisdom from a life well lived for 99 years. Ethel published the poster and sells it in her store.
"Care about how you look. Dress neatly and in good taste," it advises. "Avoid bad habits. Try to be organized."
"The last thought for a happier life you have on your poster says, 'Enjoy being yourself.' Do you live those words?" I ask.
"Of course," she says with a laugh. "I love being myself. And I can brag about myself all day."
And many days to come. Irving's Toy & Card Shop opens at 10:30 this morning, a bit later than usual. But there won't be any midnight madness or door busters.
After three-quarters of a century there's just the gentle jingle of bells.
This program aired on November 29, 2013.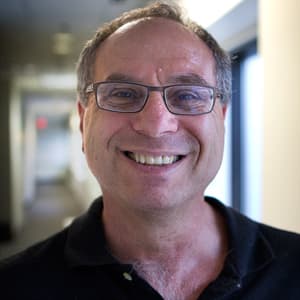 Bruce Gellerman Senior Reporter
Bruce Gellerman is an award-winning journalist and senior correspondent, frequently covering science, business, technology and the environment.