As It Unfolded: A New Era: Walsh Sworn In As Boston Mayor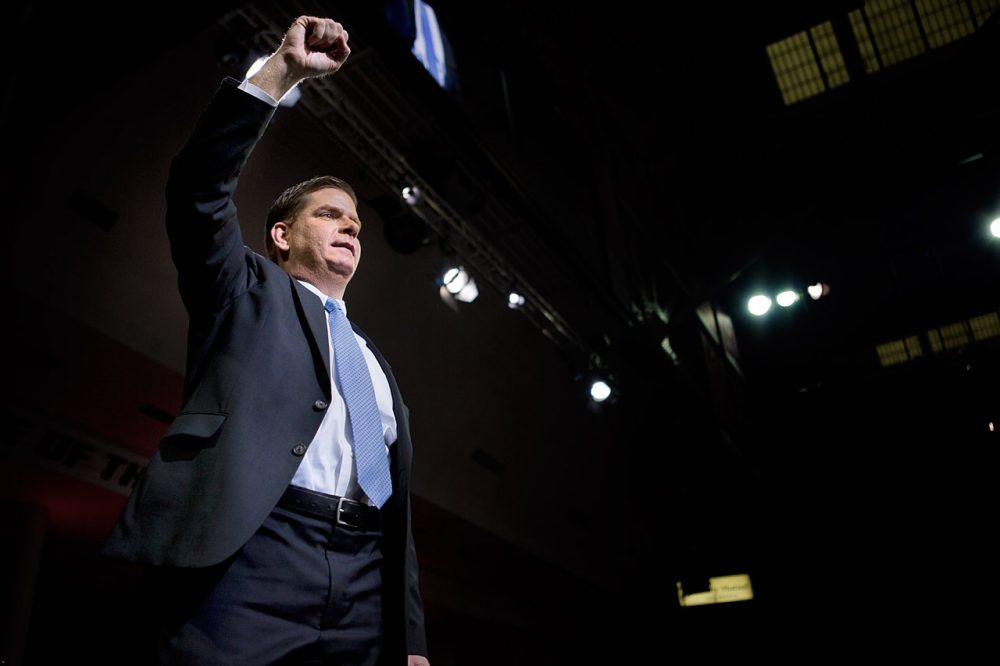 This article is more than 8 years old.
Update at 5:30 p.m.: Read Fred Thys' feature on the inauguration here.

Update at noon:
A new era has begun in Boston.
Martin Walsh, of Dorchester, was sworn in as mayor this morning — the first change in city leadership in two decades.
Walsh replaced Thomas Menino, Boston's longest-serving mayor.
In his inaugural address, delivered in front of thousands at Boston College's Conte Forum, Walsh spoke of improving opportunity for all of the city's residents.
He listed several priorities, including "stopping senseless gun violence," making "sure every kid gets a great education" and "increasing trust and transparency in city government."
He said he would convene a meeting today on public safety, and begin conversations on finding a new school superintendent tomorrow.
He also reaffirmed his plan to reform the Boston Redevelopment Authority, pledged to create a new city Ethics Committee, and committed Boston to joining the Alzheimer's Early Detection Alliance.
Walsh stressed inclusiveness in moving the city forward. "We are in this together," he said.
The former state representative and labor leader also promised to continue to listen to constituents. "I will listen. I will learn. I will lead," he said.
---
Here are our updates as the ceremony unfolded:
11:40 a.m.: Near the close of his speech, Walsh brings up his predecessor, former longtime Mayor Thomas Menino. Said Walsh, of Menino: "His legacy is already legend and his vision is all around us."
11:36 a.m.: Another priority:
I will work to create a new city Ethics Committee so we can establish and enforce stronger ethics rules and more disclosure for city elected officials and senior level employees.
11:35 a.m.: Walsh says "too many of our seniors are struggling," as he speaks about "creating more housing for seniors in the wake of deep federal budget cutbacks." He also says "I will commit Boston to joining the Alzheimer's Early Detection Alliance."
11:32 a.m.:
Big applause for talk of reforming BRA; rare that a city agency shakeup would become an issue of broad public interest— David Scharfenberg (@dscharfWBUR) January 6, 2014

11:30 a.m.: Mayor Walsh says tomorrow he will begin conversations on conducting a "nationwide search" for the next public school superintendent, and he speaks of commissioning a performance audit of the school department.

11:26 a.m.: Walsh ties together safety, education and opportunity: "We have to make our communities safer to secure a future of opportunity for our kids. But that's not all. We have to make sure every kid gets a great education."

11:23 a.m.: From his address:

My priorities are clear:

Strengthening our economy and creating jobs,

Improving public safety and stopping senseless gun violence;

Ensuring our schools help every child to succeed, and,

Increasing trust and transparency in city government.

11:20 a.m.: Walsh has stressed the public meetings his transition team conducted after his election win. "I am listening - and I always will," he said. "I will listen. I will learn. I will lead."

11:18 a.m.: "Together, we can move our great city forward," Walsh says as he begins his inaugural address, which should run about 20 minutes. (Read it here.)

11:15 a.m.: Walsh is about to give his address. Here are the full remarks.

11:13 a.m.: The newly sworn in Mayor Walsh has just administered the oath of office the 13 members of the Boston City Council.

11:07 a.m.: With his mother holding the Bible and his partner, Lorrie, next to him, Walsh has just taken the oath of office, which was administered by Supreme Judicial Court Chief Justice Roderick Ireland.

10:58 a.m.: Cellist Yo-Yo Ma just performed a three-song medley, beginning with the ballad "Danny Boy."

10:50 a.m.: In brief remarks, Gov. Deval Patrick called Walsh a "dedicated public servant," and said he's looking forward to working together. Patrick also advised Walsh to remember why he ran for office, and for whom.

10:45 a.m.: Echoing the populist themes she often stresses, U.S. Sen. Elizabeth Warren said she's optimistic that, in Walsh, Boston has "a mayor for all of Boston."

Warren offered remarks on behalf of the federal government and the state's congressional delegation.

10:20 a.m.: The ceremony has begun, Walsh has entered the forum, and the outgoing Thomas Menino just tweeted this:

Thank you Boston. It has been an honor and the thrill of a lifetime to be your Mayor. Be as good to each other as you have been to me.— Mayor Tom Menino (@mayortommenino) January 6, 2014

10:10 a.m.: We're waiting for the program to begin:

Great energy in Conte Forum as the Inaugural Ceremony is about to begin. Can't wait to get to work for the people of Boston! #bosmayor— Martin J. Walsh (@marty_walsh) January 6, 2014
This article was originally published on January 06, 2014.