After Cancellations, JetBlue Apologizes, Offers More Compensation
04:09
Play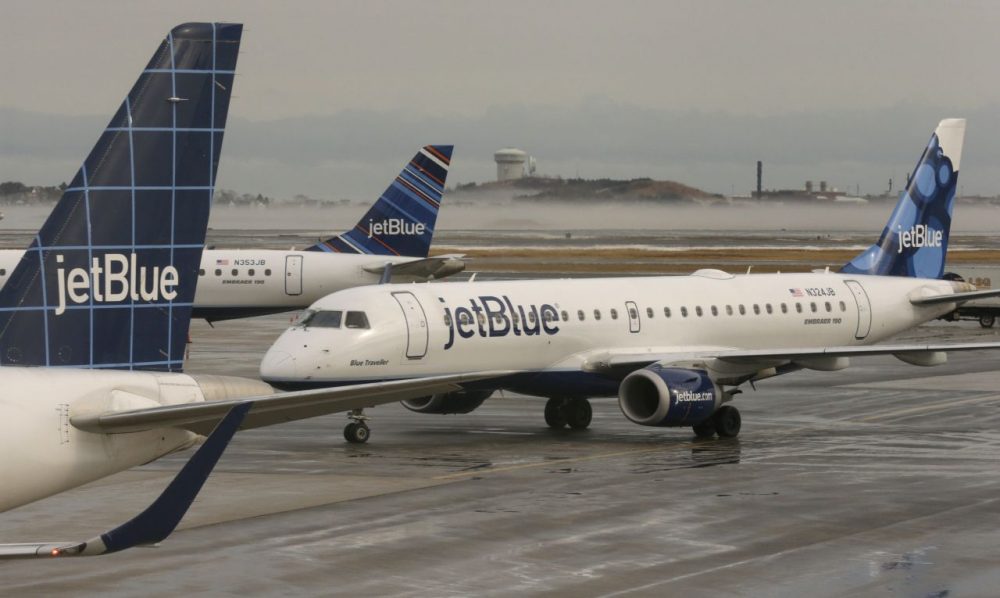 This article is more than 8 years old.
A day after the airline stopped all flights out of four Northeast airports, including Boston's Logan, for 17 hours, JetBlue on Tuesday offered apologies and explanations.
"Every operational decision we made specifically to cancel flights despite the number of customers in the airport was made for safety reasons," JetBlue Chief Operating Officer Rob Maruster said during an almost-hour-long conference call with reporters.
"But the impact to our customers was still significant," he said. "We are reaching out to customers by the end of the week who were impacted this past weekend to ensure not only that they know we are sorry, but that we would like to earn their loyalty again."
Maruster said the company had already been dealing with delays from last week's winter storm, which dropped more than a foot of snow at Logan Airport.
He said things only got worse when New York's JFK Airport had to close because of ice on the runway over the weekend.
"JFK shut down two operations Monday morning for four hours, for the inability to remove snow from its runways," Maruster explained. "Keep in mind every minute of delay in the startup creates multiple downline impacts. JFK closed again Sunday, January the 5th, from 8:30 in the morning to 10:30."
In the midst of those issues were new federal work rules for pilots and crewmembers, which mandate more rest.
"What it does is it increases the amount of rest between flights overnight," said Capt. Don Dillman, the managing director of aviation operations at Airlines for America, an airline advocacy group. "It also limits or tracks the number of flight segments in a day. It also puts limits on how long you can fly during the day, depending on when you reported for duty."
Dillman said it's too early to know how the new rules will affect flights, but he said they do require companies to change operations.
"It's going to be dependent on how they staff now, how they provide protection," he said. "It would really depend on each airline, as to how much they hired additionally to try and cover [the new rules]."
JetBlue's Maruster said they did hire more staff.
But he called the new rules, which are known as FAR 117, the biggest change in industry work standards in his lifetime.
He insisted, however, that they were not the deciding factor in canceling all flights in and out of Boston and New York for 17 hours.
"Their implementation during a peak travel period certainly complicated things, but it's absolutely not a driver of our operating decisions," he said. "We've been fully prepared for FAR 117 implementation, we've been working on it for well over two years."
At Logan Airport Tuesday, JetBlue customers had mixed responses.
Bruce Vance had flown up from Virginia on another airline after his 2 p.m. flight on JetBlue was canceled. He said he didn't understand the decision to shut down all flights for 17 hours.
"When it's the only airline at a particular airport that does it, that tells me there's something wrong with operations," Vance said.
Others, such as James Williams, whose flight to Pittsburgh was re-booked to Wednesday morning, were more understanding.
"They have to do what they have to do," he said. "Things like this, they snowball, and they have to figure out some sort of plan. I wouldn't know what I would do in that position."
Both Vance and Williams will be getting money back as part of JetBlue's compensation plan. The company is offering passengers who had one flight canceled on or after Jan. 3 $50 in company credit.
Those who had four or more flights canceled will get a credit for one free round-trip flight.
All of that compensation will be in addition to what passengers would otherwise receive under JetBlue's customer bill of rights.
This segment aired on January 8, 2014.