Yes, Boston Bluegrass Is A Big Thing. At Deadly Gentlemen's Ball, Hear Its Future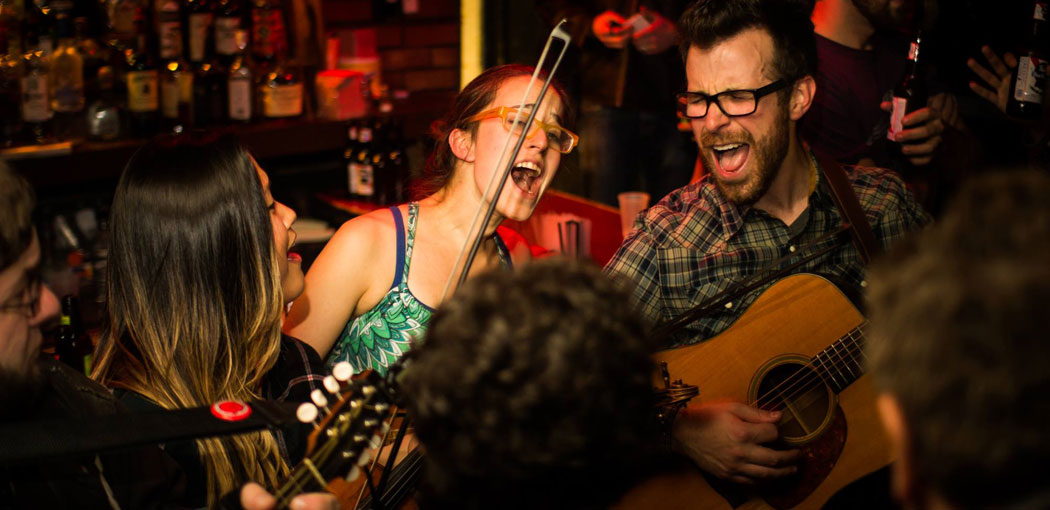 This article is more than 7 years old.
"This may be the first time in history that the back-up band has paid the lead singer."
Greg Liszt —bespectacled, wild-haired, coffee mug in hand—sits in his living room at the sprawling Victorian house in Brighton where he and a passel of other folk musicians live. The banjo player, best known as a member of the semi-defunct roots/bluegrass outfit Crooked Still, is talking about an upcoming concert at the Sinclair in Cambridge on Saturday, Jan. 25, in which his own band, the Deadly Gentlemen, will both host the show and accompany bluegrass legend Peter Rowan.
The performance will be preceded by a lineup that serves as a concise overview of the area's finest bluegrass and acoustic music innovators: indie-pop stringband Joy Kills Sorrow, improvisational guitar duo Julian Lage and Chris Eldridge, and of course the Deadly Gentlemen. There may even be some pub trivia.
"Like all good ideas, this one was fairly obvious," says Liszt, who hopes to turn The Deadly Gentlemen's Ball, as it is titled, into a series. (This is looking likely, as the show sold out a week in advance.) "There are so many terrific progressive bluegrass bands either from Boston or with really strong connections to the Boston music scene."
The keyword, of course, is "progressive." Aside from Rowan, none of the artists on the bill make any pretense of really playing bluegrass at all. The Boston-born Joy Kills Sorrow employ conventional stringband instrumentation (sans fiddle) towards highly wrought arrangements and expressive songs. The Deadly Gentlemen channel blistering rock n' roll energy into anthemic tunes and nimble poetry, which they deliver between searing solos and in five-part harmony. The New York City-based guitarists Chris Eldridge and Julian Lage—the former a longtime bluegrass devotee and the latter a Grammy-nominated jazz prodigy and Berklee College of Music alum—explore the possibilities of improvisation through gentle, meandering instrumentals and reworked bluegrass standards. All three groups are united by their youth, technical skill, and modern, wide-ranging tastes.
"There's always something special about the times when innovation within a genre is very tangible," says banjoist Wes Corbett, who moved from Seattle to Boston in 2006 and is a member of Joy Kills Sorrow. "And I think that, in the same way that San Francisco kind of had the same scene in the late '70s—when the David Grisman Quintet and a ton of other amazing musicians all lived in the Bay Area—I think Boston has had that going on for the last four or five years as well."
Corbett's comparison is particularly apt, since the term "progressive bluegrass," along with "newgrass," entered the zeitgeist in the '70s, when groups like the David Grisman Quintet and New Grass Revival were playing fast and loose with the form, introducing jazz licks and rock instrumentation. The bands were composed of musicians—among them Darol Anger, now an instructor at Berklee College of Music in Boston—whose technical virtuosity was driven by voracious curiosity and a flair for the experimental. They even invented new ways of playing, Anger with the fiddle "chop," a percussive bowing technique, and banjo trailblazers like Tony Trischka and Béla Fleck with a melodic picking method entirely distinct from the style popularized by Earl Scruggs in the '40s.
These were the players that today's young bluegrassers grew up on—both Corbett and Liszt point to Fleck as a primary influence—and for them, the genre's pioneers, like Bill Monroe and Flatt and Scruggs, were something to be explored after the fact. In the '90s, the teenage pop-grass group Nickel Creek rose to prominence, no doubt fuelling another wave of young, hungry pickers—and of course launching the career of mandolin prodigy Chris Thile, whose band Punch Brothers has gained nationwide attention for its complex, chamber-music-like compositions. Among today's cutting edge newgrassers, the Boston connections abound: besides Joy Kills Sorrow and the Deadly Gentlemen, there are Della Mae, Barnstar!, and the Lonely Heartstring Band, to name but a few.
Boston has been a home for bluegrass since the '50s and '60s, a city where northerners like Rowan cut their teeth before moving to Nashville to make a bid for the big time. But today, the real draw is the music schools, especially New England Conservatory and Berklee College of Music.
"I've been teaching at Berklee for 33 years, and over the last decade, Boston—and Berklee in particular—has become an epicenter for all these young, creative, bluegrass-based musicians," says Matt Glaser, who launched the college's American Roots Music Program in 2009 in response to the influx of folk-centric string players.
Although the Berklee program acknowledges the multi-ethnic roots of American folk music—its website lists "blues, gospel, folk, early country music, bluegrass, old-time, cajun, western swing, polka, Tex-Mex"—such diversity is largely absent in the Boston bluegrass scene, which is, unsurprisingly, mostly white. And as the Deadly Gentlemen's Ball lineup implies, bluegrass in particular tends to be male dominated, though there is plenty to suggest that this is changing: Della Mae, a Boston-born, all-female group, was nominated this year for a Grammy for Best Bluegrass Album, while singer/songwriter, multi-instrumentalist, and recent New England Conservatory graduate Sarah Jarosz received nominations for Best Folk Album and Best American Roots Song.
Yet Berklee has undoubtedly helped fuel cross-pollination among folk styles, especially in the realm of fiddle music. Glaser remembers that first wave of innovative string players, more than a decade ago, as containing Mexican-American violinist Carrie Rodriguez, Seattle-born Scottish fiddler Hanneke Cassel, folk-turned-psychedelic cellist Rushad Eggleston, Canadian fiddler April Verch, and five-string bluegrass fiddler Casey Driessen. Each exemplified the kind of eclectic, virtuosic instrumentalist that is practically ubiquitous at Berklee and in the Boston bluegrass community these days.
Likewise, the Cantab Lounge in Cambridge has seen attendance at its Tuesday bluegrass nights skyrocket in recent years. (Pictured at top in photo by Jason Jong)
"The Cantab [bluegrass night], which had already been going on for seven or eight years at that point, was just pretty much empty every Tuesday as far as I could tell," remembers Liszt of his first year in Boston. "I mean, the musicians definitely outnumbered the people who were there to listen to music, and the hardcore drinkers at the bar outnumbered all of us. And as soon as 'O Brother, Where Art Thou?' came out, all of that changed. The Cantab became a massively hot, hot scene, on a Tuesday night."
Matt Smith, managing director at Club Passim in Cambridge, rejects the 'O Brother' theory, pointing out that bluegrass has had a presence in Boston for decades. He saw the current wave of folk instrumentalists begin with Irish and Scottish-style players, who helped the folk club broaden its reach from singer/songwriters to acoustic musicians of all kinds.
Though practitioners of instrumental roots music, from Celtic to old-time to bluegrass to newgrass, draw distinctions among themselves, Smith sees a clear connection among them all. "This goes down from professional, to amateur, to I-just-picked-this-thing-up. You want to play together. I mean, that's why our biggest classes are ensemble classes. ... People crave that connection," he says.
Corbett, once a classically-trained pianist, echoes the sentiment.
"As a classical pianist, at least as a student-level classical pianist, you're just playing by yourself all the time. And I had never really known anything else," he remembers. "But then when I started playing banjo, even just immediately, just six months into playing the banjo, I started to play with other people. And I really fell in love with ... getting to interact in that way, and getting to connect."
For musicians, the biggest reason to go to the Cantab on Tuesday nights is not the show itself, but the basement jam session that follows. The Deadly Gentlemen's Ball will harness some of that spirit with the aforementioned Deadly Gentlemen-Peter Rowan mash-up, and with collaborations among all the bands. Their members know each other already anyway, and have jammed at countless house parties and festivals.
After all is said and done, it's not so much repertoire, and certainly not terminology, that unites these progressive bluegrass/newgrass/roots/folk musicians. It's the simple impulse to share a tune.
Amelia Mason is a writer, musician, and bartender living in Somerville. She is a regular contributor to The ARTery. You can follow her on Twitter @shmabelia and Tumblr: http://thebestalbumofalltime.tumblr.com/
This article was originally published on January 23, 2014.